Digital Transformation and Digital Adoption
World of Product: Trends and Insights Part 3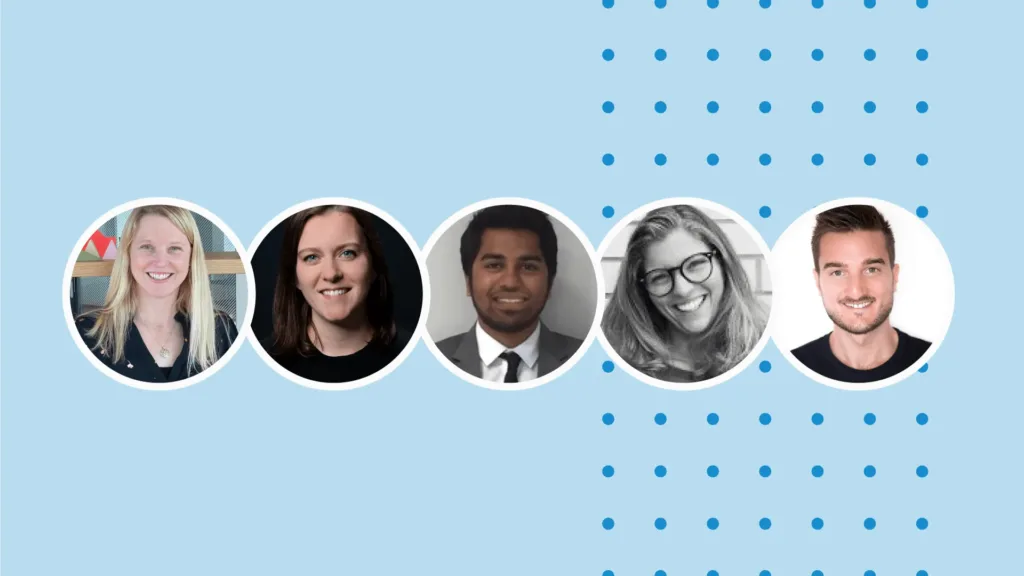 by Team Userlane
4 years ago
・
12 min.
2020 is almost upon us, but we wanted to make sure that we wrapped up our product management trends and insights round-up series of 2019 just before the clock strikes midnight on the 31st! 
It's been a busy but highly successful and rewarding year for the product managers we feature in this post, and they've provided us with extremely valuable insight into and advice on how they go about developing an exceptional product that consistently meets the demands of the digital customer. 
Once again, the questions we've asked here are different from the ones we've asked in our previous roundup posts. This time, the experts delve into interesting questions connected to business strategy, product vision, differentiating between a user and a customer, and moving into the enterprise market.
Let's get right to it!
Meet the Experts
Caroline Hynes, Director of Product at Zendesk 
Zendesk is a CRM software for support, sales, and customer engagement. It is designed to "build the best customer experiences" and to "create better customer relationships". Zendesk also provides an internal helpdesk for employees so that organizations can create consumer-like experiences for their internal teams. 
Maggie Crowley, Director of Product Management at Drift 
As a conversational marketing platform, Drift is in a league of its own – it's the world's first and only platform of its kind. Businesses using Drift can build a chatbot in minutes with no coding required, generate more qualified leads without forms, and have more personalized sales conversations. As their homepage says, they're not just a live chat! 
For more incredible insights from Maggie on all things product and product management, you should check out her podcast, Build with Maggie Crowley.

Luca Micheli, CEO of Customerly 
Customerly helps 9000+ SMBs all around the world improve their customer service and communications with their customer base. Defining itself as the "live chat with superpowers", Customerly comes with an intuitive dashboard, video live chat and screen sharing, a knowledge base, and plenty more. 

Elisa Nicolini and Akshay Sandri, Product Managers at MOVEMEON 
MOVEMEON is a fast-growing, tech-enabled business with the aim to make discovering jobs easier. Designed for both candidates looking for jobs and employers looking to hire, MOVEMEON is the world's leading community of consultants, alumni, and commercial professionals. 


Q&A: Strategy, Growth, Enterprise and Everything in Between!
How does the product vision relate to the business strategy?
CH:
As the Director of Product for our analytics product, Explore, it is critical that we tie the product vision to our overall business strategy. This allows everyone who is working on the product to see a direct link to how they contribute to the success of Explore and Zendesk's overall success. 
With a consistent business strategy, we can update objectives on a quarterly basis. We have two formal checkpoints during the year where we discuss, debate, and propose where our product vision may need to be adjusted so that we are still aligned with the business strategy. For example, this year we reprioritized work on our enterprise use cases to contribute towards the business strategy of moving into the enterprise market.
It is worth noting that we also reflect and check-in on our product vision regularly outside of those formal checkpoints. These conversations tend to be less formal and focus on ensuring we are keeping ourselves honest and on track.
With regards to the company objectives, which drive us towards achieving our business strategy, these are shared with the organization quarterly with regular progress updates throughout the quarter. As a team, we undertake an exercise to understand how the Explore roadmap can contribute to achieving the company objectives and ultimately the strategy. 
MC:
The definition of strategy that I learned is that it is a coordinated set of decisions that guide behavior. When it comes to business vs. product strategy, I think about it instead as a cascading series of decisions, from business vision to business strategy to product vision, and, finally, to product strategy. This helps define what the teams need to do in order to succeed.
Business strategy comes first and is the starting point for product. Before you can have a product vision or a product strategy, you have to know what your business is trying to achieve, what market you're playing in, and how you are going to win. Once you have a business strategy, then the product strategy comes in as how the product specifically is going to help deliver on that business strategy. 
The product vision is really the future you're trying to create that is likely further out than a tactical product strategy that you're working against day-to-day. In the same way that your company likely has a vision that's longer-term than the current year's strategy, the product team should also have a vision that they're working against – a north-star experience or outcome or world that you're trying to create that helps to guide decision making and motivate the team.
Marty Cagan from the SVPG wrote some great pieces on these exact topics:Business Strategy vs. Product Strategy and Vision vs. Strategy.
LM:
We do include in our business strategy a continuous adjustment to the product vision. We are constantly learning from our customers' feedback, and if the requests are enough to gain more market share, we do implement them in our product. 
Sometimes the product vision should be adapted to the business strategy and vice-versa.
How do you define a user and a customer? How do the two terms influence each other? Does this have any bearing on how you develop your product and how you position it on the market?
CH:
The user, customer, and buyer can all be the same person or they can be three different people depending on the organization. In SMB organizations, for example, the three personas are often the one person, whereas in a larger organization it may be one, two, or three different people.  
We as a team of Product, PMM, and Sales need to be mindful of the market segment impact as it will influence the tone of voice and product positioning.
This is how we differentiate:
A user is a person who is using the product. For Explore, this is the person analyzing the data, building, and sharing reports.

The customer can be the user's manager or part of their organization. They can be the person feeding in requirements (from the users), interfacing with our PMM and Product teams.

The buyer can be the person who makes the purchasing decision.
MC:
This really depends on the type of business you're in (B2B vs. B2C) and what kind of product you're building or selling. I think about "users" as the people who are actively using our product, so logging in daily/weekly/monthly and taking action in the product, and "customers" as the people who own the budget and purchase the product. Sometimes users and customers are the same people, and sometimes the person who pays for the product isn't the day-to-day user.
At Drift, we like to keep things simple and usually just refer to everyone as a customer. Then from there, we separate our customers into two different buckets based on their business function. For us, that's whether a customer is a marketer or a sales rep since each has a distinct use case that they're using Drift to achieve. Rather than thinking about users vs. customers, this allows us, as the product team, to focus on the outcome we're trying to deliver for a specific person. 
Where the distinction between user and customer or user and the economic buyer of the product becomes more relevant is in your product marketing and messaging. If the person who is going to buy your product is different from the user, your marketing materials need to take that into account and focus on the results that your product will drive for the buyer, in addition to the experience and outcome it will provide to the user. You're going to need both groups to love your product to be really successful. 
As a product team, regardless of who the economic buyer is, you should always just stay focused on creating the best result for your user since that's what's going to create the outcome that the economic buyer wants no matter what!
For us, in the sales and marketing space, we think a lot about talking to the CMO in our messaging. But the CMO isn't the person who's typically going in and setting up Drift and chatting on their site day-to-day (although it would be amazing if they did!). So our product teams are focused on building for marketing managers and directors, or sales reps, while the story of what our product does for our customers is about them and the impact on the business as a whole. 
What the CMO cares about is a factor in how we set our business and product strategies, but it's not something we think about on a micro-level when working on an individual part of the product.
LM:
A user is a person who signs up for our platform and a customer is someone who subscribes to a paid plan. A user can take up to six months in our case to become a customer. We have developed different strategies to increase the conversion from user to customer.
EN and AS:
The best way to define a customer is a person who pays for a service, whereas the user is someone who is utilizing that service or product. An example of this would be a baby toy, the user here is the baby whereas the customer is the parent who buys the toy. 
And then can you give us an example of when you had to learn about a new type of customer? What did you learn? How did you approach this?
CH:
When I joined the Zendesk Explore team, I had to learn a new customer profile for our product. I needed to understand how different market segments influenced the customer profile. For example, within an SMB organization, the customer is the person using the product every day and is often the SME whereas in larger organizations, the customer and the end-user could be two different people, with the customer being a step or two removed from some of the details of the product. 
I also learned that our customers are not BI or analytics experts. They use the data available via Explore as part of their role, but it is not their full area of responsibility and our product decisions, such as system design, features, language, and tooling, all need to reflect this.
My learning approach is not revolutionary, but it is effective! I spent time on customer calls listening to understand. The insights we get directly from our customers is invaluable. I also leaned into the Explore team who were so supportive in this process. They shared insights from past research, previous customer conversations, and market data and research to give some examples.
I was very deliberate in my approach to learning about our customers, and I prioritized it. I still prioritize it. It is an ongoing activity as we will always learn something new that could positively impact our product and, therefore, our customers. 
MC:
Every time I've joined a new company or switched to working on a different product within a company, I've had to learn about a new type of customer. My approach is always the same:
I start by reading everything I can about that customer, I listen to any recorded calls or feedback sessions that other people at the company have had with them, and then I reach out to talk to a bunch of those customers in person. 
Talking to your customers face-to-face or via video is the most important and highest value thing you can do as a product person. I'm going to say that again: Talking directly to your customers is the most important thing you can do as a product manager, no matter what.
I usually set a goal to talk to 10+ customers within the first 2-3 weeks of working on a new product so that I can track my progress. The goal of those conversations is to get to know the customer and figure out what matters to them, what goals they have, what problems they're working on, and how the product might be able to help them solve those problems or create results for them. 
In the early stages, I care less about specific product feedback and more about who the customer is and how they're measured in their jobs because that's what I need to know in order to understand why they care about my product in the first place. 
LM:
We use Customerly Surveys to understand our customers and what goals and expectations they have. We started onboarding many different WordPress customers and this led us to create an experience tailored to this persona to improve the conversion rate and adoption.
How do you manage the growing pains or teething problems that arise when your product breaks out of the "point solutions" category and then grows to include multiple use cases, roles, industries, etc.? 
CH:
Being really clear on what your product is serving with regards to personas, use cases, problems to be solved and then prioritizing in alignment with the overall business strategy is critical. It is very easy for product teams to get excited and overwhelmed as the product surface area expands, but understanding what areas of focus will drive the most impact for customers and your business is important. 
Depending on the size of the team, as the product evolves it may be necessary to slow down other areas of development and focus on the new area that will presumably be driving growth or servicing a new use case/market. Context is invaluable.
It is always important that the overall product team understands why work is being paused/new work is starting and how it contributes to the product vision and business strategy. 
LM:
Since we grew organically, we basically never had a main industry. We focused initially on SaaS because it was where we came from and we needed to solve different problems. 
The fact that we grew organically brought us different kinds of business and this reflected in building and extending functionalities like crazy to satisfy the needs of each industry!
We learned to create main clusters and understand how each request from a single business type can impact and help different industries at the same time. If it helps multiple kinds of businesses, we are 100% in to move forward, otherwise, we continue to focus on our main roadmap.
EN and AS:
Given the competitive and fast-paced industry we operate in, we are constantly innovating and rolling out features. It's very easy to understand what needs to be built during the initial stages of a start-up but harder to prioritize them. 
A lot of this is based on the way the initial infrastructure of the platform is built. In most scenarios, to quickly reach product-market fit a lot of short-cuts are taken to roll out features, not considering multiple user roles or user types etc.
Each new feature rollout would be an additional strain on the current infrastructure, using the same resources but now for more features and users. This is similar to building a new floor on top of an already existing crumbling building. At one point it is meant to break.
It reaches a point where the platform can no longer progress and a bottom-up rebuilding needs to take place, which is very expensive and time-consuming.
But if you start building the platform keeping this into perspective and built it to scale, these teething issues can easily be fixed. For every new feature we roll out, we make sure the current platform can handle it and rebuild some of the architecture to support it if needed.
We were fortunate enough to take this into consideration while building the initial platform and we face very minor issues while scaling up. 
What are the biggest challenges as a product manager moving from a startup environment to an enterprise environment? 
CH:
This answer probably comes as no surprise, but in my experience, it is managing within and navigating scale! 
There are potentially new roles that didn't exist previously that a PM undertoo – for example, documentation and content – but now there is a team responsible for that and there may be a sense of reduction in ownership which will need to be managed. 
Alongside this, where approval is required that may need to go higher up the organization and/or may take additional time and more context sharing, it is worth spending time figuring out how to best manage this scenario. 
Figuring out how to only introduce the minimum amount of complexity while not losing alignment across Product, PMM, and Sales is another consideration, e.g. reviewing processes, meetings, "hand-offs".
A growing organization is exciting and gives people an opportunity to influence and shape the next phase. Embrace it. 
MC:
The biggest challenge as a product manager at a scaling company is handling the rate at which everything changes. From the scope of your role, to the process the team uses, to how you communicate with the rest of the organization, it can feel like the second you have something figured out it changes again. 
At Drift, our CEO David Cancel often talks about how it's very rare to have someone that can scale at the same rate at which a hypergrowth company scales, which means that over time it can be hard to keep up with how your role is changing. 
As a product manager specifically, managing the change in scope for your products can be really tough. At a startup, you'll work on a large percent of your product, but as the company and the team grows, the percent of the product that you work on often shrinks as you start to go deeper and build more nuanced and detailed features. 
You'll have to give up some of the products you work on to new teammates which can be tough. At the same time, the process becomes important to scaling a product team without adding a ton of middle management so it can feel like there are more "rules" that you have to work within compared to what it's like at a really scrappy, early-stage startup.
The challenge within all of this is to recognize that all of the change and the chaos that comes with scaling companies is totally normal. And what's exciting is that with all that change comes a lot of opportunity to try new things, work on new challenges, and ultimately grow as a product person.
What are some of the disadvantages of being too reliant on hard data in product design?
MC:
An easy way to think about quantitative vs. qualitative information is that hard data, numbers, whatever you want to call it will give you the "what," but qualitative data, talking to your customers, will give you the "why." 
Relying exclusively on numbers and quantitative data might make you great at optimizing a specific metric, but you'll never realize that you're actually optimizing for a local maximum and that there's a bigger, better opportunity out there that you're not seeing. 
Talking to customers, doing ethnographic research, is how you, as a product manager, can uncover the problems that are worth solving for your customers. 
EN and AS:
Data can easily be misleading. We have had a few cases where data was pointing to make certain design/functionality changes, but in reality, these changes actually had a negative impact. This is mainly due to either incorrect segmentation of user categories or other third-party tests/ functions running at the same time. Here's an example for both:
We might launch a new 1-click apply button. This would generally see more applications than usual during the first two weeks, and we might conclude that this feature has a positive impact on our KPI. But this increase in the application could be a result of the novelty factor or the fact that its peak hiring season. Both of these skew the data and should be isolated to prevent these issues.

Going back to the above example, the increase in the number of applications might only be from a very particular user group. It can be from our supergroup of users as 1-click apply makes it easier for the supergroup to apply for more. This increase in application can actually affect the quality of applications resulting in a bad reputation amongst our clients.
However, given you are able to accurately make inferences from data, it is highly valuable. But this takes a lot of resources and time.
Three Posts, 16 Product Leaders, and a Wealth of Valuable Information 
And there we have it! We are confident that you have gained valuable, practical, and helpful advice from all the outstanding product managers and leaders we have featured in our three-part interview series. 
From product management in the SMB sector right through to enterprise, product management is an exciting, dynamic profession that requires hard work, dedication, and discipline.
At Userlane, we appreciate and love hearing first-hand from professionals, and we always welcome feedback and input from our readers. If you'd like to share some of your expertise with us (whether you're in product, sales, customer success, change management), get in touch and perhaps we could be featuring you in some of our interviews lined up for 2020! Exciting things to come!
Looking for some extra reading during the holidays? We've got you covered 😉 Download our User Onboarding Experience Guide and discover how a great user onboarding experience leads more advocacy for your product. 
Visit our knowledge hub for more helpful resources
New to Userlane? Take a step in your software adoption journey and join the pool of our happy customers.
About the author:
The Userlane team brings you digital adoption insights, product updates, and plenty of onboarding and engagement advice for user-centric businesses.