Company News and Press Releases
Userlane – Star Performer and Major Contender in Everest Group's 2023 Matrix®
by Team Userlane
2 months ago
・
2 mins
We're excited to share that Userlane has been listed as a Star Performer and Major Contender in Everest Group's 2023 PEAK Matrix® Assessment.
You can download the full report here!
Everest Group's PEAK Matrix for Digital Adoption Platforms is a proprietary framework that analyzes the DAP landscape across various dimensions, comparing vendors to help buyers make critical selection decisions for their specific requirements. The PEAK Matrix highlights and positions best-in-class technology vendors by following an unbiased and fact-based approach.
Userlane's listing on the PEAK Matrix recognizes our commitment to making digital adoption simpler and faster in the DAP landscape.
"We are proud to be named both a Star Performer and Major Contender on the 2023 PEAK Matrix. We understand the importance of digital adoption in today's fast-paced business landscape and are dedicated to helping our clients drive positive digital change faster with our solutions."

"96% of businesses have reported challenges stemming from poor digital adoption. At Userlane, our aim is to make this easier for all businesses, and our product strategy is focused on scalability and providing an agile approach to digital adoption."

 Hartmut Hahn, CEO, Userlane
The PEAK Matrix recognises Userlane's ongoing investments and efforts to deliver in-depth insights and facilitate a seamless user and content creation experience with the evolving needs and expectations of the DAP market.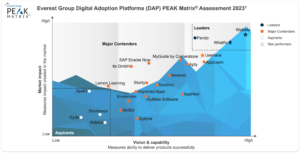 The Userlane product is referenced to excel at making the platform more intelligent, through Userlane's HEART Analytics and the Engagement Suite. This aligns with our strategy to expand our global footprint and provide an agile approach to digital adoption, ultimately helping our clients understand and improve the value of their software investments.
Want to know more about Userlane? Take the first step in your software digital adoption journey and book a demonstration with one of the team here.
New to Userlane? Take a step in your software adoption journey and join the pool of our happy customers.
About the author:
The Userlane team brings you digital adoption insights, product updates, and plenty of onboarding and engagement advice for user-centric businesses.