Company News and Press Releases
Userlane – finalist of Microsoft Partner of the Year Award
by Team Userlane
2 years ago
・
2 min.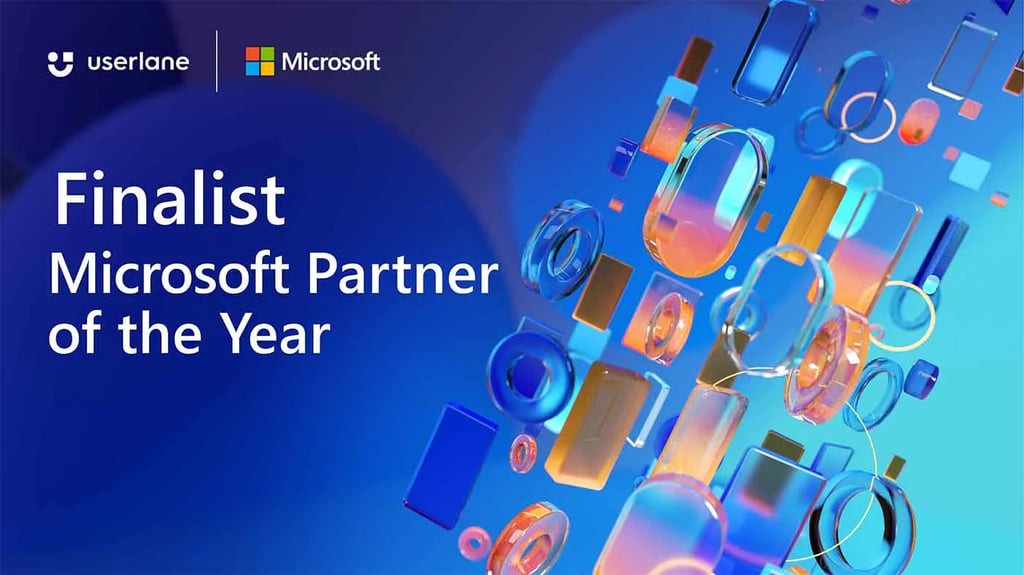 July 8th 2021 — Userlane today announced it has been named a finalist of the 2021 Microsoft Partner of the Year Award. The company was honored among a global field of top Microsoft partners for demonstrating excellence in innovation and implementation of customer solutions based on Microsoft technology. 
"We've had an incredible journey with Microsoft so far and are honored by this recognition. We couldn't be more excited to continue growing our global footprint together with Microsoft!", Userlane Co-Founder Hartmut Hahn.
The Microsoft Partner of the Year Awards recognize Microsoft partners that have developed and delivered outstanding Microsoft-based solutions during the past year. Awards were classified in various of categories, with honorees chosen from a set of more than 4,400 submitted nominations from more than 100 countries worldwide. Userlane was recognized for providing outstanding solutions and services. 
"I am honored to announce the winners and finalists of the 2021 Microsoft Partner of the Year Awards," said Rodney Clark, corporate vice president, Global Partner Solutions, Channel Sales and Channel Chief, Microsoft. "These remarkable partners have displayed a deep commitment to building world-class solutions for customers—from cloud-to-edge — and represent some of the best and brightest our ecosystem has to offer."
New to Userlane? Take a step in your software adoption journey and join the pool of our happy customers.
About the author:
The Userlane team brings you digital adoption insights, product updates, and plenty of onboarding and engagement advice for user-centric businesses.