Digital Transformation and Digital Adoption
Why Userlane Is the Perfect Companion for HR Professionals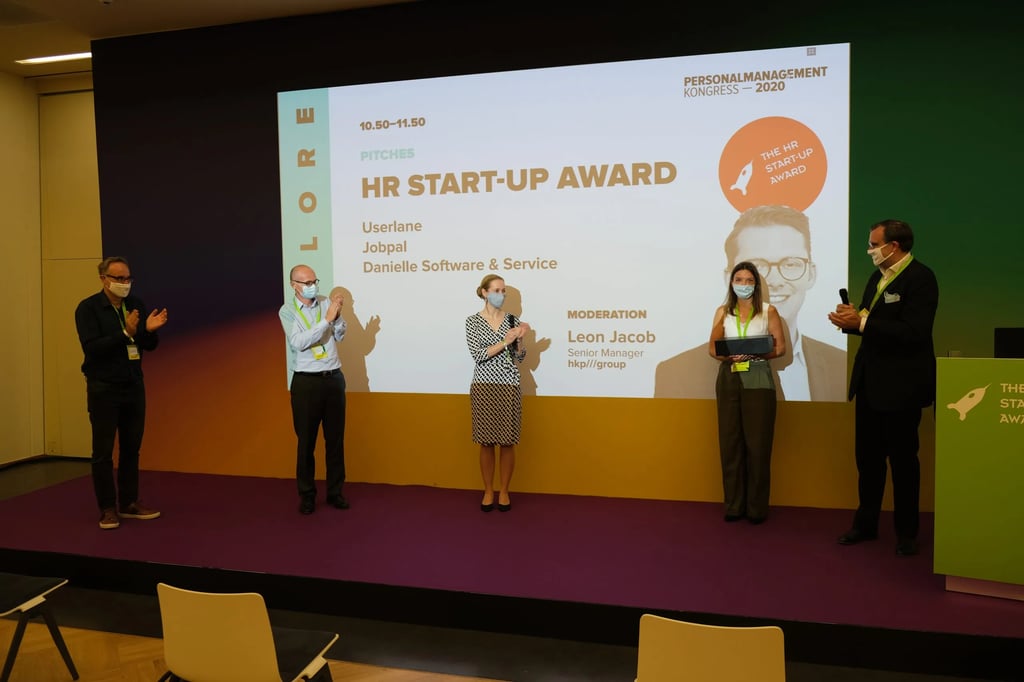 by Team Userlane
3 years ago
・
4 min.
Okay, as much as we'd love to avoid the word 'coronavirus' for any of our upcoming blog posts, the truth is, we can't, not really! Why? Because COVID-19 has completely shaken up the way we work, and as our software is designed to enable effective remote work, it's tough for us not to address the topic!
For this week's blog post, we're taking a look at some of the challenges remote work poses to Human Resource (HR) professionals and how our Digital Adoption Platform can help those in HR successfully address some of these difficulties.
So, if you're in HR, then this post is for you!
Remote Work: Challenges for HR Professionals
Our best estimate is that 25-30% of the workforce will be working-from-home multiple days a week by the end of 2021. — Kate Lister, President of Global Workplace Analytics
When asked about her work-from-home forecast for a post-COVID-19 world, Kate Lister, president of Global Workplace Analytics, predicts that "the longer people are required to work at home, the greater the adoption we will see when the dust settles." Lister believes that based on historical trends, "those who were working remotely before the pandemic will increase their frequency after they are allowed to return to their offices." Confirming this prediction is Gartner's recent CFO survey, which reveals that nearly 75% of CFOs plan to shift at least 5% of their previously on-site workforce to permanent remote positions post-coronavirus. 
So, what does this mean for HR professionals? 
The sudden shift to remote work is relatively new, so HR professionals are still trying to iron out the creases so-to-speak. A few of the main challenges faced by HR in a remote environment include: 
– maintaining employee engagement,
– communicating via the right channels, and
– providing the necessary tools for remote work.
This, of course, is all tied to providing the best employee experience possible. After all, why would an employee want to work for any company providing a subpar experience, particularly in this day-and-age?
But aside from these challenges, there is one ultimate challenge we need to address: The employee onboarding and training process.  
Let's face it (excuse the pun), face-to-face interaction when onboarding and training new employees is, in many ways, easier. It provides opportunities for authentic engagement, and you, as the HR professional, can address immediate concerns and issues then and there in the office. But with remote work, this becomes a little more difficult, especially if you're working in larger organizations with thousands of employees. 
At Userlane, for example, we've had to introduce new tools and processes to facilitate a smooth remote working environment, and our people (HR) team has been hard at work to ensure that all new and existing Userlaners (the name for us employees!) are onboarded and supported successfully. This has included (and continues to include):
finding the most effective channels of communication (Slack, Zoom);

conducting surveys;

storing important information in an easy-to-access and structured manner (we use

Notion

for this); and 

offering a "buddy program" to help new employees familiarize themselves with working life at Userlane. 
These are all effective methods for helping employees adjust to working at Userlane, but what about learning new software? New Userlaners have to learn to work with a lot of new applications right from the start—this is no different from any other company, no matter how big or small. Sure, learning how to use Zoom or Slack may be pretty easy, but what about the likes of Salesforce, Workday, a company's intranet, or one of those really complex enterprise resource planning (ERP) systems? Yikes! Not only is this stressful for new employees, it is also overwhelming for you! And coupled with trying to onboard and train employees remotely, everything becomes a little more complicated. After all, webinars, Zoom calls, and relying on the IT help desk can only get you and employees so far. 
And … this is why there's Userlane!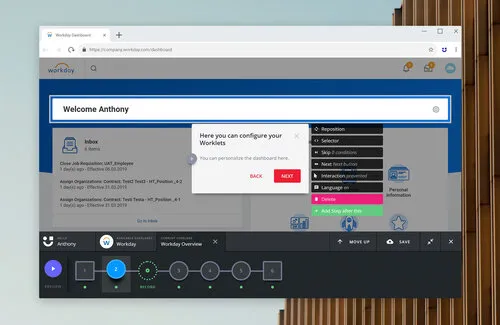 Why Digital Adoption Platforms for HR?
No employee—especially when they're new and working in a remote environment far removed (physically) from your HR team, other colleagues, and the workplace—wants to learn new software and processes without authentic and tailored support. But there's only so much you can do, and that's why on-demand support that is available 24/7 is highly important. 
As the most intuitive and user-centric Digital Adoption Platform on the market, Userlane offers a Virtual Assistant that is always available to support employees in the software application they're learning to navigate (our Assistant is the equivalent of having an expert sitting right next to the employee at all times!). And with our interactive step-by-step guides (which can be used to create online training tours for onboarding and tailored to different employee segments), employees can learn new digital processes in any new software at their own pace, in their own time, wherever they're located. This means that you'll no longer need to go through all the logistics connected to organizing training classes or have to create extra documents and training materials, which we know can be extremely time-consuming! 
Moreover, when it comes to standard operating procedures, you can also use Userlane to provide more transparency and clarity regarding training, compliance, company guidelines, and business processes. 
Userlane also offers user analytics, which can help you evaluate important KPIs and metrics and see where employees may be struggling with certain processes. This allows you to quickly address the problem, thereby empowering the employee further through personalized support. 
But, don't just take our word for it ????. Sure, we love our product and we love writing about it even more, BUT there needs to be proof that what we offer lives up to what we say it does …
Userlane Awarded the HR Start-Up Award 2020
And here's the proof!
At the beginning of September 2020, we were awarded the prestigious HR Start-Up Award, which is given to founders in the Human Resources sector in Germany. In the end, there were three start-ups that made it to the finals out of a total of 43 submissions. 
Kristina Schneider, our Digital Adoption Consultant, was there to accept the award, saying,
The digital transformation of companies is inevitably linked to the introduction of a wide variety of different tools. But they need to be learned—preferably quickly and easily. It seems our solution really addresses our audience's needs—which is a truly motivating endorsement!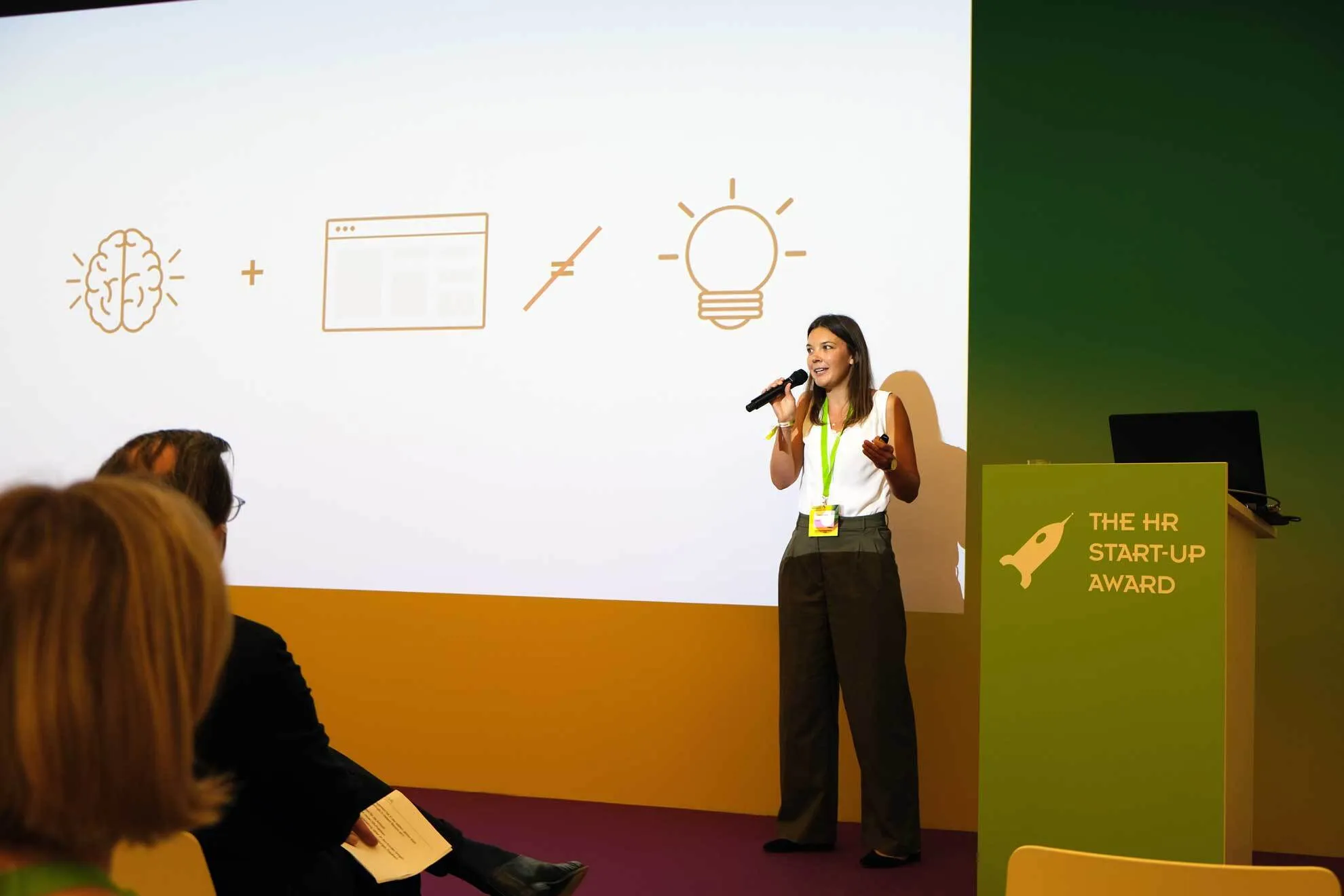 Adding to this, Michael H. Kramarsch, hkp /// group managing director and co-initiator of the HR Start-Up Awards, emphasized that it is critical not to lose sight of technological processes, especially in economically challenging times: 
Young companies that provide digital solutions for Human Resource Management not only show us what the processes of HR work can look like, but [they] also allow a glimpse into new forms of work in general. They provide increases in efficiency and effectiveness and thus contribute to overcoming the [current] crisis. The pitches of today's finalists have once again impressively demonstrated this!
Of course, we are super thankful for and proud of this award, and this serves as confirmation that what we offer is truly valuable to professionals in the HR sector. As you know, HR is, in many ways, responsible for facilitating digital transformation, change management, and innovation, which is no mean feat. A little (or a lot of ????) help goes a long way, and that's why Userlane is the perfect companion for any HR professional.
If you're in HR, Userlane will guarantee that you offer employees an exceptional and valuable employee experience. If you're curious to find out more about our (award-winning) technology, then schedule a demo with us today or read-up on our Deutsche Bahn case study. 
New to Userlane? Take a step in your software adoption journey and join the pool of our happy customers.
About the author:
The Userlane team brings you digital adoption insights, product updates, and plenty of onboarding and engagement advice for user-centric businesses.