Company News and Press Releases
Spotlight Userlane: Marie Schneider, Team Support Lead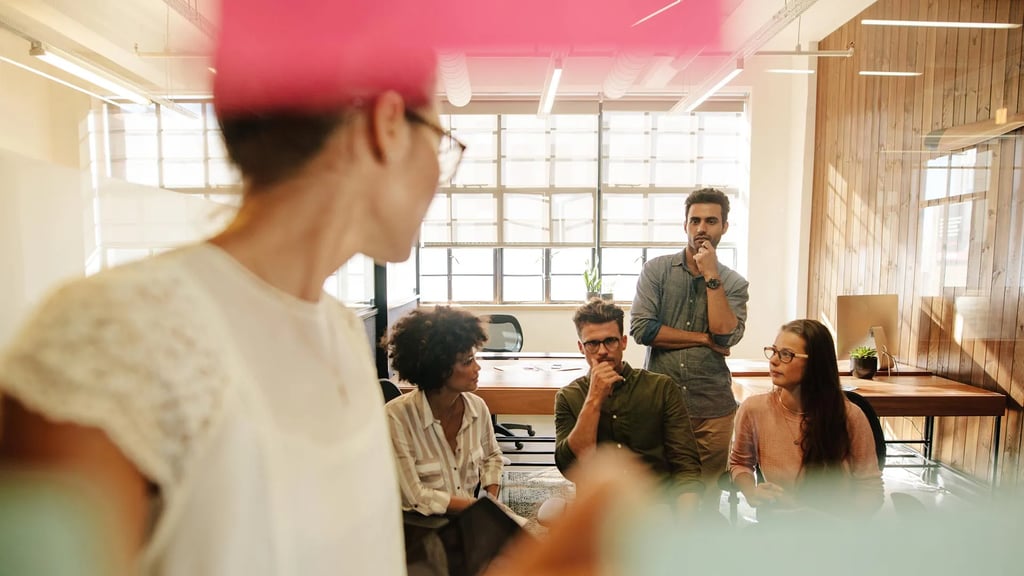 by Team Userlane
2 years ago
・
5 mins.
Get to know your colleagues cultural backgrounds and create an inclusive and diverse team environment
Our latest Spotlight Userlane features Marie Schneider from the support team, who also teaches at Deggendorf Institute of Technology. Marie shares her expertise on cross cultural management and communication.
Watch the interview here…
Or read on to hear what Marie had to say… 
I'm Marie, and I am the Team Lead for the Support Team at Userlane. My main responsibility is to look into any technical issues that arise when customers are using our product. 
Also for the past five years, I have been teaching Intercultural behaviour and cross cultural management at Deggendorf Institute of Technology. From a young age, I have always been interested and amazed by different cultures and countries. I had always wanted to study and learn about intercultural differences, and now I am fortunate that I get the opportunity to do so with students from all over the world. 
Cross cultural management is about being inquisitive
What I have learnt is that you really have to start with yourself to better understand your values and what your cultural background is. You are then better placed to ask questions about other cultures and values and view things from a different perspective. Even when actively learning about other people's backgrounds, there will still be misunderstandings across cultures, because it all links back to how we were raised, where we were raised etc. 
Pitfalls to be aware of and avoid 
I believe one of the pitfalls is presuming what you have learnt about a culture, applies to everyone. That is not the case, because the person you are communicating with may have a different religion to what you expect, and may have been raised in a different way. You should never assume in any context, but ask questions and be curious about who they are. 
Bringing learnings forward to a workplace
Personally, I pay a lot of attention to not just what is being said but also what verbal and visual cues I am noticing. Even in virtual settings, people behave slightly differently. For example, some colleagues may feel more comfortable scheduling long meetings, compared to others who prefer shorter and more efficient meetings. People may have different preferences in the workplace, and it can be dependent on what is common in their cultures as well as obviously personal preference. 
It is good to be aware of those differences, and it is important for businesses who have employees from different geographies and cultures to make sure there is a feeling of inclusion. To foster a good team spirit, these differences need to be taken into consideration. It is also beneficial when working with clients to understand how they like and prefer to work. Ask the questions and then adjust to it. 
Organizations need to prepare for cross cultural team set-ups
We've seen in the past two years, many organizations had to adapt to working remotely, and setting up working environments for employees in their homes. So thinking about cultures was not a top priority for businesses. We are only just seeing more books and information on virtual cross cultural teams emerging – it is still a new subject and area for businesses and leaders to learn. I hope there are more best practices and toolkits shared in the future as more and more organizations make the shift to a global remote workforce. 
You need to consider how you set up your teams and embed that feeling of inclusion into day to day work through team building activities and opportunities for people to share their backgrounds and values. 
The next couple of years will show how we can handle this more effectively, inclusively and in a fun way. Working between time zones, languages and technical infrastructures all need to be baked into businesses' approach to working across cultures and geographies. 
It will be interesting to see how businesses adapt over the coming years! 
New to Userlane? Take a step in your software adoption journey and join the pool of our happy customers.
About the author:
The Userlane team brings you digital adoption insights, product updates, and plenty of onboarding and engagement advice for user-centric businesses.