Company News and Press Releases
Spotlight Userlane: Adrian Makohon, Product Manager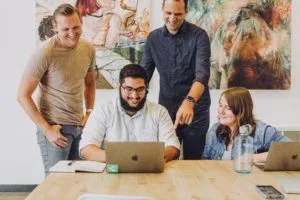 by Team Userlane
2 years ago
・
5 mins.
Pushing for simplicity in our product development
At Userlane, our product development team is buzzing with amazing talent, innovative thinking and a passion for creating something truly useful for our customers. In our latest Spotlight Userlane interview we caught up with one of our product managers, Adrian, to see what it is that excites him about working in product.
You can watch the 5 minute interview with Adrian here…
…or read on to hear what Adrian had to say:
I'm a product manager here at Userlane, with around 20 years of experience in software and digital. Many of those years have been spent in product development. I am originally from Australia and have been living in Germany for 7 years, and I am currently based at our headquarters in Munich.
Injecting simplicity into the Userlane product
In my role I look after the Engage product stream. Our responsibility is to look at the overall experience of creating, managing and consuming the support content. This is the content that sits on top of the applications that our customers want extra help in using or adopting across their organizations. 
I would say the key thing in this area is making it as easy as possible to create content, as easy as possible to consume that content, and also making sure it is as fast as possible to manage. All so that the content users have access to is relevant. We want to ensure it is easy, fast and relevant, and if we succeed at that then we are doing our jobs correctly.
Make sure you are creating something worthwhile
There are a lot of different things that excite me about product development. The biggest thing for me over the years has always been watching a product evolve over time and bring value to the business and wider market. Within that process there are a lot of steps that need to be taken and within each of those steps there are areas I find interesting. 
For instance, exploring and understanding what the market looks like, what are the current trends that are thriving, and identifying common problems that organizations face.. To me that is always a fun game of pulling in the right information, analyzing it and getting a good sense of the lay of the land. From there you are set up to be able to work out where the biggest opportunities are to go after. 
The next step is even more exciting because we can start exploring what solutions we're going to create and build. We can start testing and learning based on what the response is to the product, and derive if it brings the intended value. We can know at this stage if we have created something worthwhile, or if something doesn't quite work we can learn a valuable lesson to take forward in the development.
Making something simple isn't easy
At Userlane we have a shared vision to 'Fight for simplicity' and that applies to everything we do and drives the different teams across the business. In product, we know we are here to make something fast, easy and relevant. But, building simplicity is not easy. 
It's easy to identify an opportunity, but all of a sudden you are sat there with a mega 'Frankenstein' product that's complex to use and as a result people don't feel comfortable using it. 
The key is to always go back to our shared vision of 'Fighting for simplicity'. I like to make sure we think about the interconnecting points to ensure we are creating something that still maintains simplicity for our managers, editors and CIOs. And in turn, helps with increasing the adoption of a product, because that's always the end goal at Userlane.
It's the people that make Userlane so great
Thinking about why I love working at Userlane, my one favorite thing is definitely the people. We have such a great culture, and a real push to hire the right people. There is a great sense of community and connection that allows for a lot of solid ideas to flow through the organization and a lot of fun to happen at the same time.
New to Userlane? Take a step in your software adoption journey and join the pool of our happy customers.
About the author:
The Userlane team brings you digital adoption insights, product updates, and plenty of onboarding and engagement advice for user-centric businesses.