Digital Transformation and Digital Adoption
Top Remote Working Software to Empower Employees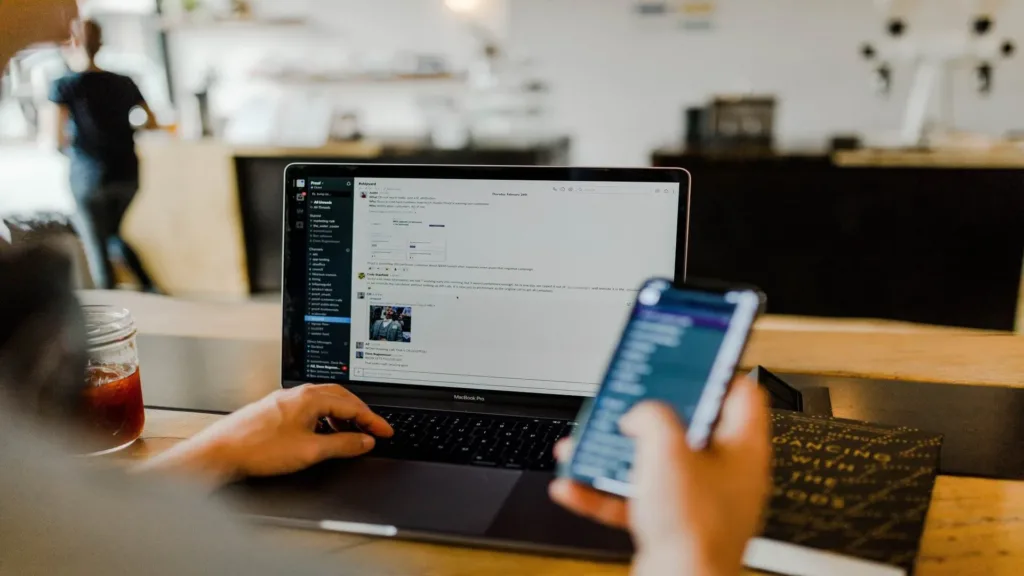 by Team Userlane
4 years ago
・
32 min.
Millions of people will get the chance to experience days without long commutes, or the harsh inflexibility of not being able to stay close to home when a family member is sick… This might be a chance for a great reset in terms of how we work. – Matt Mullenweg, CEO of WordPress and Automattic
There's no doubt about it: The COVID-19 pandemic is causing a huge shift in the way we work. Companies across the world have asked their employees to work from home/remotely for the foreseeable future. Working from home or remotely are not foreign concepts, but implementing it on a mass scale – as we are seeing now – is something no one had expected at the beginning of this year. 
The pandemic is shaking up the way we do things in all spheres of our lives: Social distancing, being in lockdown, only being able to go out for essential supplies or doctor's appointments, having children at home because schools are closed, travel bans. It's a lot to take in, especially for companies that have never had a fully (or even partially) remote workforce or don't have the right technology and tools in place to have staff work remotely. 
However, the shift to remote work has been a long time coming. It just so happens that it's happened a lot sooner and quicker than expected. In Buffer's State of Remote Work report for 2019 (based on answers from nearly 2500 remote workers), 99% of respondents stated that they would like to work remotely now and again for the rest of their careers. So it's pretty clear that remote work is something that employees value highly. In fact, many employees are even willing to forfeit vacations and salary increases for the chance to work remotely. 
And now that companies across the world have been forced to send their employees home to work due to the pandemic, there is the very real possibility that "COVID-19 could permanently shift working patterns as companies forced to embrace remote working … find that their employees do not want to return to the office once the closures are lifted."
Of course, there are huge challenges associated with moving to remote work. From not having the right set-up and equipment to having no broadband service at home, there are quite a few mountains companies have to climb to ensure they can have a productive remote workforce. 
Another challenge is associated with having the right software in place that enables remote work. So, for this article, we've put together a list of remote working software that will help your employees get the work done (and done well). 
Our research for this list is based on product review sites such as G2 and Capterra as well as on recommendations, the latest articles, and personal experience working with the software.
Remote Working Software: The Usual Suspects!
A quick Google search of software applications and platforms that are ideal for remote work (or simply working from home now and again) will return similar results, namely: Slack, Zoom, Google Drive, Trello, Dropbox, and Microsoft Teams. Here's a quick breakdown of each as well what measure they're taking to support users during the COVID-19 pandemic:
Dropbox is a modern workspace where "teams, tools, and content come together". With Dropbox Business, which is designed for businesses and teams of any size, you can:
Centralize team content (create, store, and share cloud content from MS Office files and Google Docs, Sheets, and Slides)

Bring your files and cloud content together

Have access to your colleagues'/team's work from your computer, any web browser, and mobile device

Connect other platforms like Slack and Zoom so that you can keep files and conversations in the same place

Find files and folders super quickly with personalized suggestions
Almost 500,000 teams use Dropbox business (we do too at Userlane!) and its plans are super affordable. If you haven't used Dropbox before, you can opt for a free 30-day trial period to try it out.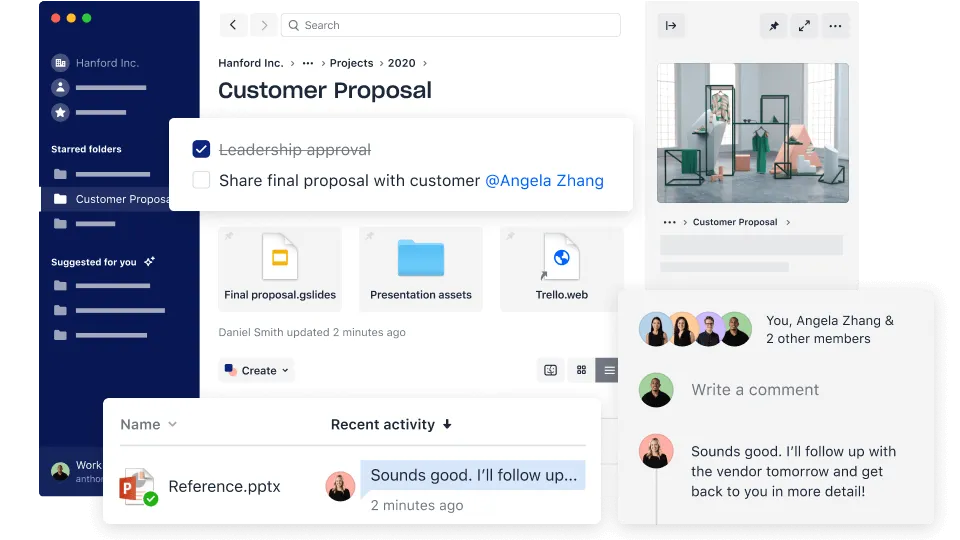 File storage and synchronization service Google Drive has been around for eight years now and can be used for both personal and professional use. With Drive Enterprise, businesses only have to pay for the storage employees use, and it comes with Google Docs, Sheets, and Slides. It also works seamlessly with MS Office. 
As users can find, open, share, and edit files from the web, mobile, or desktop, Google Drive is the ideal (and simplest) way for teams to share, store, and access files. 
COVID-19 Measures: 
Google recently announced that it is giving free access to advanced features for Hangouts Meet to all G Suite customers until the beginning of July. This means that organizations can now host meetings with up to 250 participants and record and save meetings to the Drive. Google is also offering its portfolio of Google Cloud learning resources for free until the end of April.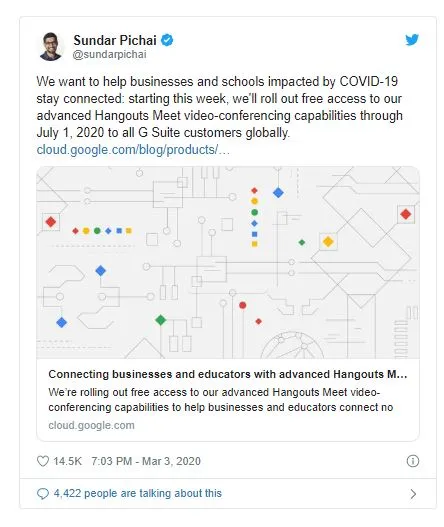 "Work remotely without feeling remote." That's what you'll find if you visit their webpage! 
Microsoft Teams is a hub for teamwork in Office 365 that enables teams to keep all chats, meetings, files, and apps together in one place. With this fast-growing communication and collaboration app from Microsoft, you can:
Chat from anywhere with group chats and one-to-one messages

Host audio, video, or web conferences (whether you have a team of 10 or 10,000, you can all meet in one place)

Access, share and edit Word docs, PowerPoint, and Excel files in real-time

Add third-party services or build custom apps
Like Slack, Microsoft also offers a freemium version with unlimited messages, guest access, over 140 integrations, and 2GB of storage per individual. For bigger and more complex companies that want enterprise-grade security and privacy, Teams is an ideal solution. 
COVID-19 Measures:
Over the past few months, Microsoft's Teams has seen an incredible 500% increase in meetings, calls, and conferences in China alone. In a measure to help companies go remote, Microsoft is offering anyone its premium version of Teams for six months for free.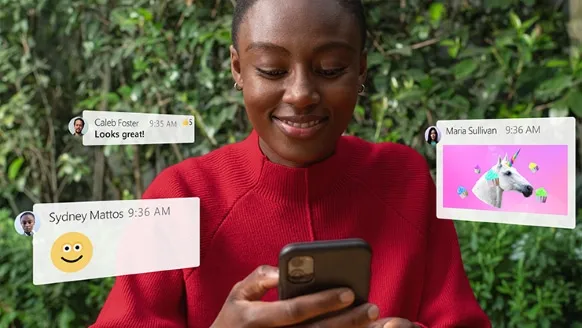 Defining itself as the place for remote work, Slack is a very popular and highly-recommended collaboration hub for companies of all sizes. Designed as an alternative to email, you can:
Chat (via audio/ video call too) internally (with teams/ colleagues) and externally (with partners and clients) 

Organize all your conversations into channels and create organized spaces for anything related to topics, projects, or teams 

Share and find information easily (files/images/videos etc.).

Customize the message interface
Slack comes with an excellent free plan with access to 10,000 of your team's most recent messages, unlimited public and private channels, and 10 integrations with other apps. Slack also offers an Enterprise Grid plan that offers support for up to 500,000 users, unlimited workspaces, and enterprise-ready security features and compliance. 
We work with Slack at Userlane, and we can definitely recommend it as an ideal platform for remote work. 
COVID-19:
Slack is currently offering free resources during the pandemic to help companies make the transition to remote work.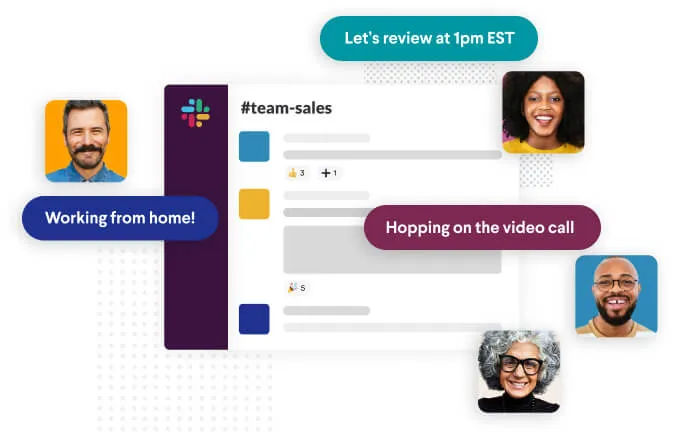 Trello is a popular and easy-to-use task management software that can be used for both personal and professional projects. A subsidiary of Atlassian, Trello is a digital kanban board with a streamlined design and self-explanatory interface. With Trello, you can:
Create tasks (which can be categorized) and arrange them in lists

Keep track of who is assigned to what 

Personalize it with your own columns and labels

Comment on tasks and keep track of conversations

Add parent-child relationships to tasks

Share files online
Trello is often compared to task management software, Asana, which is better for much larger projects and has more features. But, if you're looking for a practical, no-frills, easy-to-use task management software, then Trello is your answer. Bonus: Trello allows you to have as many people as you want on your team with its free version.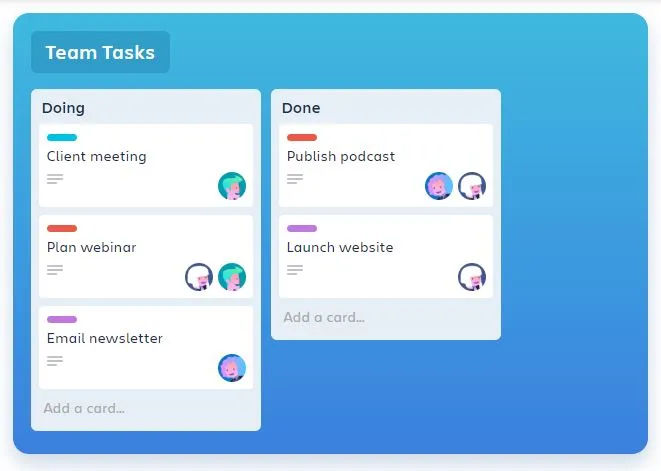 Zoom
For audio and video conferencing, hosting meetings and webinars, and business IM, Zoom is your go-to collaboration platform. Although a leader in modern enterprise video communications, Zoom can also be used for smaller companies. You can use Zoom for:
Online meetings, training, and technical support

Video webinars

Collaboration-enabled conference rooms

Cross-platform messaging and file sharing
Zoom is great for large enterprises that still want affordable video conferencing for teams and larger conferences. At Userlane, we use Zoom for meetings, hosting webinars, and communicating with customers, so once again, we can definitely recommend Zoom for remote working.
COVID-19 Measures:
Zoom is lifting its 40-minute limit on meetings for those who use the Basic (free) version of its software. It also offers Zoom Training Resources to help you get started.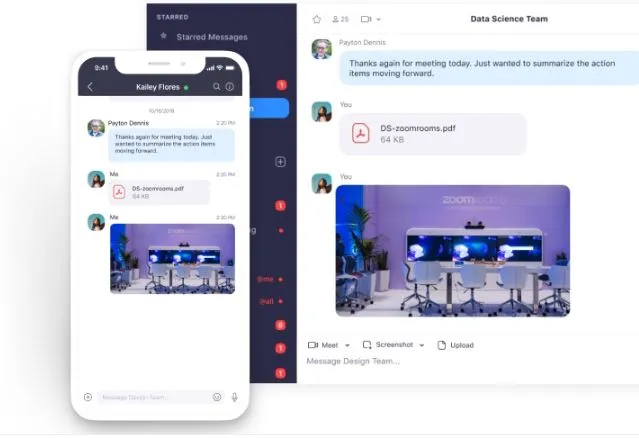 Remote Working Software: Choices, Choices, Choices!
Below you'll find a list of software platforms/ applications placed into categories, which appear in alphabetical order. You may already use or be familiar with some of these applications, but we've taken care to give a good overview of the options out there for each category. So maybe you'll discover the ideal solution for your company as you read this!
Communication Software/ Instant Messaging 
Employee app Quiply offers a mobile-first app platform for mobile employee communication, which is ideal for remote and shift workers. The app – designed for medium-to-large-size businesses  – connects all employees within a company to help them contribute to the company's success. 
You can use Quiply for employee approval, crisis communication, forms and guidelines, open positions and jobs, bulletin boards, training, employee surveys, vacation requests, sick leave, and even carpooling! The app offers: 
News streams and articles to keep employees informed about important information

Secure chats and content sharing (documents, photos, videos, voice messages)

Employee directory 

Dates and calendars 

Push notifications to ensure messages are read immediately

Customization and branding
Quiply has also recently implemented Userlane to guide their users interactively and step-by-step through the application!
COVID-19 Measures:
Quiply is offering their BASIC version for free until the end of August 2020.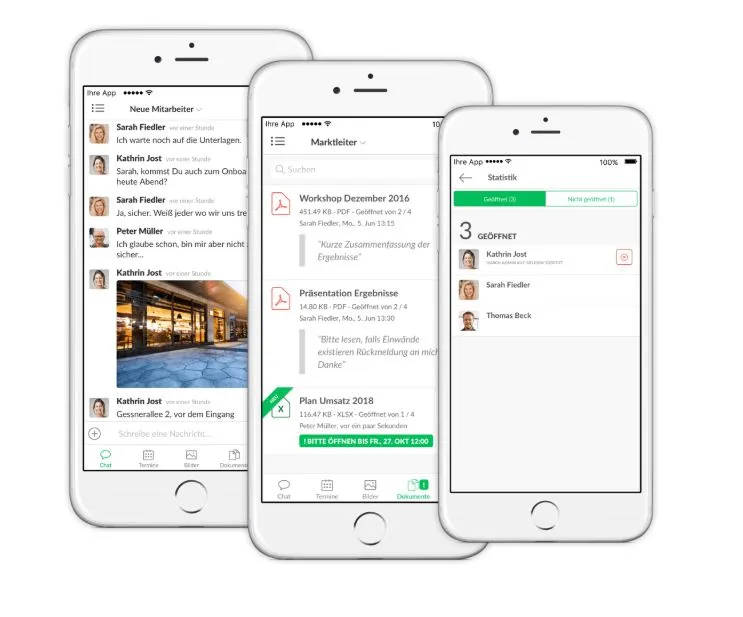 We all know about Facebook. And now there's Workplace by Facebook (although it is four years old already!): An enterprise connectivity and communication platform that comes with features like:
Newsfeed, except this time, your news feed will give you relevant company announcements and not memes and videos of cats

Shared collaboration spaces called Groups where you can upload documents, leave comments, and manage projects

Workplace Chat, which is an instant messaging tool that allows text, voice calls, and video conferencing

Live video (get real-time feedback)

Auto translate 

People directory (find colleagues and build connections)
COVID-19 Measures:
Facebook is offering  the premium version of Workplace Advance for free to emergency services and government organizations for 12 months.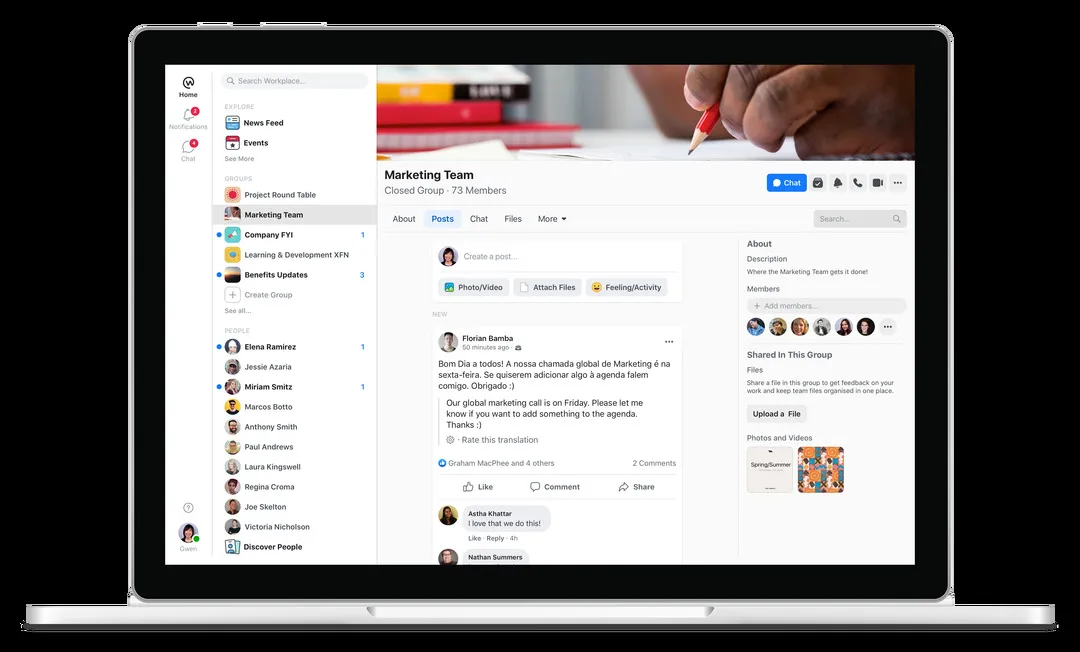 Fun fact: You talk up to six times faster than you type. That's why there's Loom. 
Loom allows you to capture your screen, voice, and face and then share this video instantly (it would take you longer to type out an email). And if you want to reduce the number of meetings you have, you can simply send a Loom. 
Loom offers a great UX and is simple to use: Fast recording, instant sharing, and easy editing. It's all about keeping everyone engaged (building stronger relationships through video), saving time, and boosting productivity. Loom works on Windows, Mac, Chrome, and iOS. 
COVID-19 Measures:
Until July 2020, Loom will remove the recording limit on its free plan, halve the price of Loom Pro, and extend trials of Loom Pro from 14 to 30 days.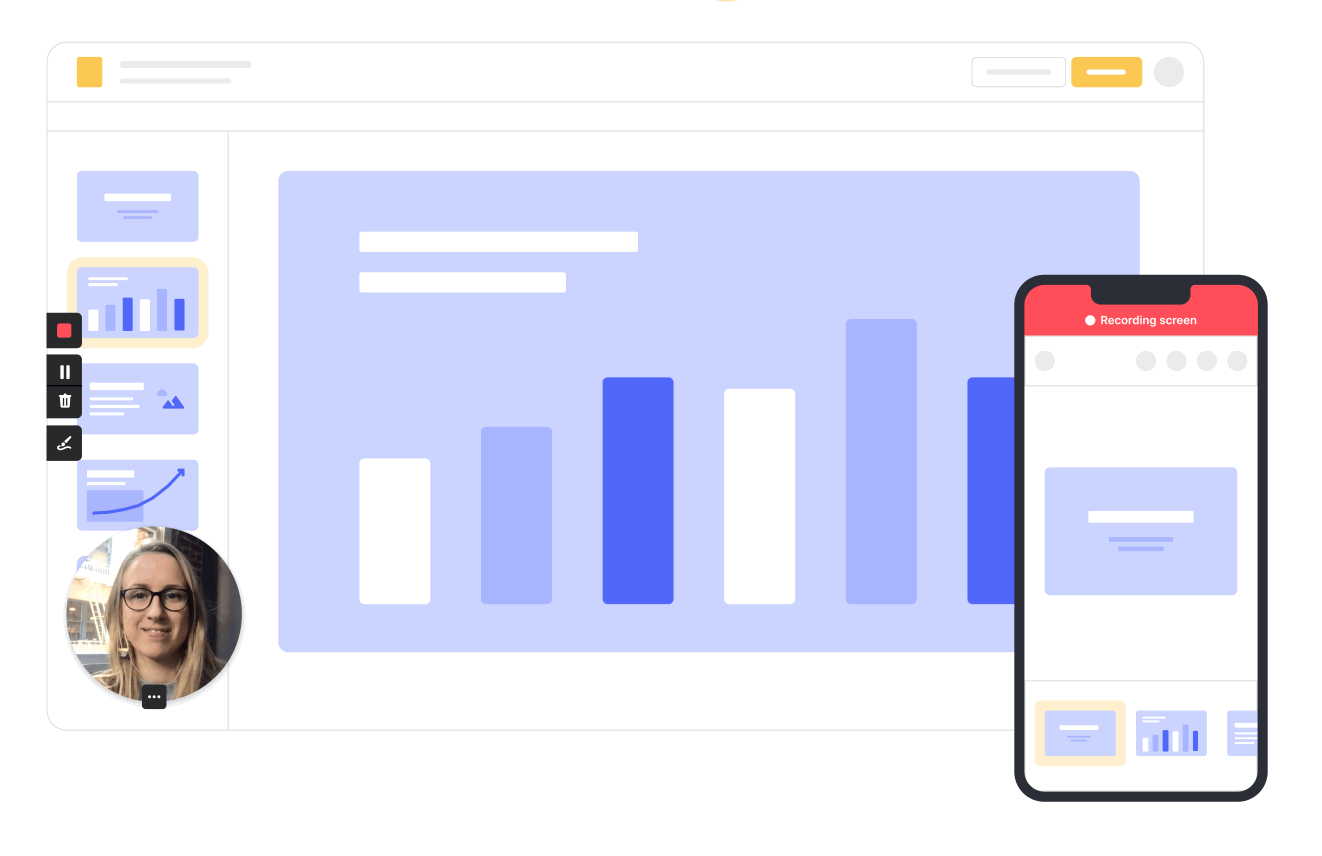 Chanty is an AI-powered team chat (text, voice, and video) that offers a simple and intuitive user experience. It offers all you need, such as unlimited messaging history, screen sharing, multiple content sharing, and integrations, and comes with awesome features, such as: 
Teambook: A single hub for tasks, chats, pinned messages, and other content you share

Sharing code-snippets with dev-friendly formatting

Turning chats into tasks with one click

Kanban boards

Setting and controlling roles and privileges 

Leaving and sharing voice messages

Changing chat appearance

Self-learning assistant that helps you catch up with conversations

AI search

AI suggestions when typing replies
Chanty, which is available across multiple devices, is the ideal solution for you if you're looking for a fast, easy-to-use,and affordable solution (free for up to 10 members or 3 USD a month per user) that is designed to make your teams more productive.
Other Communication Software to Check Out:
Skype for Business, Google Hangouts, Amazon Chime
CRM Software
This list wouldn't be complete without the world's number one CRM and Sales platform! We also use it at Userlane across various teams, so it definitely needs a mention! Salesforce offers solutions for numerous business types, roles, and industries, so you're guaranteed to find something that fits your business needs.
Sales Cloud offers::
Lead and contact management (track your leads from click to close and gain a 360-degree view of your customers)

Sales opportunity management (get a complete view of your team's deals)

Sales data with Data.com

Workflow automation

Customizable reports and dashboards (get a real-time view of your business)

Sales forecasting

Mobile application (turn your smartphone into a portable sales office)
With Sales Cloud, you'll get to know your customers better, helping you sell better and build lasting relationships with your customers. You can try Sales Cloud for free for 30 days. 
With this leading business solution, you can drive sales productivity and marketing effectiveness and sell smarter with contextual AI, intelligent automation, data-driven feedback, and advanced insights. With Dynamic Sales, you'll have access to:
Lead opportunity scoring 

Personalized engagement based on contextual insights

LinkedIn Sales Navigator integration

Microsoft Forms Pro (combine customer data with survey insights)

Sales playbooks

Predictive forecasting

Coaching tools
Dynamics 365 comes with an array of exciting features, is highly flexible and easy to use, and offers a great UX, excellent reporting capabilities, and the ability to integrate with all other MS 365 solutions.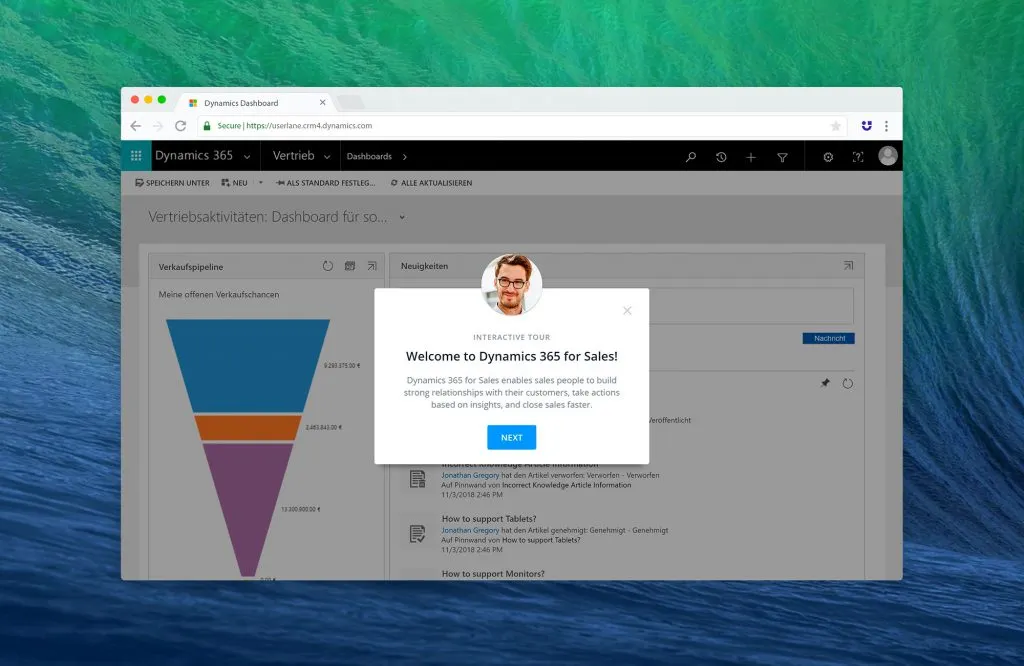 Other CRM Software to Check Out:
Zendesk Sell, ActiveCampaign, Freshsales
Customer Success Software
LiveAgent is a scaleable customer success platform ideal for small to medium-sized businesses that want to improve conversion rates, revenue, and service at the same time. The platform improves customer experiences through real-time omnichannel support, task management, and data storage. It gives you a complete overview of your customer service efforts, from usage statistics and performance reports to customer satisfaction ratings.
LiveAgent is packed with over 180 help desk features and over 40 integrations. The software is available in over 40 languages and offers fully functional iOS and Android apps for customer service on the go. LiveAgent also integrates with over 40 third party applications including Slack, Google Analytics, Braintree, Pipedrive, and Mailchimp.
What you can expect:
A universal inbox that streamlines all your communication channels into a single dashboard
Built-in CRM that lets you view customer contact info, past communication, and more
Native live chat, built-in call center, and social media integrations 
Robust reporting and data analysis features
Automation features to improve productivity and workflow
A WYSIWYG knowledge base builder that lets you create multiple internal and external knowledge bases complete with FAQs and forums
LiveAgent is offered at a freemium pricing model. The All-Inclusive package contains all that LiveAgent has to offer and is priced at $39/month per agent.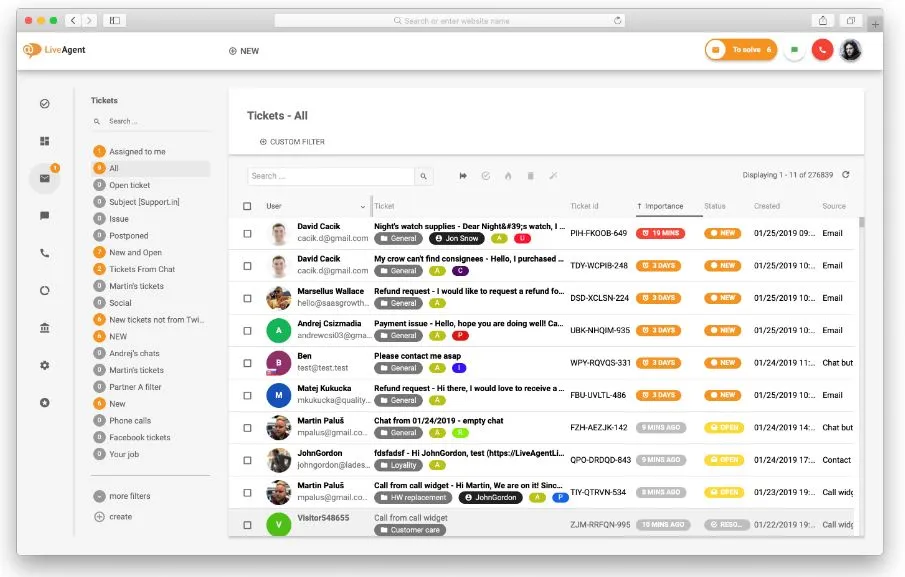 Other Customer Success Software to Check Out:
See our post, Pro Tips on Choosing a Customer Success Solution, for a list of other Customer Susccess Software!
Design/Wireframing Software
Cloud-based software Figma helps teams to create, test, and ship better designs. You don't need to stop in order to install, save, or export. Figma makes sharing designs across your company super easy, and you can get things done fast. For example, you can jump into the same file with your colleagues and co-edit in realtime – no matter where your colleagues are in the world. 
Figma is designed for UI design, UX design, prototyping, graphic design, wireframing, and brainstorming, so it's the perfect software for remote product teams. Some of Figma's really cool features include:
A modern pen tool

Instant arc designs

Advanced font features

Plugins

Accessible libraries

File-sharing with live links

Smart Animate 

Animated GIFs

Embedded commenting

Worry-free version history (view who made changes and go back in time if needed)
Figma can be used for companies of any size, including enterprise. You can try Figma out for free.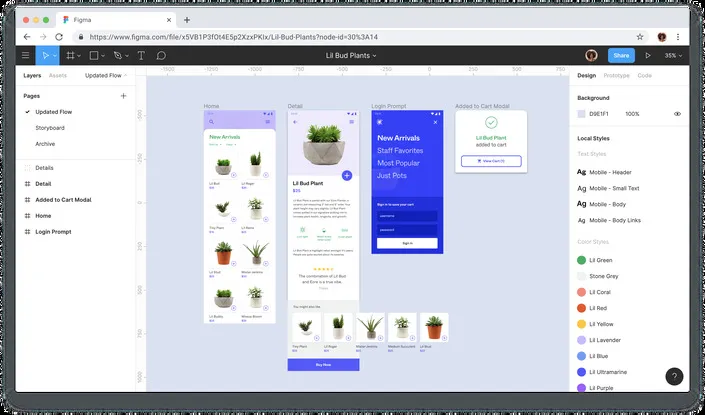 UXPin is a digital platform that enables product teams to create and collaborate in one place. UXPin offers mockups, building, prototyping, UX documents creation, and collaboration capabilities. With UXPin, you can:
Turn static artboards into interactive prototypes

Facilitate the design process at scale

Assign comments as tasks

Gather important and contextual feedback quickly

Co-design in real-time

Preview prototypes on mobile devices
If you're looking for a solid wireframing tool that allows you to make immediate changes to your wireframes, UXPin is a good choice. You Have a 14-day free trial. (We use both Figma and UXPin at Userlane!)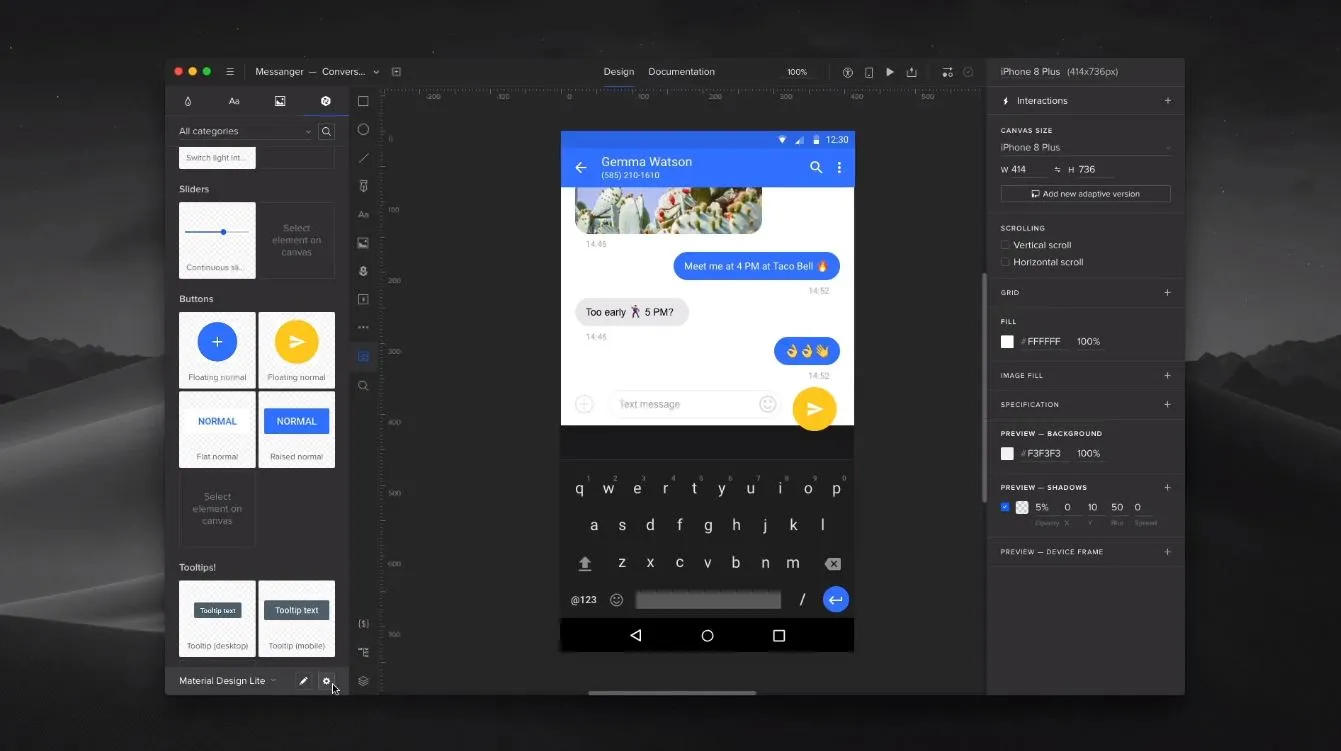 Other Design Software to Check Out:
Sketch, Lucidchart
Digital Adoption Platforms
Of course, we couldn't create a blog post on remote working software without mentioning Userlane! 
As a fast and flexible Digital Adoption Solution, Userlane enables employees to work with any browser-based software with no need for on-site training or local support. Organizations across the world implement Userlane to onboard and train their employees and onboard their customers if they offer a SaaS product. 
When it comes to employee onboarding and training, companies don't need to worry about halting their training efforts as they transition to a remote workforce: Userlane works on any browser-based software application and employees can be trained anytime and anywhere with our customizable Virtual Assistant (that provides constant interactive performance support) and interactive guides. 
With the shift to remote work and the implementation of new software, employees are guaranteed to have questions and will need assistance. This, naturally, has the potential to overwhelm your remote IT support, and, as a result, reduce productivity as employees wait for answers.
With our in-app interactive guidance, employees learn a new software application by doing – they complete tasks as they learn them with interactive step-by-step guidance. For this reason, Userlane is a valuable solution that will enable your company to continuously train employees no matter where they are in the world, which, in turn, keeps them productive and gives them the confidence to work in any software application.
Digital Asset Management Software
Pics.io is a digital asset management platform that helps business owners, creators, marketing, and sales professionals organize, manage, and share their online digital library. 
Remote teams use Pics.io to cut feedback loops, avoid work duplication, and create a single source of truth for photos, videos, and documents. With Pics.io, you can:
Create an easy-to-navigate digital library (use keywords and tags to find the file you need in seconds)
Store all file versions together as linked assets. Creators no longer have to come up with elaborate file names (draft1, draft2, draftfinalfinal) when saving their work.
Access your digital library anytime, from all devices. Pics.io works on top of leading storage platforms Google Drive and Amazon S3. 
Comment on each other's work and track changes using in-app chat and real-time version control
Present your work in its best light. Pics.io helps teams create branded websites in just a few clicks and share them with partners, clients, or press.
Over 40,000 small- and large-scale teams worldwide use Pics.io to manage their assets. There is a free trial and a range of flexible subscription plans starting at $18/month.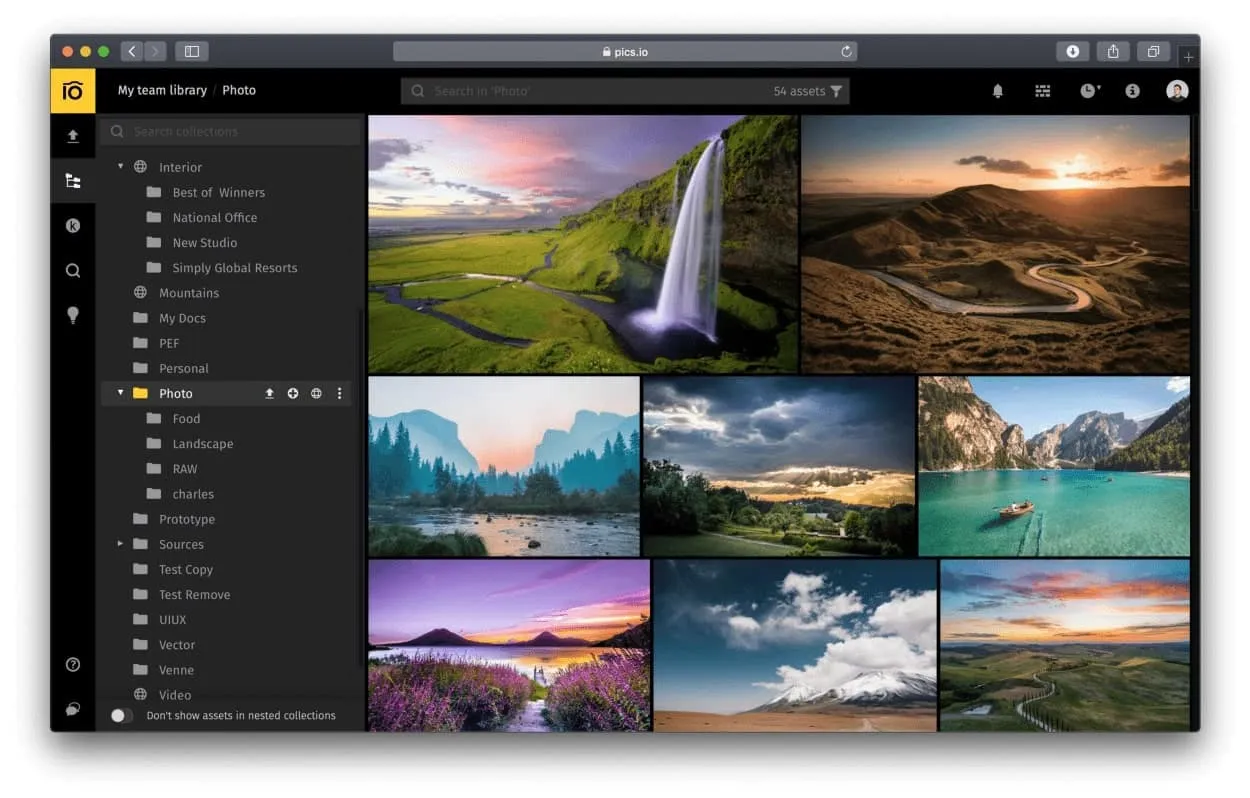 Digital Workplace Software
Kissflow's unified digital workplace allows businesses to handle various aspects of work-processes, projects, cases, and collaboration – all in one place. Whether you're dealing with budget approval requests, advertising campaigns, or customer inquiries, Kissflow allows you to manage all of your work in one place. With Kissflow, you can:
Create automated processes

Build project boards (kanban boards and pre-built project templates)

Handle case flows 

Have discussions on channels with posts, announcements, and polls
A low-code platform, Kissflow combines the power of project management, process automation (have access to dashboards, analytics and reporting, process audit), and team collaboration (announcements, surveys, secret channels, file sharing, content creation) to streamline workflows and productivity. 
COVID-19 Measures:
Kissflow has launched two ready-to-use apps to help in the fight against the coronavirus: The COVID-19 Self-Assessment Tracker, which allows organizations to check their employees periodically for symptoms, and the Remote Work Readiness Survey app, which will help businesses understand the feasibility of having a remote workforce. Both apps are available in the Kissflow marketplace.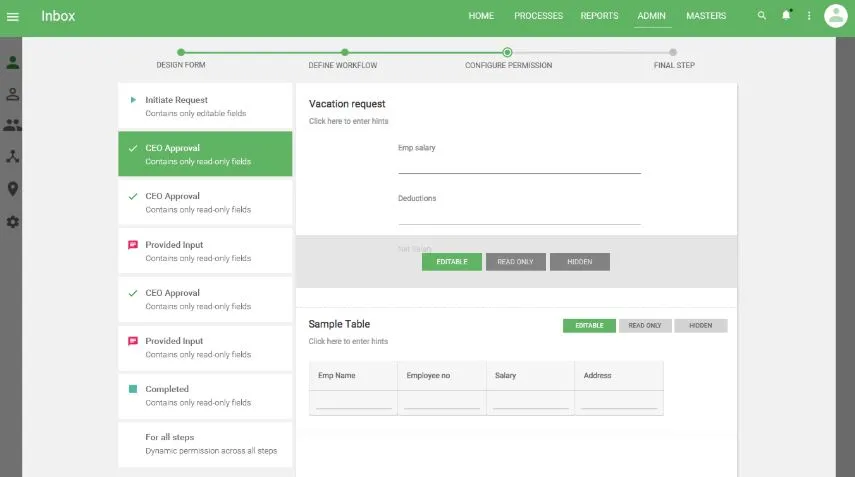 Product Roadmap Software
ProductPlan roadmap software is the easiest way to plan, visualize, and communicate your product strategy. ProductPlan empowers thousands of product leaders at companies like Microsoft, Hubspot, and Coca-Cola to keep the entire team aligned with visual, collaborative roadmaps. With ProductPlan, you can:
Create and share live roadmaps in minutes
Integrate with your favorite tools to import items, sync initiatives, and keep all information in one central location
Prioritize backlog items with a customizable weighted scoring model
Make better product decisions with feedback and idea management
ProductPlan is ideal if you're looking for an easy-to-use roadmap solution that will help your team save time, collaborate effectively, and build better products. You can get started with a free 14-day trial period.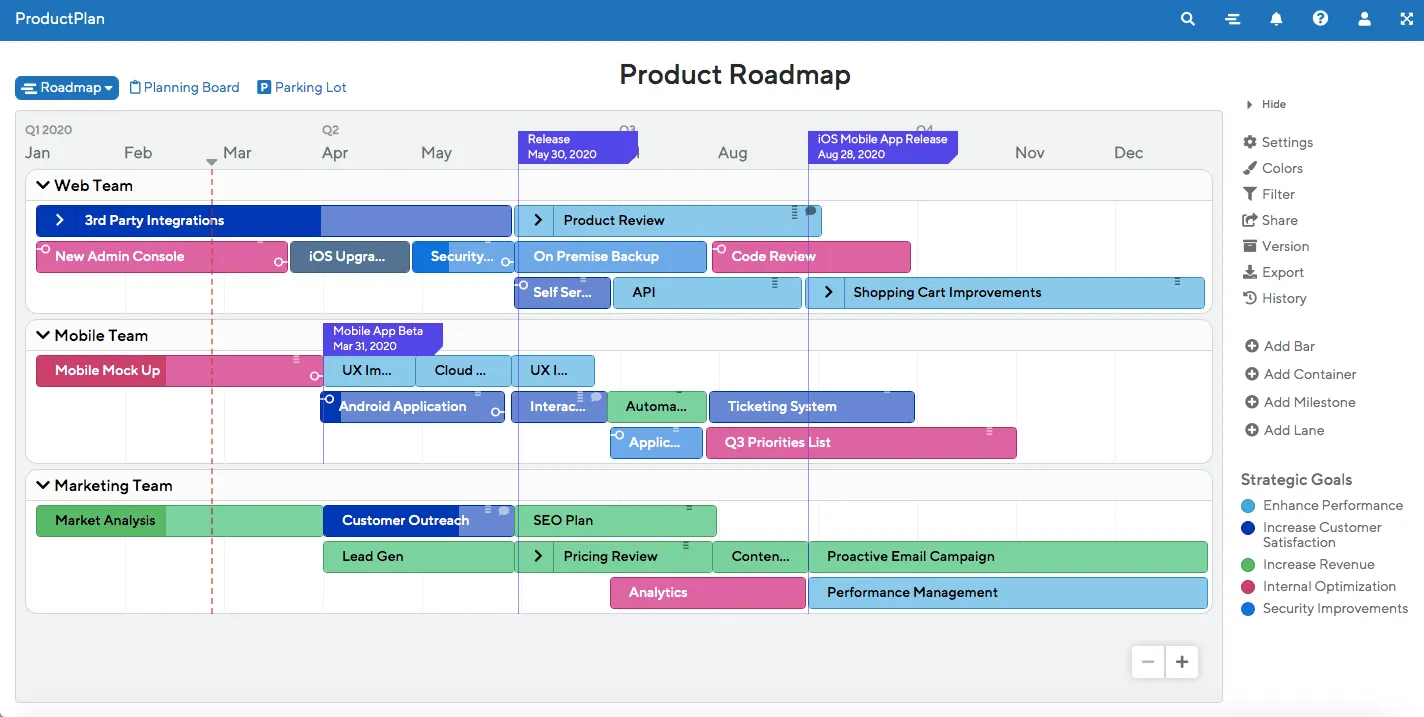 Fully remote teams need a way to communicate their plans in a visual, collaborative way that's seamless and easy to use. Roadmunk allows teams of all sizes—from startups to enterprise organizations—to build and share boardroom-ready roadmaps that are perfect for achieving alignment on a strategy.
You can get started by importing data from Jira or Excel or by using one of their 35+ customizable roadmap templates. Some noteworthy roadmapping features include: Milestones, item dependency mapping, item progress for visualizing completion status as well as multiple format options (timelines vs. agile swimlanes) and roadmap views (by roadmap owner, project status or department).
On top of roadmapping, you can also:
Capture customer feedback using their Chrome extension and manage it all in one organized inbox
Use feedback to create a backlog of customer-validated product ideas
Systematically surface high-impact ideas using built-in prioritization templates or by creating your own
Commit to ideas by promoting them to your roadmaps
Roadmunk also has a customer-facing GraphQL API that allows teams to develop integrations that sync their data seamlessly between Roadmunk and the rest of their product stack. You can try one of their customizable roadmap templates and sign up for a free 14-day trial.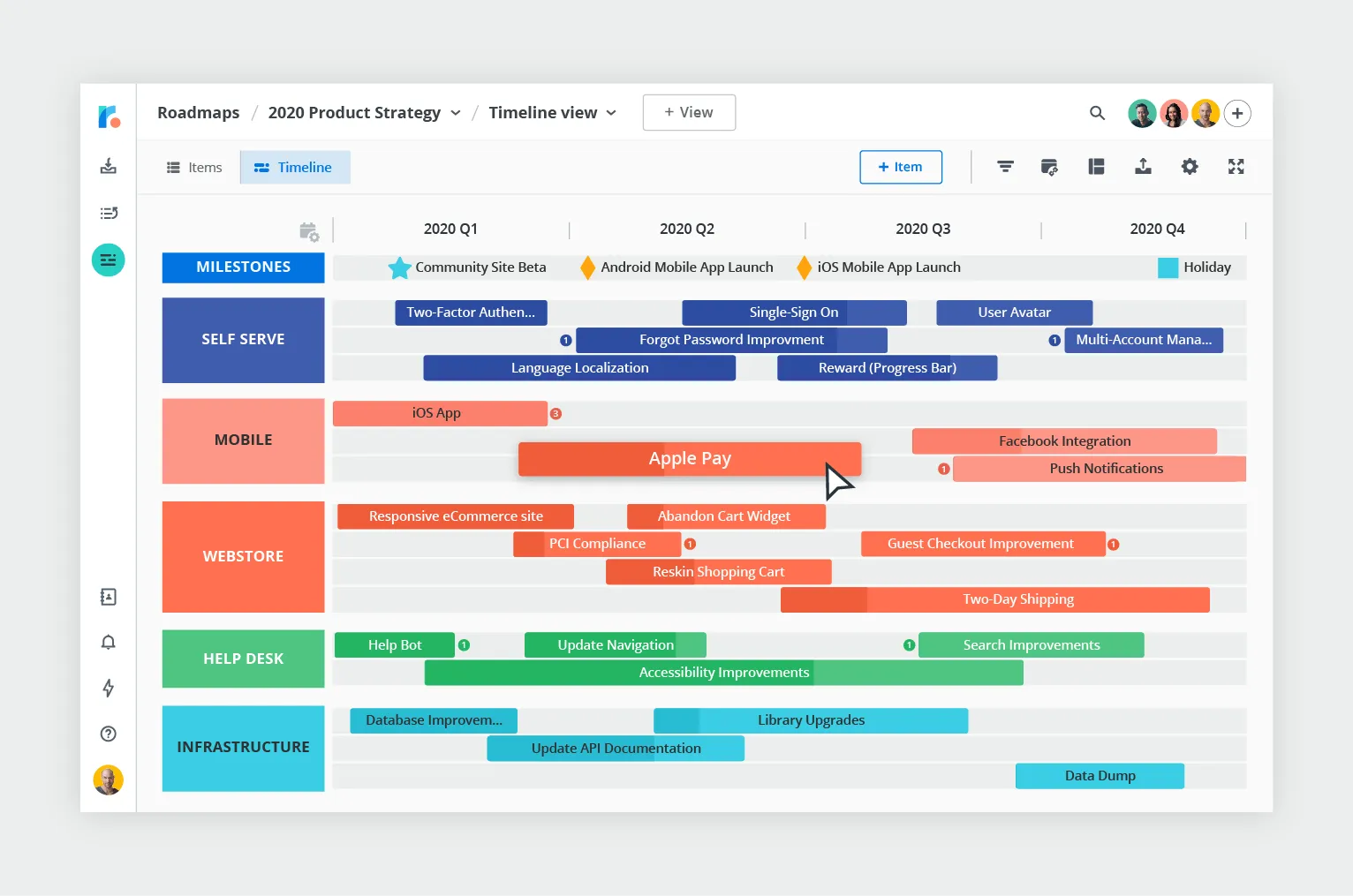 Project Management Software
With over 100,000 organizations relying on Monday.com, this project management platform is easy-to-use, practical, and offers a great user experience. Designed for small teams all the way through to enterprises, Monday.com enables users to shape projects and workflows within minutes thanks to ready-made templates and drag-and-drop building blocks. 
And it's not just a platform for project managers: Software development teams, HR, marketing, Sales, and IT all use Monday.com to manage all that they need to. 
With Monday.com, you can:
Automate your workflows

Display data in easy-to-understand ways

View tasks in a number of ways, including calendar view, timeline view, and kanban view

See, in real-time, who can take on more work and who can't

Switch between desktop and mobile with the monday.com app
The platform also comes with over 50 integrations (including Slack, Salesforce, Zendesk, Dropbox, Jira) to create one central hub of data. We use Monday.com at Userlane and we absolutely love it and would highly recommend it! 
As a software development and project management tool, Jira Software (a product of Atlassian) is designed for software teams to plan, track, and release the best software. With this tool, you can create user stories and issues, plan sprints, distribute tasks, ship products with confidence, and improve team performance with real-time, visual data. 
For enterprises, Jira offers Atlassian Access and Jira Software Premium (99,9% uptime SLAs, unlimited storage, and 24/7 support). 
Jira also offers Jira Mobile so you can manage your projects and tasks on the go on your mobile device. Other features include: Customizable scrum boards, Kanban boards, roadmaps, agile reporting, and more. Jira comes with a free plan that supports 10 users and includes 2GB of storage.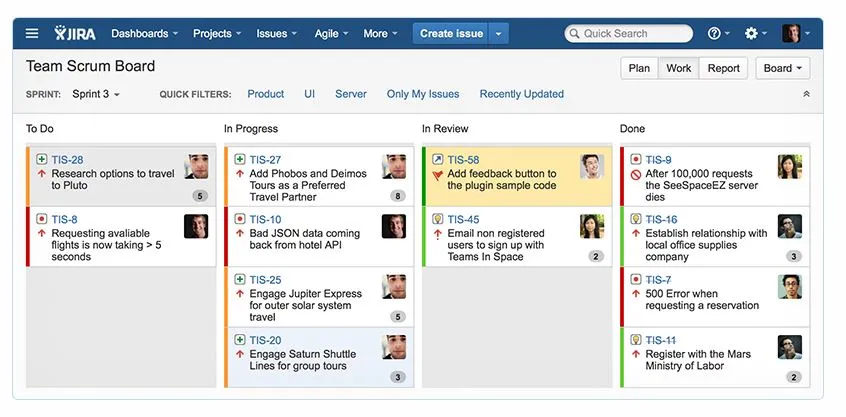 Xtensio is a strategy and communications platform where anyone can easily create, manage, share, and present professional business collateral. Teams collaborate on documents, presentations, proposals, reports, sales sheets, and other strategic exercises in real-time.
You can start with a template or create your own. The editor works like a web builder so it's easy to add images, videos, tables, and other interactive modules. You can also drag and drop, resize, change backgrounds, and specify colors and fonts to match your brand.
The best part is that the deliverables created on Xtensio are living documents (folios). You can share the public link with colleagues and clients so that everyone is always up-to-date, without the email attachments. You can also present a digital slideshow or export a PDF/PNG.
With Xtensio, all your work is organized on a private, branded team dashboard so you can keep the work flowing from anywhere. Xtensio offers a free plan with two folios, unlimited seats, and a revision history of two weeks.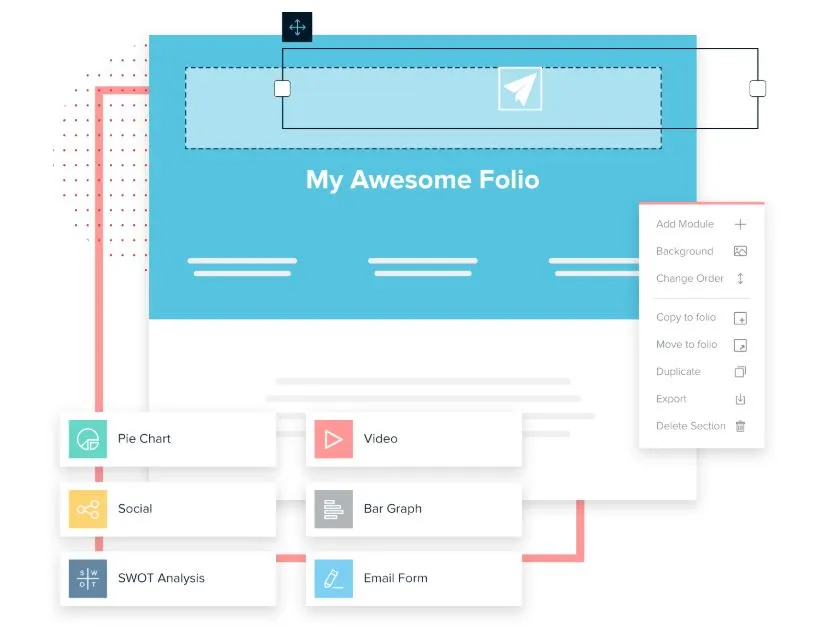 Nifty allows teams to plan, track, and deliver projects all in one workspace. Besides the integrated chat system, time tracking, and automated project status reporting, teams can also hop on a video call with the recent Native Zoom Integration in Nifty.
COVID-19 Measures:
Nifty is offering 50% off of all pricing plans for four months.
Designed to help services businesses run more efficiently 100% remotely, VOGSY is much more than a project management platform. This professional services automation software streamlines your business from quote to cash in an easy-to-use, social-media style interface.
The only PSA built for G Suite, VOGSY offers its users the collaboration capabilities of the G Suite toolkit to keep all remote teams connected, productive, and inspired. This software can do it all, including projects, tasks, CRM, resourcing, billing, and reporting. And with real-time budget, margin and schedule data, you can easily plan, track, and optimize projects.
VOGSY enables you to:
Track opportunities and send automated quotes
See actual vs. estimated project budgets and margins
Have conversations with remote team members via messaging
Collaborate in Google Docs, Sheets, and Slides saved to an automated file structure
Easily schedule resources with automated skill matching
Track tasks and deadlines in Gantt charts and to-do lists
Forecast revenue and resources
Schedule automated invoices integrated with time tracking and project data
Monitor company health in quick-view charts
Stay informed with notifications (and Gmail integration)
As all-in-one business and project management software, VOGSY helps service firms ensure business continuity and profitability no matter where they work from.
Precursive is a strategic partner of Salesforce and helps businesses in the agency, consulting, technology, telco, and professional services sectors operate more efficiently by automating admin-heavy and time-consuming processes such as resource management, project planning, accounting, forecasting, reporting, and customer onboarding.
Precursive has a growing list of blue-chip clients including GoCardless, Mitel, GoCardless, SES, and Vidyard. Designed for companies of all sizes, Precursive will help your company make every customer a success story. You can get started with a free trial.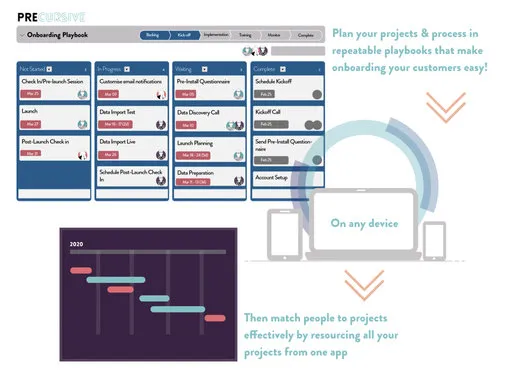 Markup Hero helps professionals and teams capture ideas and communicate clearly with their daily-use screenshot and annotation tools. And best part: You don't even need an account to try it out! You can snap screenshots with their free desktop app or Chrome extension and upload images or PDFs from their web interface. You can then add annotations like arrows, boxes, text, highlights, callouts, and much more.
Markup Hero is great for a ton of use cases; from user feedback and customer service to marketing review, sales communication, and product QA. It's lightning fast and works on Mac, Windows, Linux, Chromebook, and desktop or mobile web. Plus, it also works with productivity apps like Slack and has some integrations like Google Drive, which enables you to annotate Google Docs, Sheets, and Slides directly from drive with one-click.
Markup Hero is perfect for entrepreneurs, product managers, project managers, designers, customer service agents, executives, sales people, and anyone in a collaborative environment. Some of Markup Hero's features include:
Screenshots, upload images, PDFs, URLs
Always editable markups
Forever history and tags
Text, arrow, rectangle, oval, pen, colors, line thickness, crop, resize canvas
Insert images
Sharable links
Copy, download, and duplicate
Unlimited markups, unlimited storage, unlimited bandwidth
Markup Hero has a forever free account and is only $5/month for unlimited everything.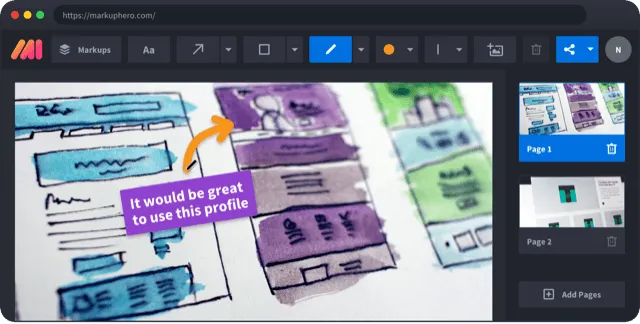 Other Project Management Software to Check Out:
Proofhub, Clickup, Wrike, Quire, Instagantt
Remote Desktop Software
TeamViewer is a (famous) remote access, remote control, and remote support solution that works with (almost) every desktop and mobile platform. With Teamviewer you can:
Access remote PCs, mobiles, and servers (without VPN)

Deliver instant remote support to both customers and employees

Support mobile and commercial-grade devices from anywhere and at any time.

Share files flexibly (iOS screen sharing and remote printing) 
TeamViewer is secure and offers best-in-class usability, image quality, and file transfer speeds. Available on Windows, Linux, iOS, and Android You can also check out TeamViewer Tensor for Enterprises, TeamViewer IoT, and Teamviewer Remote Management (centrally manage your computers from a single platform)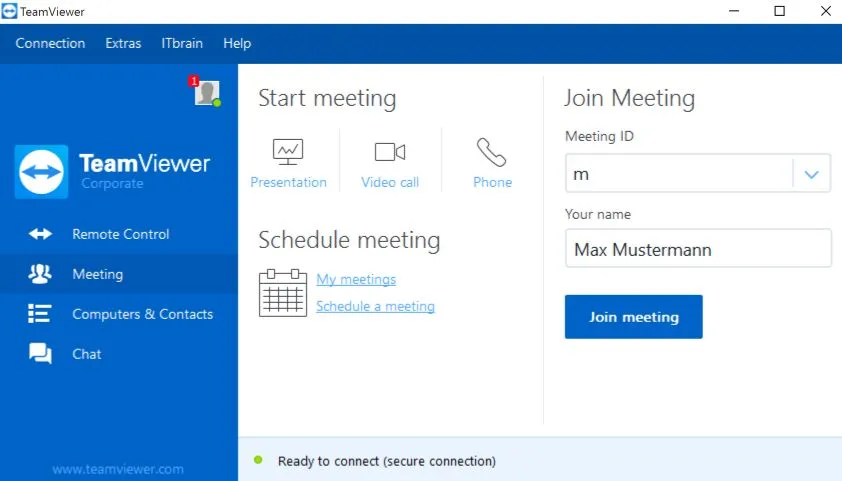 As a leading remote connection software company, LogMeIn offers powerful remote monitoring and management and secure and reliable remote assistance. 
Some of LogMeIn's features include:
Endpoint management
Real-time monitoring (identify critical issues and important updates)
User management (organize users into groups, control permissions, and enable two-factor authentication)
Antivirus management
File transfer
Remote control
Windows updates
Computer audit and inventory
Other well-known products from LogMeIn include GoToMeeting, GoToWebinar, and GoToTraining. You can get a 14-day free trial to try out LogMeIn.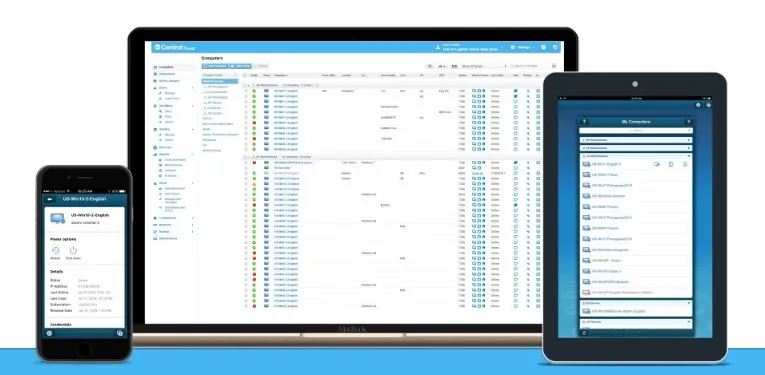 Other Desktop Software to Check Out:
Zoho Assist, Supremo Remote Desktop, GoToMyPC
Survey Software
LeadQuizzes is a great online tool that allows you to create forms, surveys, quizzes, or polls – which is ideal for internal communication. Easily collect employee feedback, conduct an online employee engagement survey, or use it to create voting forms or polls if there's something you and your team need to decide upon.
LeadQuizzes is also designed to help Marketing teams increase leads and learn about their audiences. Some of LeadQuizzes features include:
Design flexibility to customize your content
A choice of over 75 templates
Logic branching to offer a personalized experience
Website popups
Facebook Pixel Native Integration
LeadQuizzes also makes it simple to share data between the online quizzes you create and your existing marketing tools. You can get started with a free 14-day trial.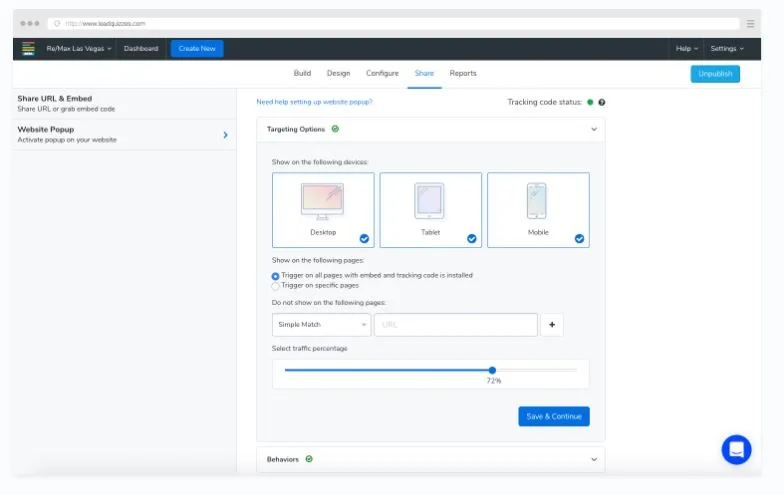 Time Management/ Work Management Software
If you need to schedule and communicate with your hourly employees, then When I Work will get the job done. With this award-winning software, you can:
Build schedules within minutes using templates and instantly see who is available 

Share schedules with everyone with a simple click

Deal with changes and replacements instantly either on your desktop or phone 
When I Work offers a free plan for up to 75 users and a Pro Plan for 2,25 USD per user. They also offer an Enterprise plan that includes full API access, SSO, custom integration options, and labor insights.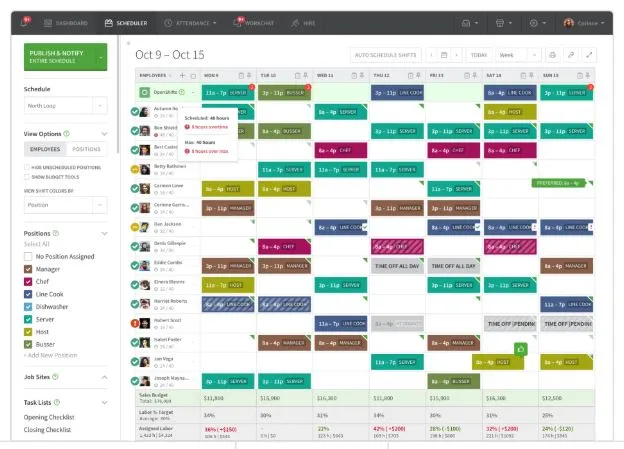 Another solution we use at Userlane, Calendly is a fantastic automated scheduling tool that eliminates the need for back-and-forth emails to schedule meetings. It's simple to use (in G2's product reviews, it comes with a user rating of 9.4 out of 10 for ease of use) and works with Google, Office365, and Outlook calendars as well as other powerful apps/platforms like Salesforce, GoToMeeting, and Zapier. 
You have full control over your schedule as Calendly allows you to set buffer times between meetings, prevent last-minute meetings, and even create secret event types. It also comes with seamless timezone detection so that no one is left confused about when to meet. We, at Userlane, love Calendly – it really makes organizing meetings much faster and simpler!
COVID-19 Measures:
Calendly is currently supporting free integrations with Zoom and GoToMeeting until June.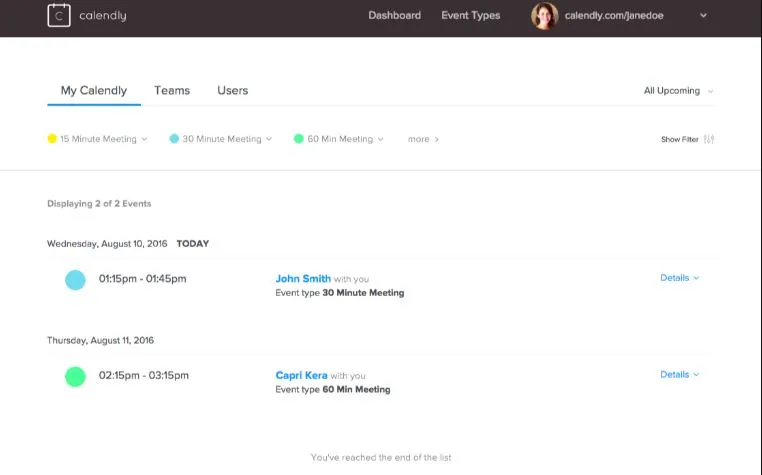 10to8 is appointment scheduling software for businesses that want to take remote appointments, be it phone calls, video consultations with clients, or internal virtual meetings.
10to8 has a smooth integration with Zoom, which makes it a perfect tool if you want to schedule video appointments. This integration creates individual meeting links for each appointment so you can make sure that only invited guests can attend. You can join the meetings straight from your calendar or from the automated SMS and email reminders.
The Free Forever Plan has all the features a smaller team needs and the quick setup helps with transitioning into a remote environment quickly.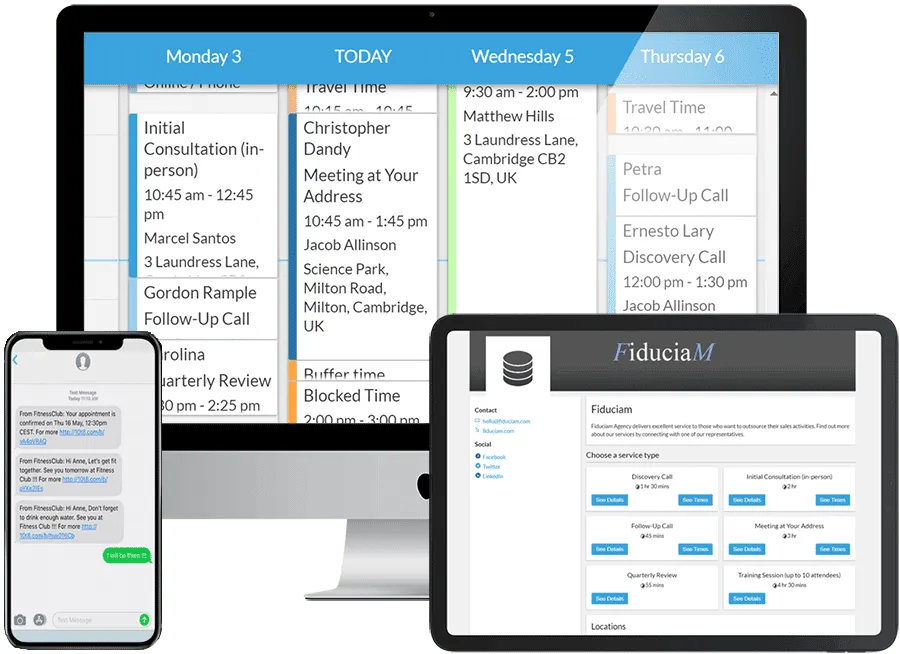 Hubstaff is productivity and time tracking software for desktop, web, and mobile that lets remote teams focus more on their work. Features can be customized on a per-user basis, including app and URL tracking, optional screenshots, and activity rates. Hubstaff makes it easy for teams to prove they're working wherever they are and gives managers confidence knowing that their teams are being productive. This frees up everyone to spend time on what they do best instead of having to constantly report back or check in.
Hubstaff integrates with multiple payment platforms including PayPal, TransferWise, and Gusto so you can pay people easily and quickly. You'll also get detailed daily timesheets sent to your inbox, along with a thorough, real-time dashboard.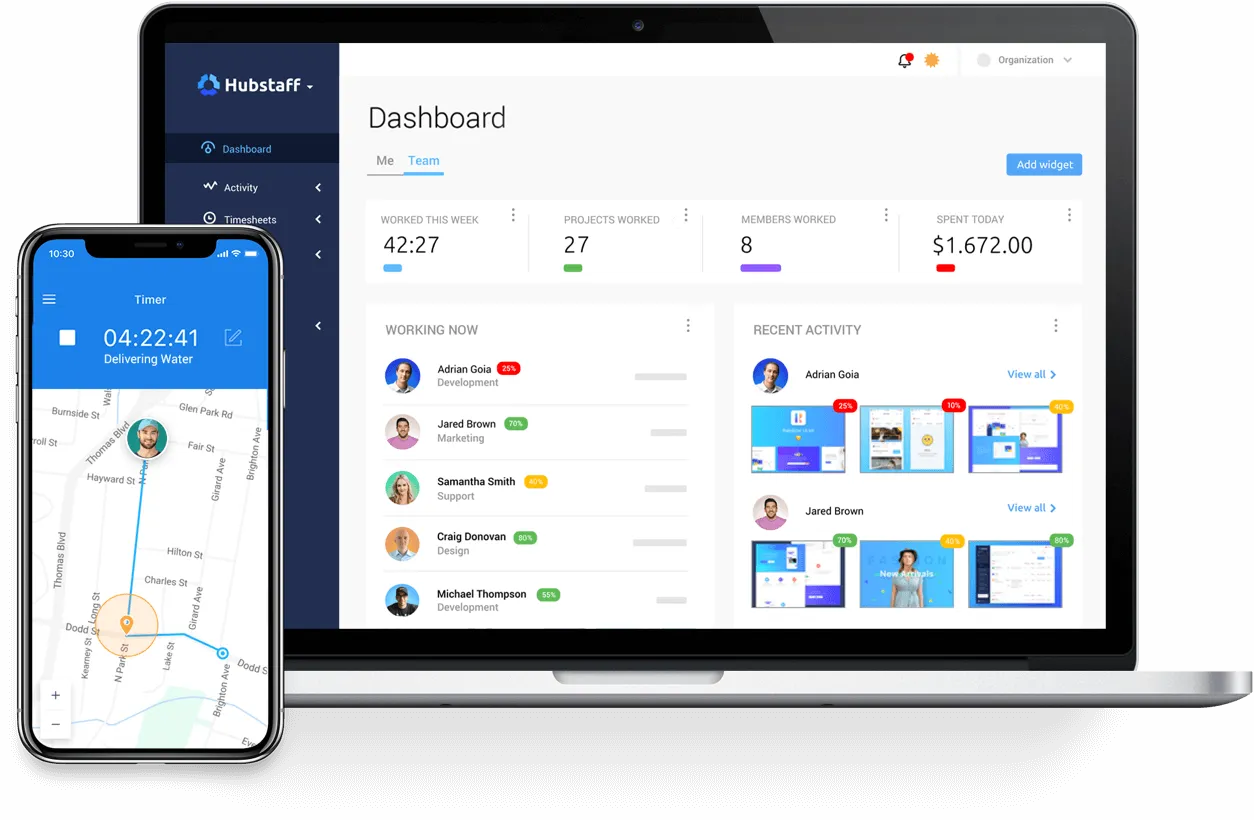 Time Doctor is a feature-rich time tracking app used by a wide variety of companies of different sizes. Customers include large corporations such as Apple, Home Depot, Verizon, PwC as well as SMBs like Surveymonkey and Firehouse subs.
The tool is useful for companies running remote teams, digital agencies, software teams, companies with remote support agents, and more. You can use Time Doctor on desktop as well as mobile.
Key Features:
Time tracking: Track time spent by each employee on specific tasks and projects.
Website and application monitoring: Keep track of what applications and websites employees are using during work hours.
Privacy controls: Take screenshots of employees' screens but only if you choose to enable this feature and with employees' consent.
Managing distractions: If an employee opens a social media or any entertainment site while working on a task, Time Doctor will
generate a pop-up to ask the employee if they are still on that task. This a great way to help employees avoid getting distracted. The tool also sends a weekly poor time use report to team managers with a list of distracting websites and applications viewed and the duration they were used during work hours.
Advanced reporting
Integrations with project mangement tools (Asana, Jira) and support tools (Zendesk and Freshdesk)
Time Doctor costs $9.99 per month and offers volume discounts. You can also sign up for a free 14 day trial.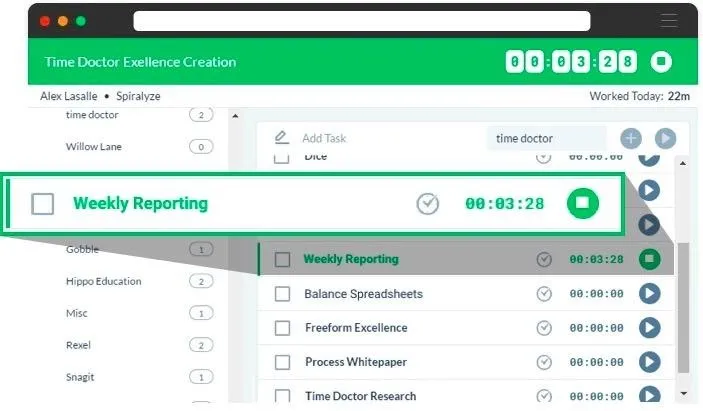 Fingerprint for Success (F4S) comes in as an all-in-one people analytics solution for improving team communication and group dynamics.
With F4S, you can:
Take a personal and career assessment test
Identify your work motivations as well your blindspots
Get research-based insights on how to communicate and work better with your team
Compare and benchmark your results with other team members as well as top players in your industry
Get professional, AI-based coaching
And the best part is that taking the assessment test will always be free.
COVID-19 Measures:
F4S is also currently offering a month's worth of full access to their premium features. Just enter the code: FREEPREMIUM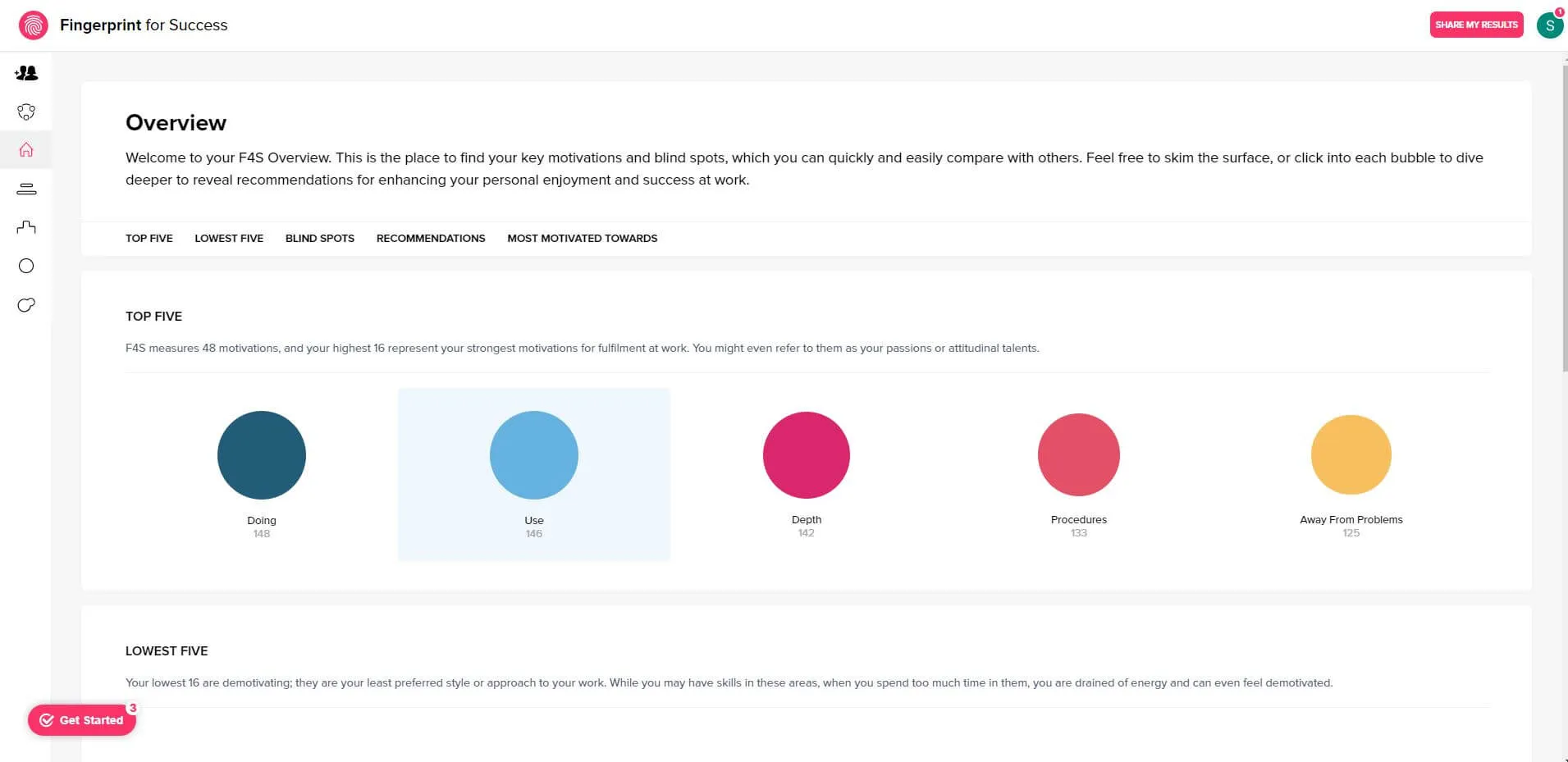 Traqq is a time tracker that can boost productivity and performance via automated reporting and monitoring tools. You can use Traqq to: 
Monitor user activity with automated screenshots and videos. The quality of collected screenshots and video clips is intentionally reduced so that sensitive and personal information (such as private messages or passwords) isn't visible.
Measure and analyze activity levels of everyone on your team with online timesheets. You can find your best-performing employees and coordinate your least performing ones.
With Traqq, you get a time tracking app with easy billing and reporting options for employees. The app also comes with administration tools to simplify monitoring, analytics, and payroll handling for employers. It includes tough privacy protection and security mechanisms to ensure a smooth and worry-free experience for everyone.
You can get Traqq Beta with no feature limitations for free.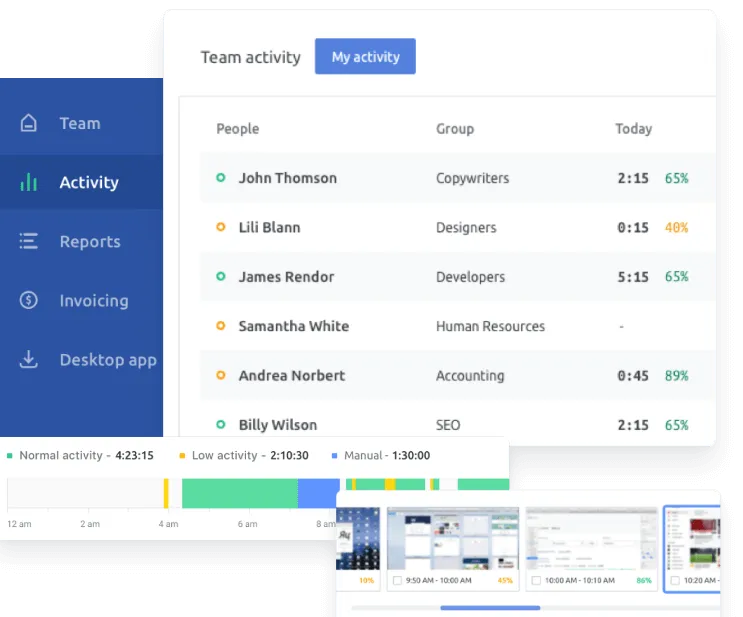 Other Time/Work Management Software to Check Out:
Workday, YouCanBook.me, TimeTrade, MyHours
You can also check out this list of the Top 42 Time Management Apps of 2020.
Video Conferencing Software
With RingCentral Meetings, you have access to free online meetings, including screen sharing and team messaging. With free online meetings and screen sharing, you can host up to 100 participants on your desktop or mobile device. File sharing is easy and transmissión between chat, file sharing, video and web meetings is seamless. Add-ons include webinars, larger meetings, RingCentral Rooms, and RingCentral Room Connector. 
For large enterprises, you can opt for RingCentral's Advance plan, which includes basic reporting round-the-clock phone support, 2,500 Call Me minutes, real-time usage dashboard, Single Sign-On, and available SLA.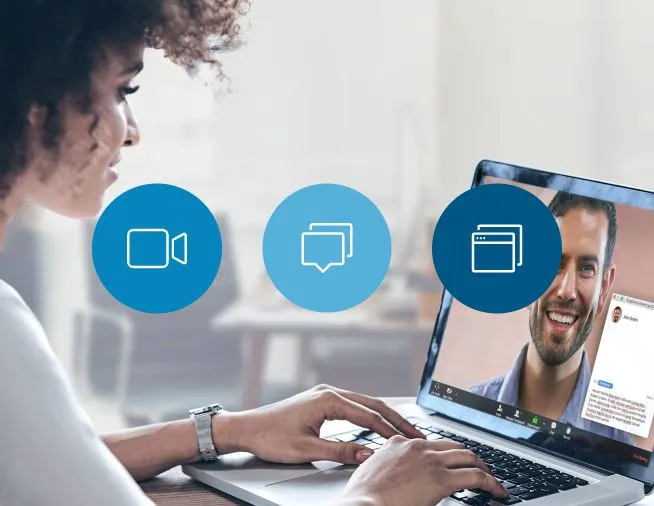 BlueJeans is an ideal solution for large enterprises to enable remote work, boost sales productivity, and improve work culture. Integrations with BlueJeans include Slack and Microsoft Teams, Trello and Hugo, alexa for business and interprefy, Facebook Live and Marketo, canvas and docebo. 
BlueJeans offers a variety of products, including:
BlueJeans Meetings: Instantly join, host, or manage video, audio, or web meetings from any location. You can capture discussion points, assign action items, and replay meeting highlights.

BlueJeans Rooms: Transform any room into an effortless video conference space. You can reserve rooms for ad-hoc or scheduled meetings through Microsoft and Google calendar integrations. 

BlueJeans Events: You can host live interactive events, town halls, and webcasts for larger audiences, no matter where they are in the world (up to 50,000) across multiple devices.. You can also have Q&A, polling, and large meeting controls. 

Command Center: Have access to live service intelligence and centralized meeting management with a 360-degree view of meetings, rooms, and events.

Dolby Voice: Users will experience more natural and high-definition sound, including background noise cancellation.
For cloud-based meetings and large events that are scalable, easy-to-navigate, and secure, BlueJeans offers everything you need. You can start a free trial for 7 days.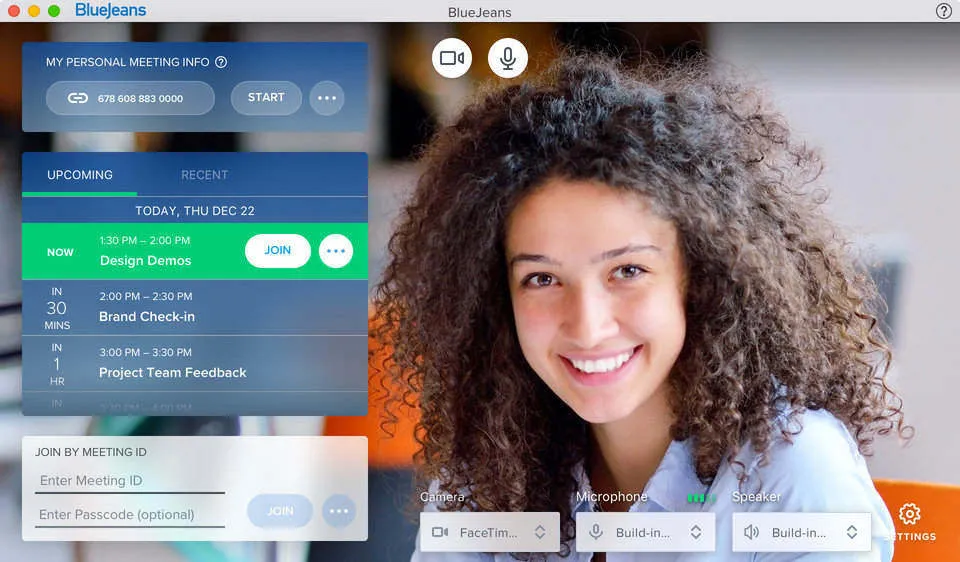 For a simple, consistent, and modern video experience across multiple devices, Cisco Webex Meetings is just what you're looking for. Trusted by Fortune 500 companies, Webex Meetings – for teams of all sizes – comes with HD video quality, background noise detection, AR capabilities, video callback features, screen sharing, calendar integrations (as well as others, such as Salesforce, MS Teams, and Slack), and in-app whiteboarding. And if you need to hold a meeting with more than 40,000 participants, you absolutely can, making this the perfect solution for large organizations. You can also use Webex for webinars, webcasts, online training, and remote support.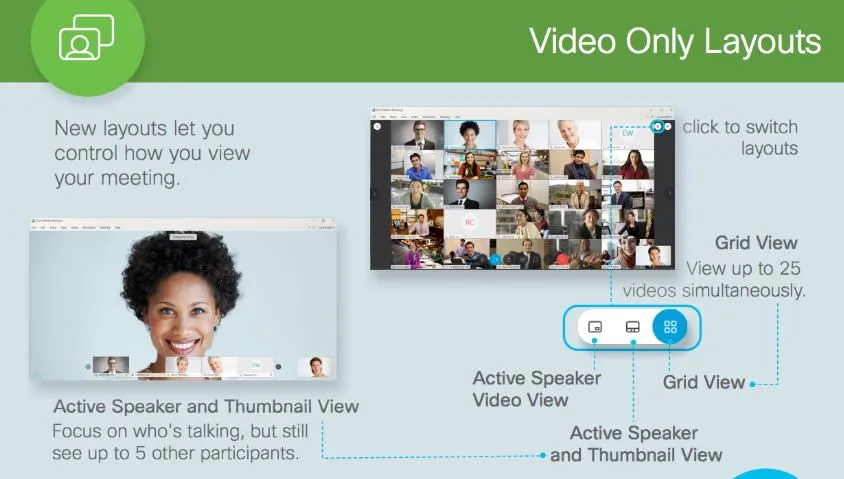 Other Video Conferencing Software to Check Out:
Zoho Meeting, Lifesize Video Conferencing App
What We Use at Userlane
Some of the software applications we use at Userlane that haven't been mentioned above include:
Autopilot (Marketing Automation Software)

Personio (HR Management Software)

Spendesk (Spend Management Software)
When Digital Transformation Happens Overnight: The Future of Remote Working Software
There is a meme doing the rounds on social media that asks the question: Who led the digital transformation of your company? Answers are A) CEO, B) CTO, or C) COVID-19. The answer C) COVID-19 is circled in red as the correct answer. 
And while it does elicit humor, it also reflects the very unexpected situation companies are now in. Shifting to a remote workforce is definitely not easy, but it must be done – and not only now while we wait for this pandemic to pass. Remote work is very likely here to stay, so making the move should happen sooner rather than later. As Suresh Sambandam, CEO of Kissflow, says: "Remote work will soon become the new normal. Even after this crisis is over, remote work will continue to reign. Employees will prefer to work remotely and businesses need to adapt to it."
 Despite the uncertainty of this period in history, we have incredible tools and technology (thank you cloud platforms and SaaS!) at our fingertips that enable employees across the world to work from home/ work remotely. 
The list given above is but a fraction of all the software applications out there you can use to be productive and get your work done whenever and wherever. COVID-19 is definitely changing the way we use and rely on software. We hope this list of well-known and perhaps not (yet) well-known remote working software gives you a good overview of what's out there and what you can look at implementing soon if you haven't already. 
We'll never probably be the same. People who were reticent to work remotely will find that they really thrive that way. Managers who didn't think they could manage teams that were remote will have a different perspective. I do think we won't go back. – Jennifer Christie, Head of HR at Twitter, in BuzzFeed News
See Userlane in action and discover how our Digital Adoption Solution can empower your remote employees!
New to Userlane? Take a step in your software adoption journey and join the pool of our happy customers.
About the author:
The Userlane team brings you digital adoption insights, product updates, and plenty of onboarding and engagement advice for user-centric businesses.