Digital Transformation and Digital Adoption
12 Critical Points to Bring You to the $100m ARR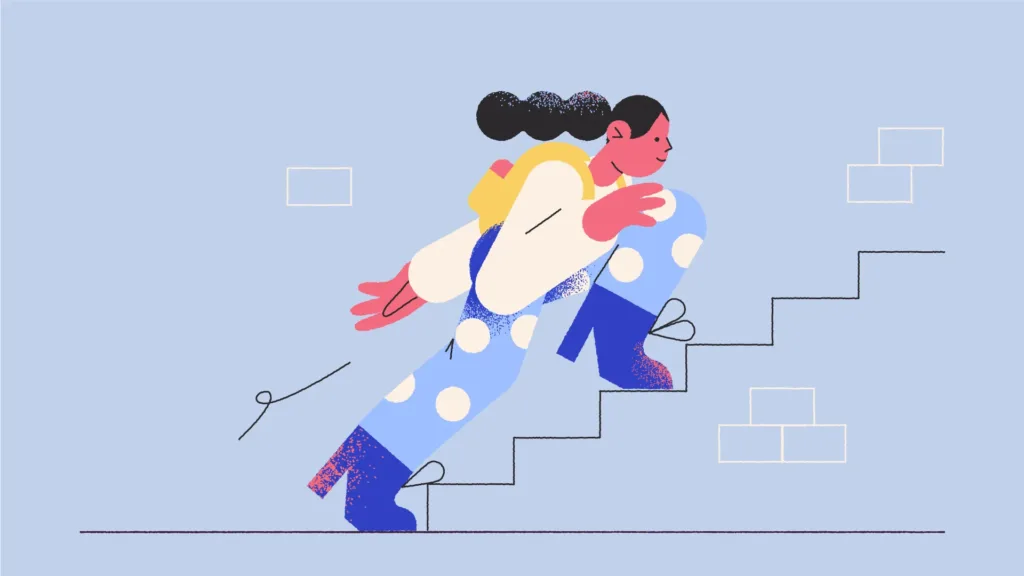 by Team Userlane
4 years ago
・
12 min.
According to Jason Lemkin, the most challenging phase of SaaS is the transition from initial traction ($1-$2m in AEE, 100% YoY growth, and 50% of new customers from zero-cost marketing) to the next phase, known as initial scale. And as Lemkin further explains, once you reach the $10m mark in ARR, it means you have a solid brand, a valuable product, and a strong team. So, when you've reached this mark, you're well on your way to scaling. 
If you've managed to survive this most difficult phase (from $1m to $10m in ARR), well then, you'll be prepared for the next stages. In fact, Lemkin goes as far as to say that once you've managed that $10m ARR milestone, you actually can't be killed by anything. Comforting to know, right?! 
However … those who built the Titanic did say that it was unsinkable … So, although you have hit this critical $10m ARR milestone, it STILL doesn't necessarily mean you're safe. 
As you know all too well, growth isn't easy. It comes with teething problems and pain, and even if your SaaS company does seem indestructible, there are many factors that can hinder your progress and stunt your growth as you push to that $100m ARR milestone.
Stéphane Nasser, former Strategy & Development Manager at Fabernovel, states that your SaaS company should pass the $100m mark in ARR between six to nine years after starting. But, naturally, you do want to reach this milestone as quickly as possible.
If you are interested in learning more about how to scale to $100m ARR, you aren't alone! We, at Userlane, are pushing our business to the next milestone, which is why we've conducted some research to find out everything you need to know about scaling to this point! Based on our research, there is a wealth of information on how startups can grow and reach the $10m mark – but when it comes to scaling, there is seemingly a lack of resources. 
Therefore, in this week's post, we take a look at the common mistakes your company can make when it comes to being as profitable as possible and reaching that $100m ARR and beyond. 
Our research is based on real-life examples and backed up by data, stats, and input from leaders, founders, and C-Suite executives in the SaaS enterprise industry. So, let's get to it: If you're in the process of scaling, if you're about to scale, or if you're witnessing stunted growth, perhaps you're making these mistakes …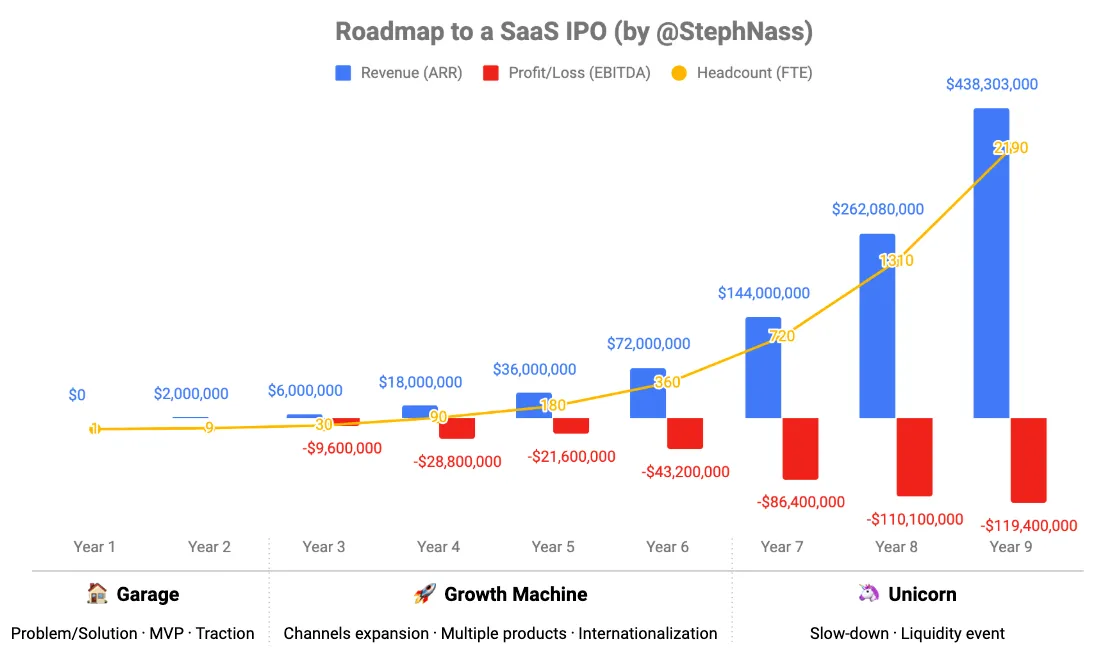 Lessons Learned: What to Look out for When Scaling from $10m to $100m ARR
1. Hire the Right Talent
Your team, talent, culture: Are you hiring the right people? As you scale, as your company grows in size, you'll, logically, need to recruit more employees. However, recruiting the RIGHT people – those who fit into your company culture – is what will ultimately drive your revenue. In an interview with Jason Lemkin, CEO of Veeva Systems, Peter Gassner, states that revenue follows people: If you're looking to be profitable in four years, then you need to hire the right people NOW. 
Also, constantly look at your company values and cultural elements – iterate on them if needs be – and also keep in mind that at the core of your company is your mission. This is the advice of COO of Asana, Chris Farinacci. Your employees want purpose, and they want to work for companies that have a purpose, meaning, and a solid mission. In the quest to become a unicorn, it's easy to forget about your company culture – don't make that mistake!
And when it comes to building successful teams, Courtney Sanchez, COO of Vimeo, says that the key is communication: Leadership teams must be transparent and must communicate the vision and goals of the company, stating what is and what is not going well for the team.  Hire excellent leaders who know how to lead, manage, and communicate. It's no secret that bad managers can destroy teams, and before you know it, you could be losing precious talent. 
And going back to hiring-done-right, you need to focus on hiring people who are dedicated to either solving problems for the company or solving problems for the customer. Place each person in a job that fits their strengths. And be kind but also clear and direct – that's what Courtney Sanchez emphasizes. 
"I think that as a leader, you have to be true to yourself first. What exactly does that mean, then: it is being honest with how you feel about a given scenario … I do think that direct and honest communication ultimately ends up building trust, building better teams and better relationships. And it's worth that uncomfortable moment in order to sort of breakthrough and get the results that you need."
2. Scaling Your Sales Team Effectively
In his article for TechCrunch on SaaS growth, Neeraj Agrawal, general partner with Battery Ventures, believes that "successfully adding a second layer of sales management is one of the most difficult milestones for SaaS companies." So, if you can get this right, you've managed to successfully face one of the numerous challenges on your path to $100m. Which leads us to the next point …
3. You Don't Need to Reinvent the Wheel
Sometimes, the wheel actually doesn't need to be invented. There are successful companies out there which you can model from – whether that's building a sales team, learning from how they've scaled, or even getting direct input from leaders and experts. 
As much as you want to innovate, it's not always necessary to try something radical, particularly when there is proof that other models for hiring or scaling work and work well. Hire someone who, for example, has built a successful team – be it marketing, sales, customer success – before. Those who have gone before have paved the way to success, so capitalize on that.
4. Think Before Going International
Neeraj Agrawal believes that many companies, when scaling to about $36m ARR, make the mistake of entering too many international regions at once. During this phase, Agrawal states that one of the biggest challenges here is getting sales in Europe up and running. His advice?
"I encourage my founders to get EMEA working first; go deep versus wide. Put a team of three to five reps in the U.K. versus one to two in each country. This allows you to build customer references, develop a playbook and cultivate country leaders who will make sure you have success."
5. Consider Offering a Freemium Model
A solid example to look at is Zoom. Eric Yuan, the CEO, says that much of Zoom's success in reaching $100m can be attributed to its free version. In an interview at SaaStr Annual, Yuan explained that with a highly competitive market, telling customers they have to try your product without giving them a taste of what it can do for them is incredibly difficult. 
So the solution here is to offer a freemium product. Let your users explore and test your product before they commit to signing up. It's the same logic that applies to buying or paying off a new car. You want to take it for a test drive first before buying it – and this should be the case with SaaS products too. But keep in mind, the freemium model is not for every business.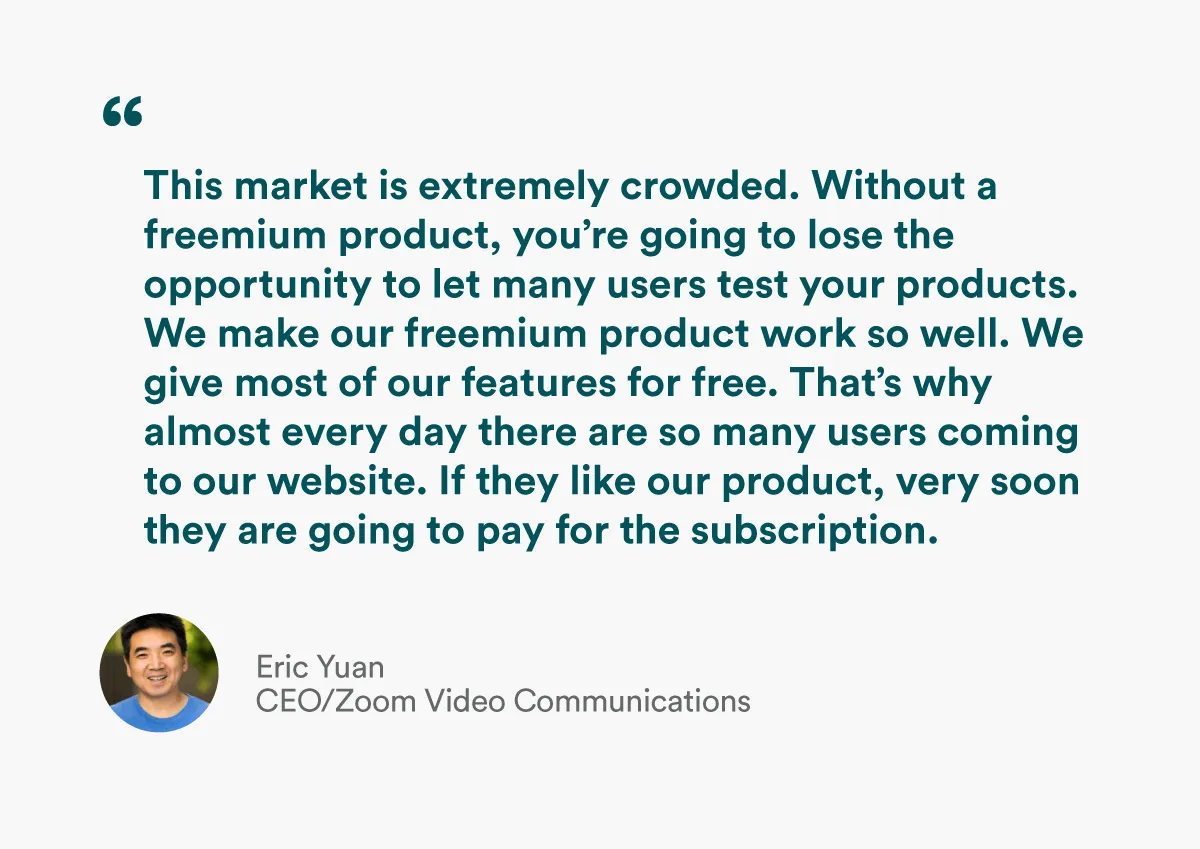 6. Harnessing the Power of Repeat Customers
Eric Yuan of Zoom offers some valuable insight on this topic:
"Our philosophy is we really focus on making our existing customers happy. We do not aggressively pursue the new prospect. Also, we always prioritize the features requested by our existing customers over the new prospect. We truly believe if you do not make the existing customer happy, even if you get more new prospects, it may not be sustainable."
Another example here is Veeva Systems, a cloud-based software company, founded in 2007, that serves the life sciences industry. Veeva's first product, Veeva CRM, designed for pharmaceutical and biotechnology sales and marketing personnel, and their next product, Veeva Vault, a product that serves the entire research and development process to bring products to market, have both been built based on significant input from their customers, which guarantees that the very unique demands of this particular industry are met.
Much of Veeva's success lies in the deep relationships it has built and maintained with its top 10 customers, which account for 39% of revenue. NEVER forget that one of your most critical goals is to turn your customers into advocates.
However, don't fall into the trap of building for one big customer and building something that just isn't scalable. COO of Intercom, Karen Peacock, offers some practical advice on this: Think about customers you can't quite close, understand what it is that they want and need, and let them become your "one-step" larger customers. This means that you're scaling step-by-step and not trying to go from the proverbial "go big or go home" mentality.
Your customers will always lie at the very heart of your strategy. There is a reason why your repeat and core customers have stayed with you. As you grow and expand, never stop giving your customers the experience that keeps them coming back.
7. Customer Segmentation – An Important Factor for Success
To use Veeva Systems as an example once again, the company is now looking to expand into cosmetics, consumer goods, and chemical businesses. This is a solid move to drive growth because these industries have similar requirements to the life sciences industry, and Veeva can, therefore, use the same formula and strategy to grow and expand. 
CEO, Peter Gassner, in his interview with Jason Lemkin, says that the overwhelming success of Veeva comes down to focus, solid fundamentals, customer segment, and a strong focus on core customers.
It is clear that Veeva's initial focus on the life sciences sector (i.e. one customer segment) paid off extremely well for the company, and this is why they are now looking to expand further into the market by scaling into relatable and adjacent markets (keyword: relatable). 
This also ties in with Karen Peacock's "one-step-further" customer. Find out why you can't close certain customers, and then use this information to improve your product. One of the bigger missteps that can happen as you grow is not expanding your product and tapping into different markets. 
As Peacock states, don't just focus on your initial product and initial customers. Yes, they have their place, as Veeva System has proved, but not expanding and improving your product offering for more customers will absolutely stunt your growth.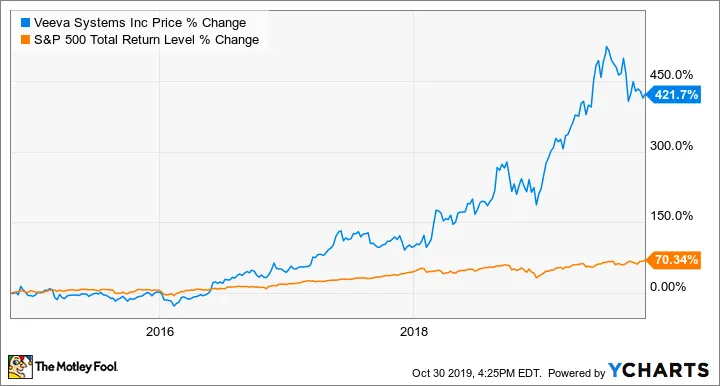 8. Improve on the Competition 
No matter how "safe" you feel within the market, there will always be competition, especially within the SaaS industry. So, not successfully handling the competition could see you lag behind. 
One way to handle the competition is to harness the power of the "last mover advantage". I'm sure you've heard of this, but it simply means being able to observe where existing solutions in other companies are falling short and then fill in these gaps instead of steaming ahead. 
Take this quote from Peter A. Thiel's and Blake Masters' book, Zero to One: Notes on Startups, or How to Build the Future, which touches on this idea of the last mover  advantage:
"Improve on the competition. Don't try to create a new market prematurely. The only way to know you have a real business is to start with an already existing customer. You should build your company by improving on recognizable products already offered by successful competitors."
As Thiel and Masters elaborate, it's actually better and more advantageous to be the last mover: Be the one to make the last great development in a specific market and then reap the rewards in years of monopoly profits. 
Which takes us to the next lesson learned …
9. Knowing When to Become a Multi-Product Company 
Many companies fail when they start a new product line. So the solution to this? 
Well, according to Gassner, if you do decide to start another product line, then it should be bigger than your first one! His advice is to keep in mind that when you start a new product line, you're going to be breaking apart your product processes from your company process, and this becomes incredibly challenging and will require hard work and persistent effort.
Ask yourself these questions:
When is the right time to become a multi-product company?

What are we making, why are we making it, and who are we selling to?

Do we have a clear market?

What will our pricing look like?
Be ready, not reckless. Make sure you have intellectual capital, financial capital, energy, and resources, etc., find the product-market fit constantly, and, most importantly, keep falling in love with the solution you offer your customers.  
And lastly, build your next best thing based on what your customers DO, and not what they SAY. 
10. Find the Right Acquisition Channels
Here's some advice from Christoph Janz, Partner at Point Nine Capital:
"If you want to get to $100 million in annual revenue you'll have to find customer acquisition channels that are highly scalable and profitable. Otherwise, you'll never get to the number of customers that you need at your given ARPA."
At this point in your growth, everything you do needs to be scalable and repeatable. Anything that's not will burn cash. As Gassner states, you need to be frugal with your money. 
There are many excellent resources out there on customer acquisition strategies. We'd highly recommend this one, 21 Customer Acquisition Strategies to Win New Customers, from Matthew-Howells Barby, direct of acquisition at HubSpot. 
11. Step up Your Onboarding Experience Game
As you grow and as your product offers customers more and more in terms of updates, features, add-ons, etc., you'll need to re-evaluate your onboarding process. The same holds true if you're releasing entirely new products.
As we consistently state at Userlane, your users simply can't see the true value of your product if they don't know how to use it – and this all comes down to how you onboard your customers. 
Once again, here's a list of questions to ask yourself:
Do we have a

smooth, streamlined onboarding process

that delivers a great UX?

Can our users

achieve quick-wins

and be productive in our application right from the very beginning?

When users are being onboarded, what is

the time-to-value

? Are users becoming frustrated or leaving our application after becoming stuck at certain points? 

How long does it take us to onboard new users, and do we have a

checklist of the onboarding process

? 

Do we offer

contextual support and guidance

, and are we able to proactively reach out to our users if they appear to be struggling? 
This is not a definitive list of questions to ask, but they provide some food for thought. If you want to evaluate how solid your user onboarding experience is, then you can use our For more information visit our blog to see how you fare and how you can improve your processes. 
As you scale and take on more customers, you might want to consider fully automating your entire onboarding process.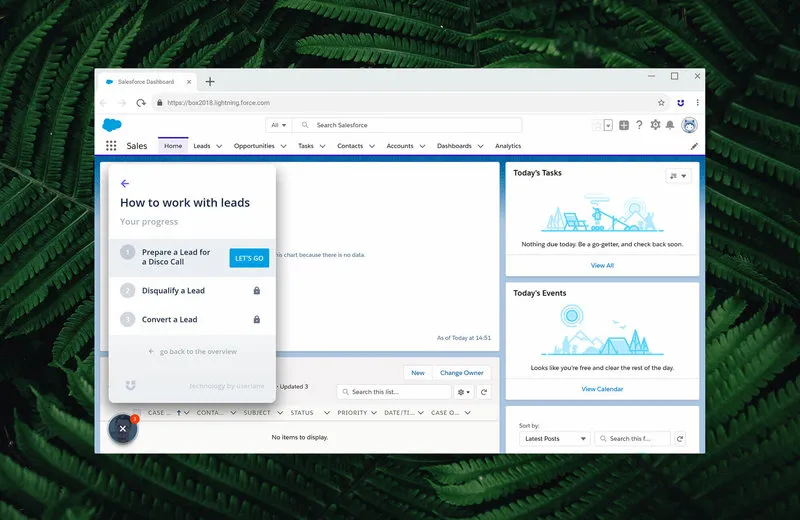 12. Don't Forget About the Human Experience
Not a good idea. Businesses that want to scale need to empower their employees, not replace them. Remember at the beginning where we mentioned that revenue follows employees? Employees are the ones that will deliver an exceptional customer experience, not just computers that automate processes and make things more efficient. It's the human experience, the emotion behind it that will drive customer advocacy. 
"Computers are tools, not rivals. Computers complementing humans is the way to build a great business. The most valuable companies in the future won't ask what problems can be solved with computers alone. Instead, they'll ask: how can computers help humans solve hard problems?" – Peter Thiel and Black Masters
$10m to $100m: Playing It as Safely as Possible
"It would take some kind of exogenous macroeconomic event that really changes the way that large enterprises buy software if you're betting on a correction in the market and in these valuations. – Tomasz Tunguz 
So to combine Tunguz's statement with Lemkin's belief that once you reach the $10m mark, you can't really be killed, you can move forward with confidence as you scale towards $100m. But, if you truly want to scale successfully, you'll always have to be mindful of internal and external factors. 
Of course, we couldn't mention all the lessons learned and advice from SaaS leaders, but we hope that the information we've provided in this post will give you some food for thought. And as this post demonstrates, perhaps one of the most crucial mistakes you can make is not asking for help. 
If you're reading this and you're in the process of scaling to $100m, what lessons have you learned so far? As mentioned at the beginning, we're still working towards our $10m milestone, so if you have any input and valuable advice for us or that we can include in this post, we'd love to hear it!
So, as you scale, don't let what we've mentioned hinder your growth! The $100m mark may seem like eating an elephant all by yourself – but how do you eat an elephant? Piece by piece of course (Disclaimer: This is just an analogy, we don't want you actually eating elephants.)
Meeting the demands of the digital subscription era is another challenge many companies face. Leaders from the Subscribed Institute have unveiled the Subscription Business Maturity model, a brand new roadmap of the stages, critical measures, and actions required to drive growth, deliver ROI, and ensure long-term success. Find out more by watching a recording of our webinar with Amy Konary, VP of Customer Business Innovation at Zuora and founder and chair of the Subscribed Institute.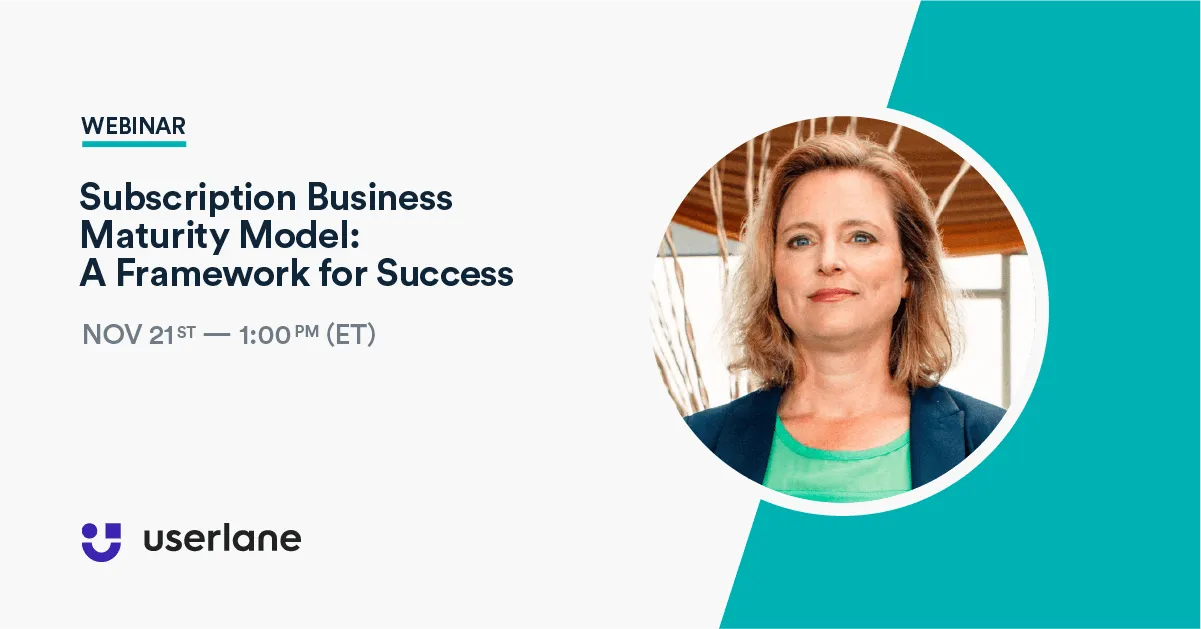 New to Userlane? Take a step in your software adoption journey and join the pool of our happy customers.
About the author:
The Userlane team brings you digital adoption insights, product updates, and plenty of onboarding and engagement advice for user-centric businesses.