Digital Transformation and Digital Adoption
Enterprise Project Management Software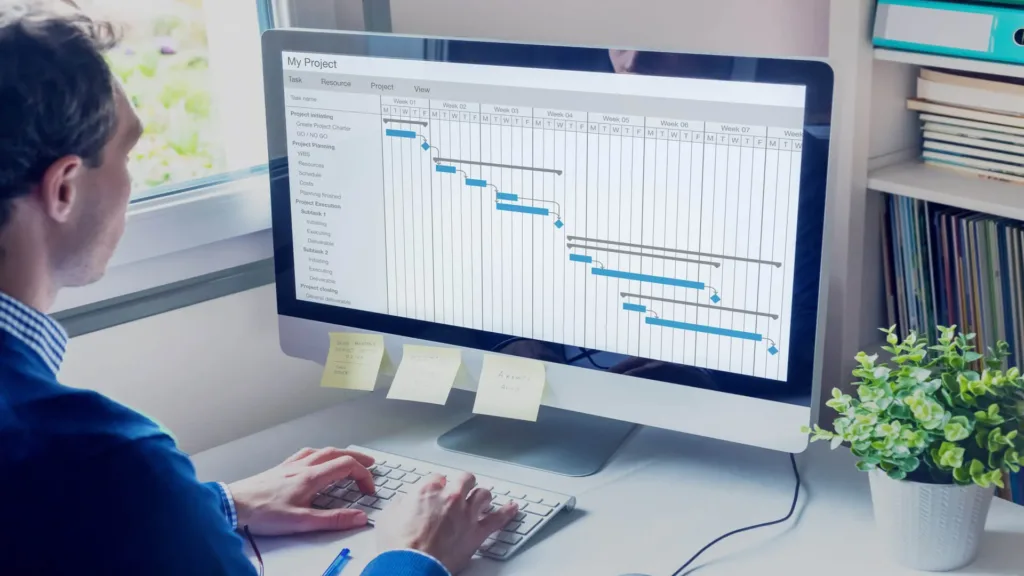 by Team Userlane
4 years ago
・
10 min.
Enterprise organizations across the world face their own unique challenges. With thousands of employees scattered across the globe, communication, alignment, structure, and proper planning are crucial to the success of such large organizations. And now with the sudden and unexpected shift to a remote workforce due to the COVID-19 pandemic, organizations, now more than ever, need to ensure they have the right remote working software, technology, and structures in place to ensure that business continues as smoothly as possible.
When it comes to communication, alignment, and planning, project management software platforms designed specifically for enterprise project management teams are ideal for collaboration and automating workflows. 
Now, it's more than likely that you already have your own project management platform(s) in place, but if you're considering changing to a different platform or are looking for something new, then this list of top 10 project management software for enterprise teams will be a good starting point as you seek to choose the right software for your team.
It's About Teamwork: Choosing the Right Enterprise Project Management Software Platform 
ProofHub is one of the best enterprise project planning and management platforms out there. In addition to having complete control over all of your projects and all the tools your team needs, here's what you can expect from ProofHub:
Stay up to date with changes in projects with timely notifications 

Eliminate room for error by putting all discussions and conversations in one place 

Collaborate more efficiently by uploading various files to a task card and assigning various members

Set and meet deadlines by giving priority to the tasks you want

Track the progress of a project with ease by monitoring time spent on each task  

Distribute responsibilities and assign tasks with ease

Restrict access to files and documents to certain teams or team members 

Streamline your processes and increase your work efficiency 

Customize workflows with as many stages as you need 

Apply agile methodology to your work with a highly customizable and interactive interface
With ProofHub, you can also make use of Kanban boards and Gantt charts, keep track of time with ProofHub's Timesheets, and create custom reports. The team at ProofHub consistently works on optimizing their product, so you can expect regular updates. If you're looking for an affordable, all-round solution that you can also access on-the-go, ProofHub is your answer. 
Free Trial: Yes
Pricing: USD 89 per month when billed annually (no per-user fee) (limited time offer)

Smartsheet is an easy-to-use software platform that enables your dynamic enterprise by promoting highly effective collaboration between people and teams. Operating with agility and flexibility is critical for organizations nowadays, and Smartsheet is designed to provide a common source of truth to keep teams aligned and prepared to move forward with change. Here's what Smartsheet offers:
Easy setup and easy-to-use interface for enterprise companies of any kind 

A personalized and flexible work interface to suit your style 

The ability to work with cross data spreadsheets 

Greater cross-team accountability and participation

Easy collaboration inside and outside of your organization

The ability to create a calendar view of all the events and deadlines related to the project 

An excellent reporting tool that will help you meet deadlines with ease 

Powerful automation workflows, including forms

Extensive admin controls to manage and audit access, ownership, and usage

Integrations with other enterprise apps
Smartsheet also presents Microsoft Excel-like features, making it easier for users to use the platform.
Free Trial: Yes
Pricing: Price on request for the Enterprise plan/ Premier plan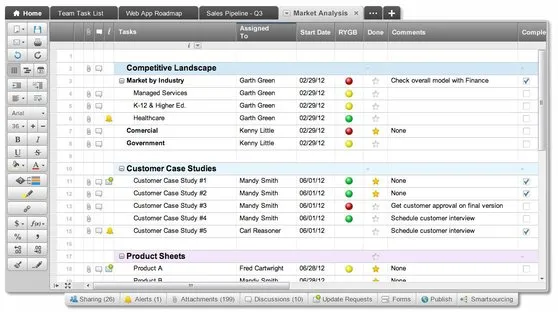 ProjectManager.com is a leading name in the project management collaboration software industry. As their website says, their software is built for ambitious teams. ProjectManager.com combines project planning and scheduling features with excellent collaboration tools. With this award-winning software, you can: 
Create and work with comprehensive task lists

Plan in sprints or plan waterfall projects

Use Kanban boards and interactive Gantt charts for ease of management and to set dependencies in projects and tasks

Upload various files in one place and make scheduling and organizing easier 

Get real-time dashboards to instantly see how projects and teams are progressing

Access time tracking and reporting tools as well as dashboard widgets to make your work more manageable  

Drag and drop projects into folders and leverage the

Overview

feature to get a comprehensive view of all your projects

See all project tasks with a calendar view

See who is over-allocated or under-allocated with portfolio-wide resource management

Manage your work anywhere and on multiple devices (including Windows and Mac computers)
Smartsheet also offers integration with over 1000 apps, such as Microsoft Office, Slack, Salesforce, Google Drive, and Dropbox.
Free Trial: Yes
Pricing: USD 25 per user per month (Business plan)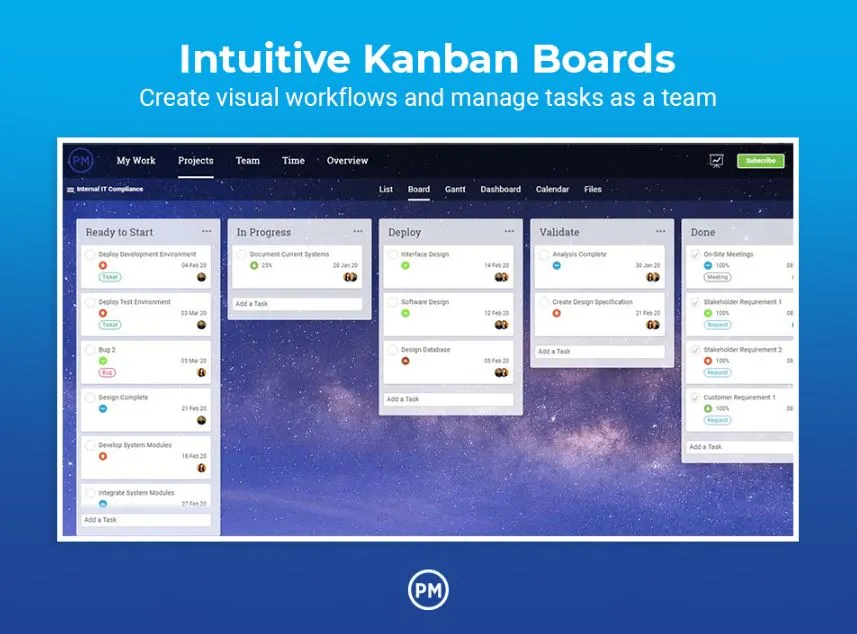 For full control and visibility over your tasks, Wrike is a solid option. Leading global companies trust Wrike to eliminate silos, centralize communication, and simplify planning to deliver better results. Here's what you can expect: 
An interactive and customizable interface

Customizable task lists

Kanban boards with a drag-and-drop feature

@mention others in realtime to streamline communication

Ability to create workflow statuses to automatically assign the correct work to the correct person

Predefined project templates and request forms to deliver consistent results

Wrike Proof tool

to share feedback visually

Complete transparency into the status of your team's work

Bird's eye view of task management with Wrike Dashboards

Create and conduct webinars
Cross-functional teams can benefit greatly from this software as it aids in the clear allocation of responsibilities and reduces the need for meaningless conversation. The team at Wrike is also currently offering "Coffee with Wrike" where they share tips, tricks, and best practices for working remotely!
Free Trial: Yes
Pricing: Price on request for the Enterprise plan (unlimited number of users)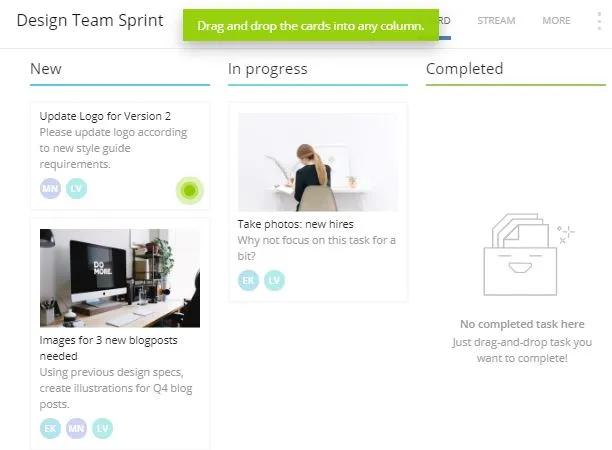 We all know and trust Microsoft, so Microsoft Project will always be a solid and reliable choice. Of course, one of the standout features of Microsoft Project is its integrations with all other Microsoft tools as well as with Outlook and Skype. So if you're already largely working with Microsoft products, then Microsoft Project would probably be the most ideal solution for you and your team. Other advantages of using Microsoft Project include:
Illustrative tool with an easy-to-use interface

Allocate tasks and assign roles more efficiently with labels and notes

Set deadlines and the duration of all tasks by setting "start" and "finish" time settings

Reduce the time spent on each task as Microsoft Project ensures there is no room for error or confusion

Calculate the resources and time taken on various tasks

Easily create automated workflows with a secure platform built on Azure

Detect the weak points in your workflow with the insights presented by the tracking features

Tracking and scheduling are made easier with a calendar view 

Sync your calendar with other Microsoft apps you use with ease

Combine Microsoft Project and Microsoft Teams to empower collaboration (file sharing, chats, meetings)
Microsoft Project also uses Power BI visualization that lets you create interactive dashboards to view both the overall status and the details of your projects.
Free Trial: Yes
Pricing: USD 55 per user per month (Project Plan 5)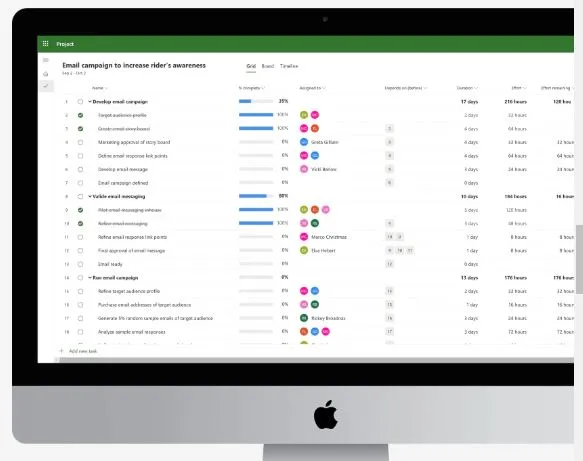 Clarizen One is a popular enterprise project and portfolio management software that you can easily configure to fit how your business works. With its customizable and user-friendly interface, Clarizen One brings project management, configurable workflow automation, and in-context collaboration together to engage your team and improve productivity. With Clarizen One, you can:
Centralize all your data 

Store all versions of various files and documents 

Automate repeatable processes, alerts, and workflows

Share emails, files, links, and discussions with internal and external stakeholders

Keep everyone aligned with centralized digital proofing and approval process

Increase engagement among teams with the

Clarizen Bot

Gain full visibility into your project health with data-driven resources and financial management workspaces

Save time by creating up-to-the-minute status reports in your own branded PowerPoint template

Build custom dashboards that provide a clear visual of the company's portfolio 

Share project data and make accurate decisions based on 360-degree real-time visibility
Clarizen also integrates with many of your favorite enterprise apps (Microsoft Teams, SharePoint, Jira, Salesforce) and provides enterprise-grade security to ensure the protection of your network levels, clients, and applications. And if you're also looking for a simple task management solution for your agile team, Clarizen offers Clarizen Go.
Free Trial: Yes
Pricing: On request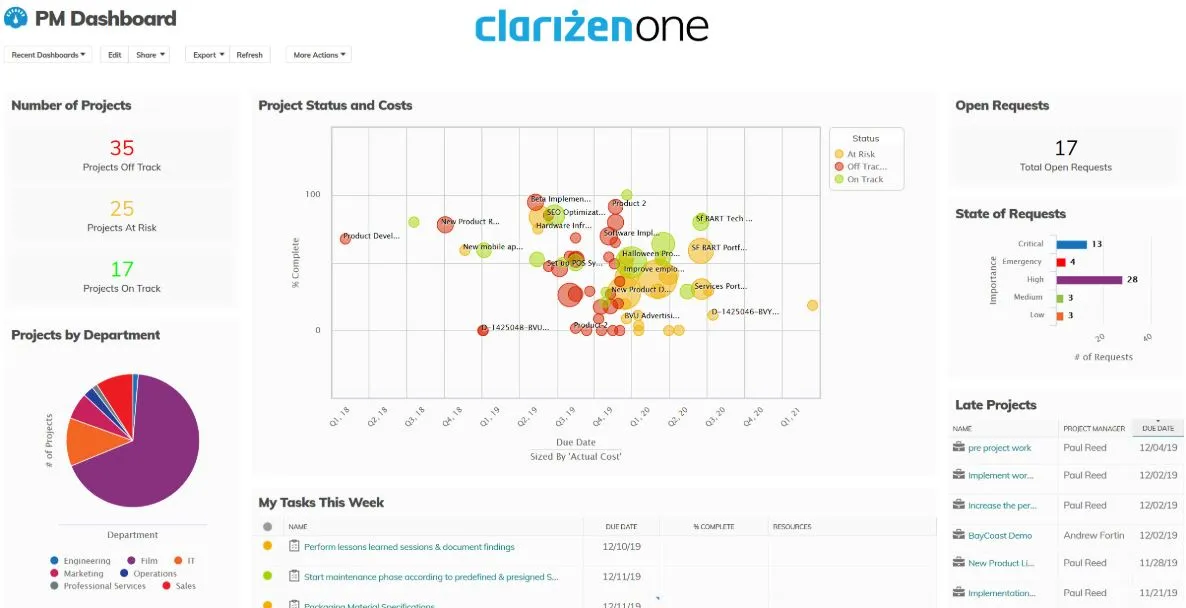 JIRA is another strong and popular option, especially if you're looking for an issue and project tracking software. From Scrum boards and Kanban boards to roadmaps and agile reporting, Jira is a great choice for agile teams and enterprise projects. What you can expect from Jira:
Customizable interface

Choose from a variety of workflow templates and have the freedom to create one from scratch to match your own style with Jira

Stay up to date with progress and changes in all projects and/or tasks 

Easily automate all your tasks and processes with Jira's powerful automation engine

Automate processes with a robust set of APIs

Create custom filters with Jira Query Language

Access a number of out-of-the-box reports with real-time insights

Integrate with your favorite developer tools

Enterprise-grade security.

Access to 24/7 online support
Jira also offers Atlassian Access and Jira Software Premium for enterprises as well as Jira Mobile so that you and your teams can manage tasks on-the-go.
Free Trial: Yes
Pricing: USD 14 per user per month (Premium plan)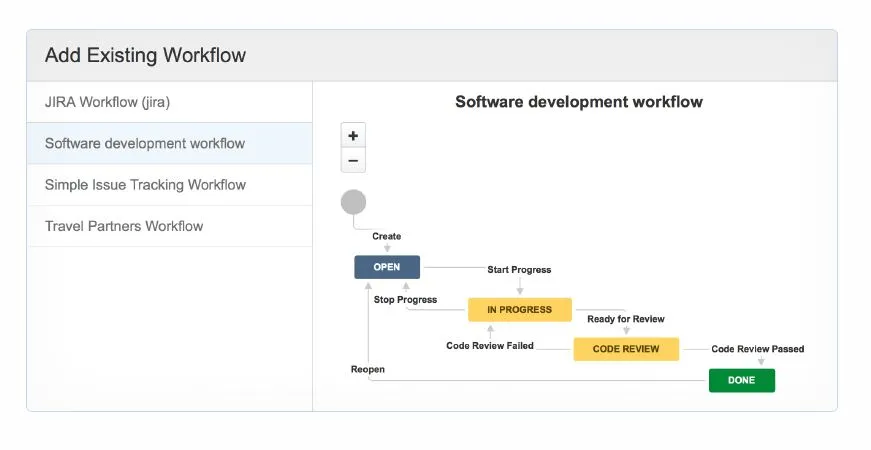 Targetprocess is a great software when it comes to managing feedback and reviews and monitoring the overall project progress. This visual platform is especially helpful for UX teams. Here are some good reasons why Targetprocess can enhance the way you manage projects:
Facilitate portfolio management through charts, dashboards, and Kanbans

Access customizable templates for the creation of all kinds of dashboards and Kanban boards  

Practice agile as well as traditional project management methodologies 

Manage tasks and documents by tracking the progress against the deadlines 

Increase transparency by making tasks visible to everyone while assigning them

Enable cross-department collaboration

Use built-in reports or analyze data by building interactive reports and sharing them with your team 

Collect ideas from customers and stakeholders using

Service Desk

Track and manage bugs

Enterprise-grade security, hosting, and compliance
Targetprocess also allows numerous integrations that cover use cases for different levels and roles within an organization and comes with a wide selection of plugins, mashups, and automation capabilities. If you're looking for a highly customizable and adaptable solution, then Targetprocess is definitely a must-consider!
Free Trial: No
Pricing: On request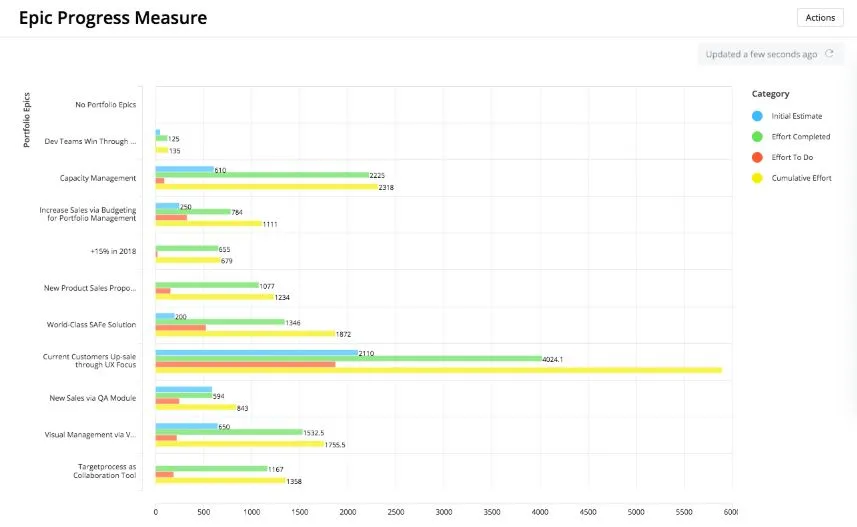 Agile CRM
Agile CRM is a fully integrated, all-in-one CRM platform that not only allows you to automate your sales, marketing, and service in one platform but also manage projects easily and effectively with its drag-and-drop task list. Here's what it offers:
Create multiple dashboards to categorize teams as well as tasks 

View your tasks and projects with a visual representation of all your project goals and milestones

Promote transparency by tracking resources and time. 

Sort tasks based on Priority, Due Date, Owner, or Status

Move tasks and sections effortlessly by dragging-and-dropping

Easily track the status of your projects and view all your overdue tasks in one place

Have all information about a particular task in one central place and automatically distribute it to your team

Conduct webinars

Automate your social media and email marketing.

Track your emails with insights into emails opened, emails sent, clicks, and unsubscriptions, etc.  
If you're in Sales or Marketing, then this might just be the best option for you!
Free Trial: Yes
Pricing: USD 79,99 per user per month (Enterprise plan)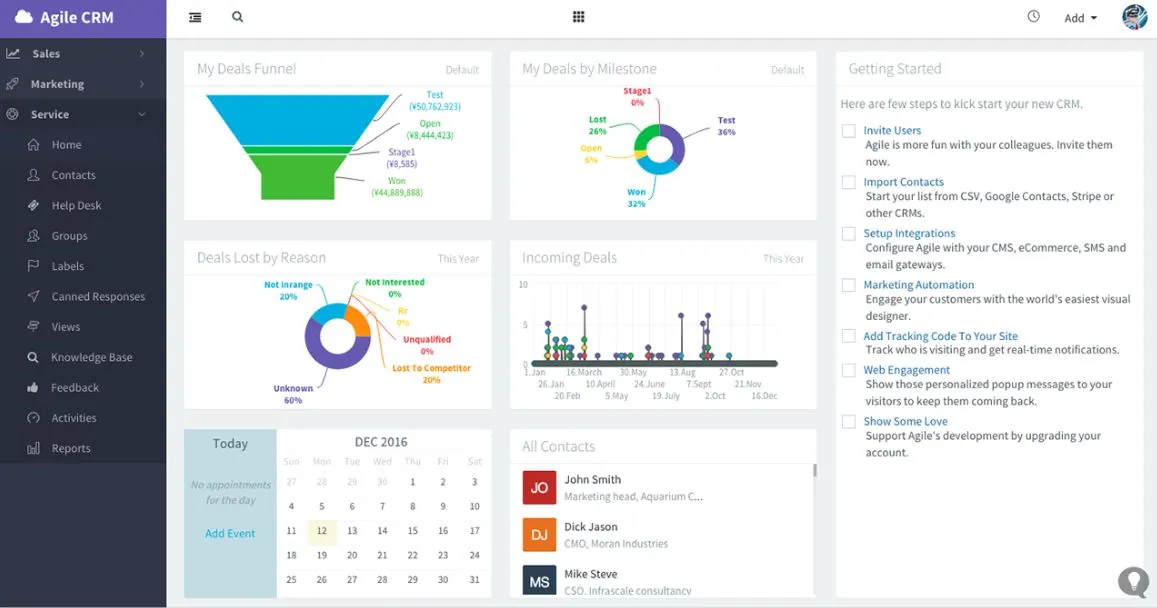 OmniFocus is a task management software for enterprise teams that mainly works on Apple devices. It comes with powerful features such as forecasting, projects, and tagging to help maximize productivity and increase control. Here's what OmniFocus can do for you:
Keep track of your priorities with your to-do list that also shows you which task is best to focus on next

Intuitive keyboard shortcuts to make creating your to-do lists that much easier

View your to-dos by project, context, or

Forecast View

Sort, file, repeat, and flag your tasks

Maximize productivity with defined tags, labels, and categories

Turn emails into tasks with one click or link notes from OneNote or EverNote to tasks

Use OmniFocus'

Persepctives

to group similar actions together and focus on the tasks you need to in the moment

Weekly reviews to help you stay up to date

Deep integration with macOS and iOS notifications will ensure you stay on top of all deadlines

Integrations with other software applications in macOS and iOS
Overall, OmniFocus is an extremely well-designed and robust task management software, and if you're looking for the best GTD (Get Things Done) Methodology solution and use Apple devices, then this is the software for you. 
Free Trial: Yes
Pricing: USD 9,99 per month (iOS and Mac subscription)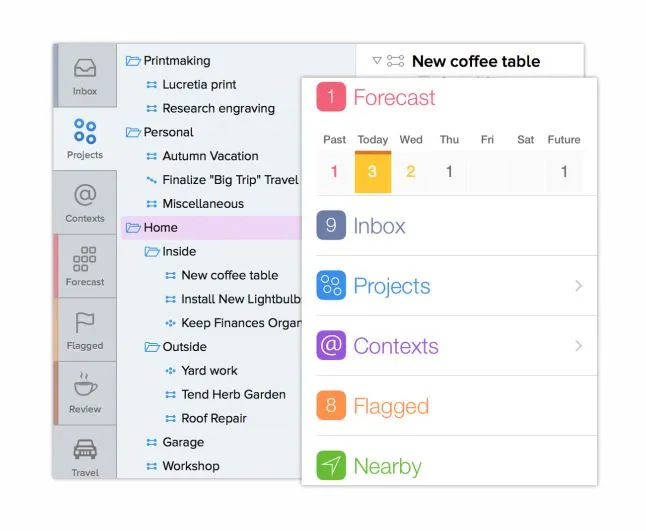 The Importance of Investing in Robust Enterprise Project Management Software
Now that the way we work has essentially changed overnight due to the COVID-19 pandemic, investing in robust project management software is critical. With a solid project management platform for enterprise teams, you can have a 360-degree view and full control of your projects. 
Good project management software will help you speed things up, foster collaboration, boost productivity, increase transparency, and gain in-depth insight into the progress of all your projects. By creating and automating workflows and establishing deadlines, you can optimize how you manage your teams and, in turn, create a more efficient and engaged workforce. I hope my list of project management software for enterprise will help you make the best choice!
New to Userlane? Take a step in your software adoption journey and join the pool of our happy customers.
About the author:
The Userlane team brings you digital adoption insights, product updates, and plenty of onboarding and engagement advice for user-centric businesses.