Digital Transformation and Digital Adoption
The World of Product: Trends and Insights Part 1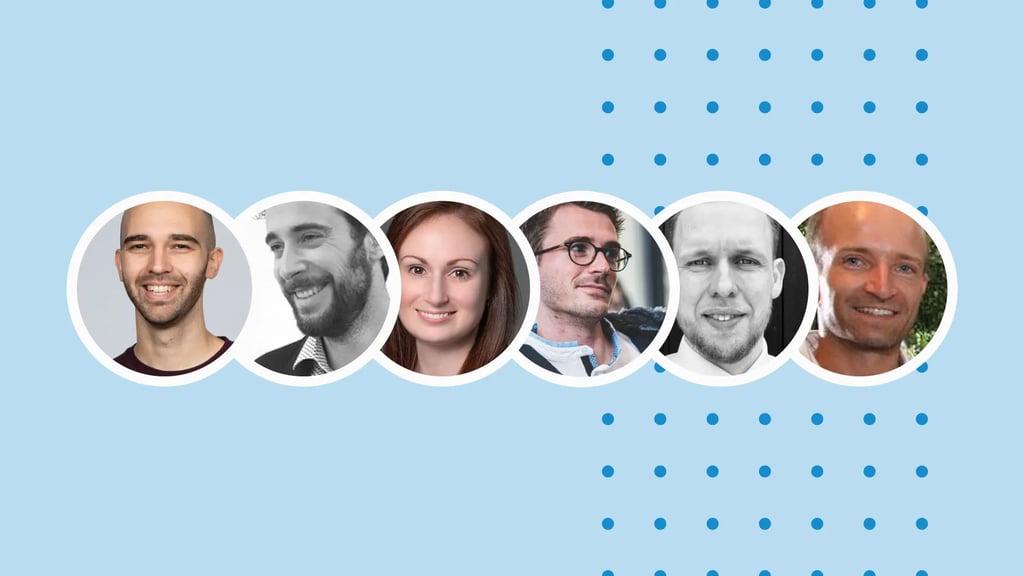 by Team Userlane
4 years ago
・
18 min.
The ultimate role of SaaS product managers is to build a product that differentiates itself in the market – one that addresses the pain points of a specific target group and one that users truly love (and hopefully, in many cases, can't do without!). It's their duty to make sure that they stay ahead of the game, continuously developing new features that users want or didn't actually know they wanted until they were created. 
On the blog, we cover various aspects of product management from online product management courses to metrics. While having a collection of product management resources is great, learning about the product management experience from the very experts themselves is even better! This is why we decided to reach out to our network to interview the experts in the field.
We received overwhelming feedback from our network from various product managers, so we've decided to make this a running series! For part one of this roundup series, we interviewed six expert product managers from various SaaS companies.
Below, you'll find their answers to our questions covering the product roadmap, feature prioritization, empathy for users, and much more. We've structured the post as follows: A brief introduction to each product manager, followed by sections dedicated to each question and the respective product managers' answers. Their names will be abbreviated to their initials. Enjoy! 
Meet the Experts
Abby Hammer, Head of Product and Chief Customer Officer at ChurnZero. ChurnZero is a real-time Customer Success solution that helps SaaS businesses to expand current accounts, increase product adoption, fight churn, and optimize the customer experience. 

Ken Johnson, Co-Founder of Churn Buster. Churn Buster is a SaaS platform helping companies recover failed payments with automation and customized recovery campaigns.

Pablo Moga, Co-Founder and Chief Product Owner at Medlia Health. Medlia Health digitizes medical practices and their patients and enables them for 21st century telemedicine solutions (video and chat). Media is closing the feedback loop between the patient and doctor about treatment adherence, success, and general well-being, which gives power to the patient and allows for a different type of care, putting the patient at the center. 

Xavier Bertels, Head of Product, SweepBright and Founder of Design Consultancy, Mono. SweepBright is a SaaS company that transforms the real estate sales flow unto a digital journey, empowering real estate agencies to provide an exceptional customer experience. SweepBright is the only real estate SaaS tool made for tech-savvy real estate agents who want to join a select club of tech-driven agencies.

Sebastien Gendreau, Head of Product, Agorapulse. Agorapulse is a social media management platform that allows users to schedule content, get reports, and engage followers. The platform offers flexible scheduling options, unlimited one-click reports, and real-time team team collaboration.

Martin Skydt, former Product Manager, Oticon, a hearing aid manufacturer based in Denmark, and Jabra, manufacturer of headphones and headsets. (Note: Non-SaaS specific commentary.)

Q&A on Trends and Insights in Product Management
How do you define and create your product roadmap? And what are your thoughts on making your roadmap public?
AH:
Making a roadmap public is, naturally, going to make any Product team nervous. A roadmap is a plan and plans often don't go exactly as expected. But sharing some form of product vision and direction is an important way that Product can contribute to momentum and trust building during the sales and renewal processes. If you think of your customers as partnerships, it's natural that the opposite side would want to understand the long-term potential of the agreement. 
For Product teams that are worried about exact features and/or timeline commitments being made – or your competitors getting wind of innovative initiatives – I recommend creating a shorter-term roadmap that is focused on sharing product themes and goals rather than specific features.
KJ:
We take a positioning-first approach to product roadmap. This helps map product updates to our unique value in the market, amplifying the qualities our best customers are most interested in. On the flip side, we don't waste time building things that might be valuable someday, or appeal to a market channel we aren't currently focused on growing.
Our roadmap has always been private, and we avoid "teasing" upcoming features with time estimates. This helps us stay agile, responding to changing priorities without letting down our customers. We also work in short sprints, so the roadmap becomes public via frequent releases! You'll know us by our work… 
PM: 
Normally, our team and I define our product roadmap as a mid-long term product plan. It's important to keep in mind that the product roadmap must be dynamic: It is an always-changing system which includes not only the product development and product backlog but also the strategy and resources necessary to complete every milestone of it. 
In my opinion, making the roadmap public shows confidence and strength. In a collaborative world, I strongly believe that all the stakeholders must know the direction of the company, from the basis to the top. That's the only way to be really transparent.
XB: 
In my current role at SweepBright, the roadmap is volatile. That's because it's a startup. It's all about agility: Adapt or die. Laying out a strategic plan for six months makes no sense because you're looking for product-market fit. We're working now on things we were going to do in six months and vice versa. You need the flexibility of mind to change priorities regularly. At the same time, you need to create enough peace of mind for the engineers and designers so that they can be awesome at shipping a product they can be proud of.
Time is an extremely limited resource, so my job is to balance rolling out an improved navigation model versus rewriting a core module so it can handle double the load. It takes discussions across the entire organization to understand what the fundamental problems are, how critical they are to the business and how simple the solutions can be. It helps tremendously to have some data points here. Which is why we have recently added a dedicated UX Researcher to the team who helps with setting up measuring tools and gathering and presenting that data. Ultimately, the priority is a decision that I take based on discussions, data, and a little bit of intuition.
Those decisions go into a roadmap document we maintain on Notion (one of my favorite tools in years, really). It's a board that contains the columns "Planned" for what we think will likely be next, "In Development" for what we're currently focused on, "Launched" to celebrate what we've successfully shipped, and "Incubator" for ideas that still need a clearer problem definition or data.
We don't publish our roadmap at this point. Up to today, it would have only lead to broken promises towards customers because it's still so much in flux. A broken promise is much worse than saying, "we don't know when we'll ship that feature but you'll be the first to know when we do!" I can see us publishing a roadmap in the future though, today we're not entirely at that point where it makes sense yet.
SG:
At Agorapulse, we build the roadmap thanks to several sources: 
Quantitative feedback to gather suggestions and votes. People love sharing their insights and needs: Most of the time, they just need a place to do it. I've asked our customer-facing teams (Sales, Support, CS) to add every single user to existing suggestions when they're asking for a feature or an improvement.

Qualitative feedback: We listen to our users. We spend a lot of time talking to them and my goal, as the head of product, is to make sure we ship the right feature, to the right user. To do this, no choice but to listen, listen and … listen!

Business / company goals: Our roadmap is also driven by our business and company goals. Focusing on Acquisition, Monetization and/or Retention is also a product responsibility. I make sure we have related topics in our roadmap (through a new feature or an improvement).

Market & API evolutions: As a social media management platform, we rely on social networks API. It means that if an API makes changes, we have to adapt, quickly. The evolution of social media is also super fast, and here too, we have to adapt.
Since every roadmap is broken at some point, I'd say this last bullet is the one that breaks ours sometimes!
Regarding the second question: Our roadmap is not public. We talk to our users all the time, we tell them about our roadmap, but we don't want to share "deadlines" or "ETA". It would be deceptive. 
Internally, we use the 6 weeks cycle methodology. It gives visibility to the whole company about what's coming in the next six weeks. Between each 6 weeks cycle, our tech team focus on technical debts/maintenance. 
MS: 
I believe a roadmap should be defined from the strategy of the company and the business unit you are working in. If you don't have a clear strategy, you won't make the right products to support the direction the company wants to move in. 
I can give an example from when I was working at a big Danish company that was very successful in developing headsets. Our overall strategy was to beat our American competitor and win market shares in the US. We decided to investigate the market, our current portfolio, the competitor's portfolio, and we looked at smaller players to scope the new headsets' overall performance criteria. I believe this should be done each time you enter a new product in the roadmap in order to answer questions from the management about expected product performance and financial impact. 
Making the roadmap public depends on the position your company is in. If the company is stock-listed, it can have financial impacts in terms of revealing too much. Also, if you're in fierce competition and time-to-market is key, it's important not to reveal anything. If you pre-announce products, some customers might hold back ordering existing products because something better is coming up. 
What criteria do you usually use for feature prioritization?
AH: 
Prioritizing features is an art, not a science – it's all about balance. You need a mix of quick projects that will have an immediate impact and larger product evolutions. You need to have innovation that attracts prospects away from competitors and steady feature expansion that will delight current customers. But ultimately prioritization should always come back to the strategic direction of your business. No feature should even be on your list for prioritization unless you can clearly explain how it will contribute to the business' strategic goals.
Once your intended features have cleared that critical hurdle, prioritization becomes a tactical exercise. You need to assess feasibility, desirability, and viability, and you need to be sure that all features pass the sniff test on required effort versus potential impact. 
Whenever possible, I recommend working through prioritization with a diverse group of teammates. Sometimes product managers worry about "too many cooks in the kitchen" – but hearing how others, who have different vantage points, prioritize projects can yield interesting insights. You should still have the final say on priority, but this avoids making those decisions in a vacuum. 
KJ: 
At Churn Buster our top priorities usually fall into two buckets: Confusion or Surfacing.
Cards labeled as "confusion" solve a verified pain point for customers. This confusion has either been communicated to us directly or is an observed customer behavior. In the past, we would speculate too often, solving for hypothetical confusion points in our product. This caused us to overbuild in the wrong direction, and meanwhile, there were real problems elsewhere that were being ignored. By only solving for verified confusion, we can ship product updates more quickly, getting them into the wild to see what happens (because user behaviors will always surprise you!).
Cards labeled "surfacing" will surface an aspect of our product that is not yet visible to users. As with most products, there are many features behind the scenes under Admin control. Maybe they are feature flagged awaiting some UI polish, or maybe it's a user setting that's just never been released publicly. 
With Churn Buster, surfacing data is often the highest priority. Customers are always looking for more insight into their payment recovery process. Presenting this data in a simple, valuable way is a big challenge, so it requires careful planning and prioritization.
Bigger projects often require changes to our infrastructure, so we'll break those out into smaller projects until they eventually are ready to be surfaced.
PM: 
Our criteria is simple: What do our users need the most during their daily medical assistance task? What do they need in order to make their day easier and faster? How can we add value to them in comparison with other medical software?
Obviously, we must analyze the resources available and time management in order to prioritize features. For example, we use a Boston Consulting Group similar matrix to figure out which features are highly valued and time-efficient development, among other systems.
XB: 
For the sake of brevity I'll consider features anything that is not a bug or technical housekeeping. 
At SweepBright, we have a small team and very big dreams. Which is why we need focus. All feature suggestions need a clear problem definition and preferably data that back up the problem statement. We've had requests from people who were working a lot with one particular customer, they felt we really needed a specific feature. When our UX Researcher came back with data, it was clear that only this customer was having that particular problem. So we deprioritized the feature. We can't afford to spend time on features that cater to one loud customer only. We need evidence that at least other customers can benefit from that same feature.
If the problem statement and the data are there, we still ask ourselves, "Will it help us sell to the right customers?" Every company goes through different phases, and we are at a phase where finding the right customers is the number one priority. The second one is keeping current customers happy. I believe that if you do it right, there is a big overlap between what helps you sell and what helps you keep the right customers. So far this strategy seems to be working well since we have one of the lowest single digit churn rates I have ever seen at a B2B SaaS company.
Still, you end up with a mountain of work. Then it ultimately comes down to where you want to take the product and whether the features fit in the current vision. I'm a designer, so even if I want to be neutral, the final cut of the product will still be a design-heavy one. For a product like SweepBright, the UX is the crucial competitive advantage that others can ultimately copy, but not innovate around. That is something the CEO understands really well. So we have to keep looking forward and prioritize UX innovation and improvements.
SG:
There are several but I would say: 
Number of people who asked for a feature

and

related MRR (Monthly Recurring Revenue)

Potential impact on business (and strategic company goals)

Market trends / API evolutions

Team resources
How do you empathize with your users? And how do you interact with them? What do you believe is the best way to interact/ work with them?
AH: 
It is imperative for Product to consistently interact with customers. The best way to ensure that your product solves real user problems and provides clear value to users is to engage with those users. It's all too common for Product teams to get far away from their customers, relying on feedback from other sources as their connection to customer wants and needs. And even when Product does directly engage customers, those interactions are often geared towards the Product team getting their questions answered.
As much as possible, I encourage Product teams to engage with customers in listen/watch mode. Join calls with the customer success team, listen to prospect demos with Sales, read (or even answer!) support tickets, visit a customer and observe them for a day – see your customers in their daily lives so you can understand the full context in which your solution sits. More structured conversations can and should follow this observational approach.
PM: 
From a medical point of view, my role is to coordinate every step of the product development until the doctor and his/her patient use the telemedicine software and its app. This means that the specialist is at the center of everything we do. From the initial research to his/her validation, our users feel they are part of the project. This is the best way to interact with them and to get beta testers very quickly. 
Our research and validation job is mostly done out of the office, since our software is quite specialized from a B2B point of view: From events to one-to-one clinic visits, we cover the whole medical ecosystem in order to define and set-up every feature of the product roadmap.
XB: 
I've been lucky to have been in Product Design and UX Research roles before. I learned that inviting people to your office so you can observe them do a thing in a controlled environment is probably the least effective way to empathize. My favorite method is field research; become your customer's student and see them for the masters of their craft that they are. I've joined realtors while selling, students while attending class, doctors while teaching, translators while writing. There's tremendous power in just observing and learning something you know nothing about. It's one of the hardest things for me because people usually look to me for answers. Shutting up and listening doesn't always come naturally, it's a skill I've had to learn.
Customer Success also plays a huge role here. They are the first line of contact for existing customers and they really feel the pain points of the software first hand. In our case they also regularly invite customers to come and speak about their job to the entire team – and this is crucial. It's not just the Product people that have to empathize, the entire organization has to do that. This creates a common point of reference for any talks you have with engineers or Sales or leadership later. Even though Customer Success and I have plenty of discussions about priorities, I'm lucky to be working with such smart people.
SG:
We are a truly user-centric platform. This is really not a marketing punchline: Our heads of customer-facing teams ask their team members to make sure all requests are recorded in our feedback platform. Our customer-facing team members are hired based on their empathy and being patient and supportive is key.
We use Intercom to ease our conversations, and we really bet on supporting our users with a fast and efficient response. It seems to be a huge key differentiator in this market based on the reviews we read.
I think the best way to interact with our users is to involve them. They're definitely part of your journey to build/improve the product. They use it, they know it. Here are few tools I use:
Google Suite (such as Form to ask for feedback and Spreadsheets)

Intercom to centralize all your conversations (make sure you use Inboxes to better spread conversations to the right team)

User Bit to map your user feedback and find patterns (I discovered this one pretty recently thanks to our Lead Product Designer).
When users are sharing long and interesting feedback, my product managers and I take time to talk to them in a call.
When your team is big enough, you can also think about having a Slack group or a Facebook group to talk to your "VIP" users.
MS:
I usually state that product managers are the company's customer advocates when it comes to developing new products. If you don't know your customers' preferences, it's tough to develop products that will succeed. The iPhone is a brilliant example of a product which nobody knew they would need. And sometimes successful products are developed out of brilliant minds
But in general, I think it is very important to know the needs of the customers and not expecting them to tell you what products they want. 
If you understand the needs and pain points, it's much easier to develop a product that will solve one or more specific issues and therefore be successful.
Personally, I like to visit my customers and interview them in groups. There can be a lot of good group dynamics in having more customers in a group interview. Testing A-B and UX tests also provide a lot of valuable information.
Tell me about a situation where a feature specified by you went in the wrong direction. How did you manage it?
AH: 
As an initial aside, I love asking this exact question when I interview product managers. To be successful in Product, you need to be a confident decision maker. You will frequently have to explain/justify the little and big calls you make, and you need others to trust your choices. But at the same time, product managers are human, and every single one of us will make the wrong call at multiple points in our career. The strongest product managers can learn and grow from those mistakes, they come out of them with clear lessons learned.
For me, there is one experience when I was a more junior product manager that immediately jumps to mind. To make a long story short, I allowed a project to be taken over by two team members with very strong opinions about the most technically sound approach. And while in some ways they were correct, because we focused only on the technical approach, the end result was extremely unfriendly for users. 
Though I was aware of this potential early in the project, I wanted to be collaborative, and I didn't want to dismiss my teammatess opinions and longer experience. Then as the project progressed and I became more certain we were on the wrong path, I struggled to see a way out of the situation that didn't make us all look bad. 
Ultimately, I accepted the fact that it had been my call to allow the project to continue despite my doubts. I told my boss we had to stop and re-assess, taking responsibility for missed deadlines as we course-corrected. Then I worked with those same two teammates to re-spec the project, making sure I was a constant voice for the user throughout discussions. 
As difficult as the experience was, it was a turning point in my career. I learned an important lesson about fostering a strong spirit of collaboration while still maintaining control over the ultimate outcome.
SG:
I don't have a very concrete example regarding a "big" feature. But I remember a UX change I didn't want to push live: Adding a click to open a preview to look like Google Calendar instead of keeping an animated popover when hovering an item. We had an internal debate and I finally accepted to push it live. At the end of the day, we had to revert since users were quickly complaining about this "one more click".
I didn't want to tell the team "this is how we'll do it and that's it". As the head of product I want to empower our feature teams. I want them to be responsible for their feature. Since we're fast and agile, I'm confident to push things live and fix or revert if needed.
Overall, we work as a team while building features (tech, product, design, customer facing, …). We think about the different workflows and then we iterate behind our developers laptop: That's why there is no real "wrong direction". For now!
What are the most exciting tech trends at present? And why?
PM: 
We have all heard about 5G (even 6G), voice recognition, artificial intelligence, and big data. In Medlia Health, we know these trends, and we are starting to apply some of them into what we currently do. 
I believe that the most exciting tech trend the world is facing is the change of mindset by the population about how to interact with technology in order to be sustainable and ethically responsible.
For example, product owners are starting to analyze how the product roadmap must be, as well as [how it can be] sustainable over time. As in, what is the real role of artificial intelligence to serve humanity in a moral and ethical way? How can we set-up big data without consuming tonnes of resources? I'd clearly highlight the fact that trends do not only include technology, but the way people develop and use it adapts this technology, and companies who understand this will be leading the race in innovation and development.
XB:
You'll see buzzwords like AR/VR, blockchain, and Internet of Things, but the most exciting trend for me is the coming of age of machine learning. We're at a crossroads today where it's normal for people coming into tech to start playing around with it as if it's Lego, and it's super exciting. The hardware is there, the libraries are there, and you only need a basic understanding of computers to start playing around with things like Google AutoML. It's mind-blowingly powerful when you democratize that. 
I'm confident that machine learning is much more than a trend. Trends are ephemeral in nature. However, this is the kind of technology that we will realize in fifteen years has marked the beginning of a new era in tech, much like hypertext did in the nineties: It makes things possible that we cannot quite grasp yet.
MS:
I think the most exciting tech trends are mixed reality (AR + VR) and neural networks / self-learning machines. But there are so many interesting things going on out there. I wish new innovation would be centered around making the world a better place (for example, Sustainable Development Goals (UN)).
In Conclusion: An Empathetic Product Manager = A Successful Customer
And that's a wrap on our first product management round-up post! We'll have another one coming up soon, so be sure to keep an eye out for that. We hope you enjoyed reading the answers and that you gained some valuable insight and advice from these hard-working, innovative product managers. 
As you can see, and as we consistently emphasize in our posts, a successful product is also based on how well product teams empathize with their customers and truly listen to what they want, need, and expect. 
The success of any SaaS company doesn't just depend on how awesome your product is – users need to be able to understand exactly how to use your product in the shortest amount of time possible. And this all comes down to creating the optimal user onboarding experience. Download our User Onboarding Experience Guide and discover how you can increase trial-to-paid conversions, boost retention, and mitigate churn! 
Visit our knowledge hub for more helpful resources
New to Userlane? Take a step in your software adoption journey and join the pool of our happy customers.
About the author:
The Userlane team brings you digital adoption insights, product updates, and plenty of onboarding and engagement advice for user-centric businesses.