Digital Transformation and Digital Adoption
Boost Employee Productivity with Interactive Support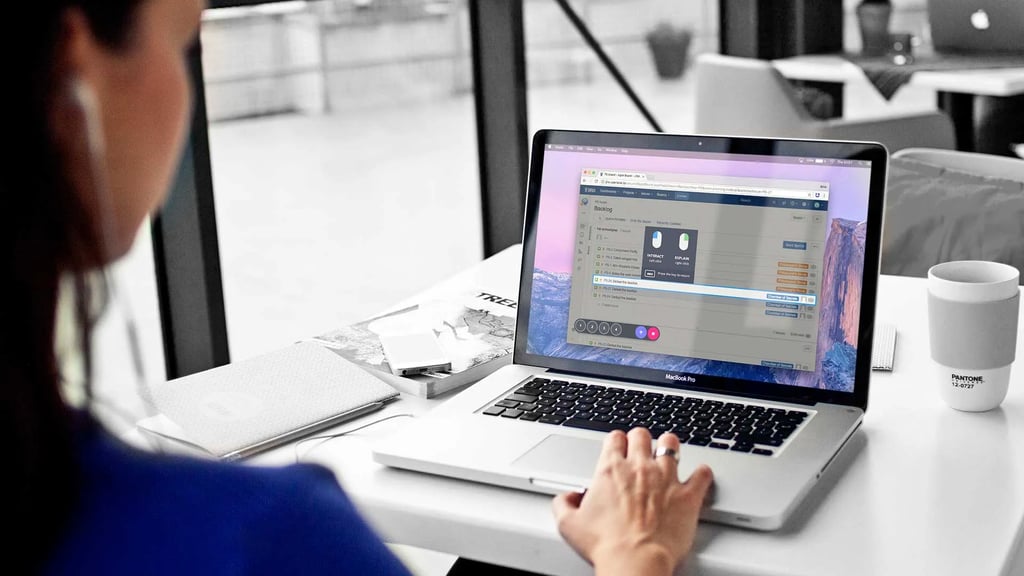 by Team Userlane
5 years ago
・
5 min.
Have you ever heard of interactive performance support? Do you know in what situations and how this form of step-by-step support can make your life easier? Do you know what differentiates it from any other elearning solutions for software?
Bear with me for a second and I'll try to walk you through the most essential elements of an interactive performance support system, its features and benefits, and its role in the elearning industry and environment.
Software Training: the Pioneering Years
Just a few decades ago, software specialists were the only adepts who could use a specific software solution.
When the computer became a bit more 'personal', everybody had access to different kinds of applications. In a world dominated by the command line, your operating system, as well as your word processor, or spreadsheet software were delivered with thick books that contained lists of commands, tags, options, and syntax rules.
Finally, computers became more "user-friendly" and had a lot more capabilities. With the advent of the GUI, people were finally free to interact with the digital world as if they were managing tangible objects. People started putting files in folders, opening windows, and moving pictures and videos (!!!) around by dragging them with a mouse.
Computers since then have evolved dramatically. We have tons of computing power that was simply not imaginable a few years ago and our applications have become more complete albeit complex.
After years of black and white manuals filled with code lines, we finally had black and white manuals filled with pictures! Not much of an achievement, you may say, but still a step forward.
Multimedia User Onboarding
Ah the nineties…
While the world was debating on whether or not Ross and Rachel were on a break, new boy bands were popping up everywhere on a daily basis like zits on a teenager's face, kids were busy with their new 'digital friends' such as their Furby or Tamagotchi, computers reached full multimedia capabilities.
Software was dispatched in CD-ROMS that also contained "interactive" manuals with text, links, pictures, and videos!
Still…these interactive manuals were pretty thick and lots of people didn't want to go through all that content to learn how to use software.
That's why this was the time when you were able to find a plethora of 'for dummies' books that were created to help you go through the basics and learn the essential functions of very popular software in just a few chapters.
People also preferred to learn how to utilize audio, video, or graphic software by purchasing specialized magazines with tutorials and tips.
Online Software Tutorials, Forums, and Interactive Onboarding Solutions
Later on, when JNCO jeans and starter jackets finally found their place hidden somewhere deep in the back of the closet, the internet bloomed and people started learning software in forums, and communities.
Just a few years later, at the beginning of the new millennium, the internet speed was high enough to allow video streaming with a decent quality. That was the trigger that allowed platforms like Youtube to become popular.
Once people realized that video content doesn't necessarily need to involve infants or cats, we saw a proliferation of official and unofficial video tutorials.
From here on, the rest is history. Software is no longer dispatched with handbooks or CD-ROMS and people learn software in many different ways. This phase set the stage for modern onboarding applications and interactive performance support.
Modern Employee Training and User Onboarding
Nowadays, software is mostly distributed as a service via subscription models that guarantee that the application is always up to date.
Companies subscribe to specific packages based on their needs and receive access to the application.
Then, based on how complicated the software solution is, employees need to be trained.
There are several ways in which companies train their employees. And some of them still sound ancient.
Many employers still use PDFs and video tutorials while others adopt elearning tools such as LMS software, or virtual classes.
All these methods are asynchronous, meaning that the user first needs to absorb information and then apply that within the ecosystem they'll have to work in.
Additionally, classes, handbooks, and tutorials really don't help improve the user experience within the software or the human experience at work.
Some software is sold directly with tooltips and/or infotips which are often used to create a user onboarding tour.
Generally speaking, such an overview of the software interface is quite useless since first-time users will never remember all the elements presented in such a tour.
Additionally, as Samuel Hulick pointed out, such tools only delay interaction with the piece of software and are often used as patches to try to bypass intrinsic problems created by a badly structured interface and poor user experience.
Similar tools don't work because, also in this case, the experience is completely asynchronous. Users are passively presented elements in the interface. Tooltips are then only used once for onboarding but don't provide any support beyond that phase in the user journey map.  
Classic learning tools do little to nothing to enhance the human experience and modern tooltips and onboarding walkthroughs rarely improve the user experience or add any value.
That's where interactive performance support comes in!
What is Interactive Performance Support?
Interactive performance support is a software solution that goes on top of any other software to guide users with step-by-step walkthroughs through processes in real time.
The application is a sort of additional layer that goes on top of the user interface of any other software. It explains all of the elements users are required to interact with to complete a task while users work in the software itself.
Interactive performance support systems offer continuous support to new or existing users while they actually accomplish tasks within the software itself.
If you've ever used an old version of Microsoft Office, you might remember Clippy. At any point in time, users had the option to summon Clippy and ask him questions along the way. Sometimes Clippy simply showed up and offered help based on the behavior of the user.
Many people found that annoying and this know-it-all was simply phased out. True…nobody likes obnoxious wiseacres but that assistant was the first form of interactive assistance and it opened the doors to many modern solutions which are currently revolutionizing the way we use software.  
Interactive performance support follows some classic principles:
It's

live within the actual software

application people work in

It's

always accessible

, meaning that users can receive guidance at any time

It's

fully interactive

(it shows users what to do in real time and step by step until they complete a specific task)

It allows anybody to utilize a piece of software

without formal training

or training materials

It's

fully customizable

and adapts itself to any software solution on top of which it's implemented

It can be used to onboard new employees, for

employee training

in general, and more specifically to

continuously support users

within any software solution
When to Implement Interactive Performance Support
Companies use interactive performance support to guide their employees through complex work applications with onscreen interactive guides. In the past, companies had to:
Organize new hire training to onboard new employees.
Organize

employee training courses

(for both new hires and existing staff members) everytime new software was introduced.

Arrange

re-training sessions

everytime a piece of software went through a major overhaul or when the

forgetting curve

started having an impact on current know-how

Create and update training materials

to support employees after their training sessions.

Create content for elearning solutions

and quizzes that would help their staff familiarize themselves with a new software solution

Be prepared to receive a long series of

software support requests

connected to simple questions about processes and operations.
Interactive performance support is then used to:
Eliminate the need for

software training, re-training, and training materials
Empower employees to increase productivity at work from day one without external support or formal training
Increase accuracy and standardize processes

across different units through interactive guidance

Allow users to

learn by doing
Enhance the human experience

by eliminating uncertainty, enhancing the user experience, and allowing people to focus on

WHAT

they need to do and not on

HOW

to do it

Enhance performance with

immediate know-how

and skill development

Reduce wastes

connected to training or support time (for trainees, trainers, and skilled employees who might spend time trying to help less skilled colleagues)

Guide employees in real time

every time software is introduced, updated, or consolidated.
An interactive performance support software can also be integrated with other elearning platforms if necessary even though such a system is often meant to replace less efficient solutions.
This form of just-in-time support represents a constant series of microlearning experiences that enables optimum performance by employees who need to be productive therefore, enhancing the performance of the entire business at the same time.   
Interactive Performance Support Versus other Solutions
Unlike other forms of software support or employee training, an interactive performance support system allows users to receive support while they actually accomplish a task.
Such a software solution guides users in real time and is contextual. Contextual help is customized to the situation each user is facing and follows them step by step till they reach their goal.
Online help and other forms of help are only pertinent to one single software solution, while performance support applications can interact with any software.
Unlike on-demand elearning simulations, contextual help is a constantly present form of learning support that guides users synchronously.
Interactive performance support solutions can also be integrated and link to a knowledge base or LMS to offer additional information (and combine both guidance and classic informal learning), but the system can also be used independently to bypass the problem of creating content.
Closing Remarks about Learning at Work and Employee Productivity
Many jobs now require people to interact with several different software solutions and be highly proficient and accurate while accomplishing tasks.
In order to achieve greater productivity, companies have realized how important it is to invest in knowledge and skill development.
Learning and working no longer need to be separated as distinct stages of the employee journey.
They are intertwined and work together simultaneously as the demands of the modern workforce continues to shift in favor towards a technical savvy user.
With interactive performance support, information is provided on-the-go and delivered just-in-time allowing employees to have constant access to guidance.
Do you want to learn more about interactive performance support? Feel free to check Userlane and find out how our solution is currently helping corporations worldwide improve their employee experience while cutting costs and increasing productivity.
New to Userlane? Take a step in your software adoption journey and join the pool of our happy customers.
About the author:
The Userlane team brings you digital adoption insights, product updates, and plenty of onboarding and engagement advice for user-centric businesses.