Masters of Digital Adoption
How to master the integration of IoT and CRM
by Jonas Laue
1 year ago
・
4 mins
A CRM system was once solely owned by the sales function and existed as a tool to, as the name would suggest, manage customer data. The solutions offered by the likes of Salesforce, now make the tool far more powerful. One area in particular, is integrating the CRM with IoT. It has the potential to revolutionize industries, with the ability to enhance end-to-end processes by connecting products, devices and equipment, moving beyond just the traditional sales customer data management. Jonas shares advice on how best to approach the integration and the potential positive outcomes.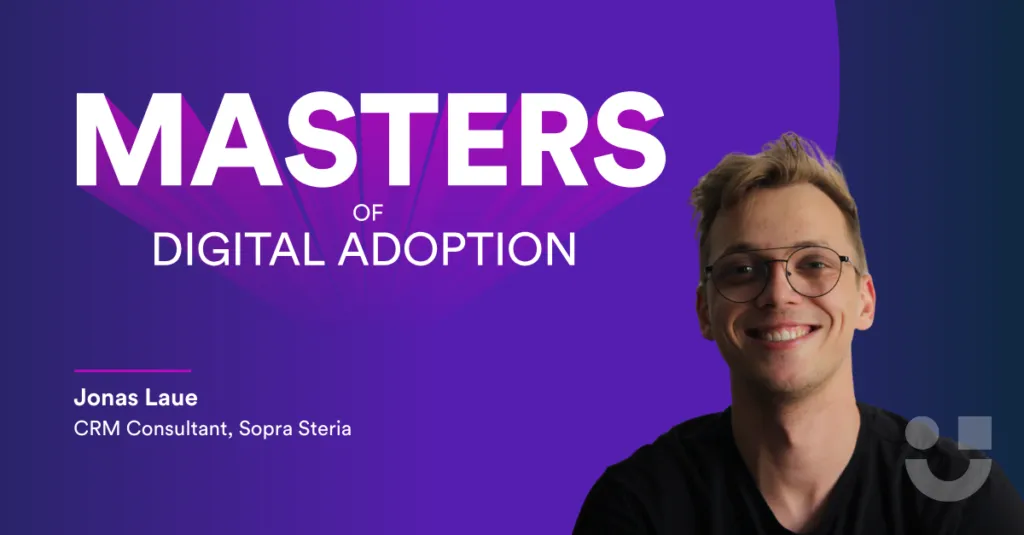 I am Jonas Laue, a CRM Consultant, specializing in Salesforce, from Sopra Steria. I have been working in the CRM space for around 6 years now and at Sopra Steria I work on projects with medium-sized businesses typically in the manufacturing or healthcare industries. We offer consultancy to customers on basically everything that is in contact with the CRM; software selection, business process optimization and assisted implementation into other systems to name a few. 
Sopra Steria is a leading partner for businesses tackling their digital transformation initiatives and we have a deep rooted understanding of how to truly leverage digital technologies. 
The untapped potential of the CRM
The CRM has been around for a number of years now, and for a medium-sized business, it is commonplace to see it being used to manage processes in maybe 1-2 departments. However, the potential for a CRM has evolved, and businesses need to keep apace. 
Integrating the CRM with other systems, like an ERP or marketing tool, can throw up many issues for our customers. The implementation, optimization and maintenance of the integration requires a lot of cross-departmental collaboration and understanding of changes in processes. The end goal for  them is typically to raise the transparency of their data and have a 360° view of their data rather than sitting in silos across departments. A single source of truth means everyone is equipped to make better data driven decisions. This is not just a buzzword, it is a critical factor in the race to stay competitive. 
Other common issues businesses are trying to tackle are the low usability of the CRM system, and the bad UX design that exists within the system. Both contribute to an under-utilized system that has huge potential. 
Manufacturing and IoT are a match made in heaven
For the majority of our customers, it is relatively simple to gather information and data about the products they are selling. 
The real hurdle is knowing what to do with that data. 
To ensure your data is not redundant, here are my five steps to approaching the integration of IoT and the CRM: 
Know that every product is individual. It all depends on the data that you can collect. There is no a one-size-fits-all approach that can be followed, you will need to shape it to your product offering and business goals. 
Start small. In the first instance, you want to make a proof of concept for the integration and start collecting real data from the product. A testing of the waters, if you will. This will give you a view of the type of data you can collect, and help you make an informed decision on whether to progress, adjust or scrap. 
Define a strategy. There are a number of areas that need to be defined at this stage, but most notably is to be clear of your long term goals. What are you trying to achieve with the integration? These goals will be the drivers on the strategy and shape the whole integration. Secondly, your IT architecture is important – what needs to be done to make this integration possible? Thirdly, it needs to be scalable as you roll the system out and add more product and data sources. And finally, don't forget data privacy here, that is very important to set out in your strategy! 
Decide what to do with the data. Once the insights start coming in, analyzing that data will be the next big step. There should be a process of defining which data is relevant, what do we need to actually collect, what can it tell us, and what thresholds do we need to put in place i.e. if a machine reaches a certain temperature or liquid levels in a machine drop to a certain level, who should be alerted? 
Scale! Continue to add new products and machines and gather more data. You will reach a point where bringing in AI assistance to analyze will be required. AI can be trained to spot changes in normal behavior and predict upcoming maintenance requirements, thus helping you avoid any downtime of the product. 
Consider these 5 steps and you should be well on your way to successfully integrating IoT to your CRM. 
The more functionalities, the more complex it becomes
It is inevitable that as you add more functionalities to your CRM, there are new processes to be learnt, new people to be onboarded, and more collaboration across teams needed. To enable users to be able to work the system correctly and efficiently, a Digital Adoption Platform is a great tool to implement. It helps guide users through the system in the right way so they know what to do and when to do it. 
As users get more used to and feel confident on a system, they will engage with it more. When they engage with it more, there is an increase in collaboration across departments and increase in ideas being shared on how the system can be used for business gains. 
My one piece of advice for mastering digital adoption?
When it comes to integrating IoT, if you haven't started yet, do it now! It will play a huge factor in competitiveness in the years to come and so getting a head start will help you later on. 
New to Userlane? Take a step in your software adoption journey and join the pool of our happy customers.
About the author:
CRM Consultant at Sopra Steria