Digital Transformation and Digital Adoption
5 Pillars of Successful Digital Transformation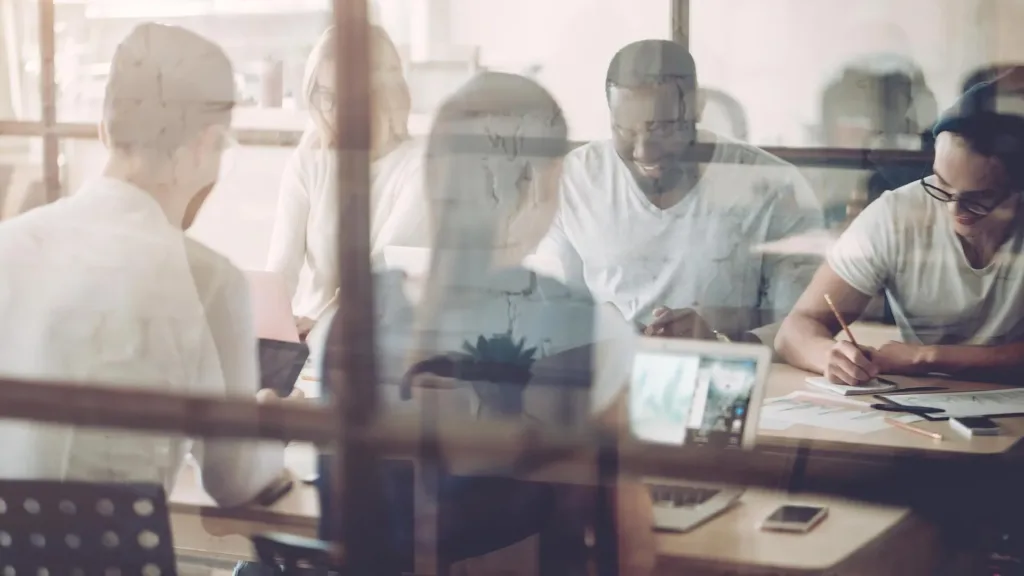 by Team Userlane
3 years ago
・
9 min.
They say it takes a village to raise a child, but … did you know it also takes a village to drive digital transformation? We got the inspiration for this from events we've recently participated in, and we'd like to expand on this idea with our own version of a digital transformation village! (Disclaimer: The "it takes a village for digital transformation" phrase is [sadly] not our own, but we have added our unique twist to it!)
Let's start with an exercise. When you think of a village or community, what comes to mind? What, in your view, makes up a community? What makes it thrive? What keeps it going? 
If people and culture were part of your answers, you're on the right track ????. And just like building a village, here's what we believe is needed to drive successful digital transformation in your organization: 
People

Technology

Culture of Change 

Sense of Community

Continuity (understanding DT is a journey)
In this post, we take a look at these five core elements (let's call them our pillars) in a bit more detail and provide some valuable resources along the way.
Laying the Groundwork: 5 Most Essential Factors to Drive Digital Transformation
1. People
If you go through our blog, you'll notice that we say, "digital transformation is all about people" A LOT. You'll probably need more than your 10 fingers and toes to do a count! But why do we place so much emphasis on this? 
It's because people drive change, not technology. Sure, new tech is the cause of or provides one of the reasons for the change, but implementing and facilitating transformation begins with digital-savvy leaders who then advocate for this transformation throughout the entire organization.
Think about it: If no one knows how to work with the new technology or, worse, even wants to work with it, then digital transformation simply cannot succeed. People on all levels, from employees to the C-Suite, need to be on board with change and willing to embrace it and contribute to it.  
If you follow us on LinkedIn, you'll know that each Wednesday, we have a Digital Talk with an industry leader. One of our latest experts, Laura Jacob, Partner at EY, gave her valuable insights on leading change in a world of exponential disruption. In the talk, she gave this powerful statement: 
Technology should not be central to [your] transformation efforts, people should. People aren't anonymous elements of an organization, people are the organization. They are the most important and powerful asset.
She also mentioned that better enterprises are human enterprises (just like human products are better products, which we discussed in our blog post on enabling product-led growth with a human-first approach). Business-led transformation should always be people-led transformation. 
Here are some good resources connected to the importance of people in digital transformation:
Unlocking success in digital transformation

from McKinsey & Company. This in-depth article, based on research, explores five factors that can improve your chances of having a successful transformation.

Digital Transformation Is Not About Technology

by Behnam Tabrizi, Ed Lam, Kirk Girard, and Vernon Irvin (Harvard Business Review). This article places good emphasis on the fact that change can't be done externally. Think about all the people who would make up a village with their diverse talents, skills, and ways of thinking. You need to harness the potential of people inside your company and get them to contribute to meaningful change with their unique ideas and skills. As Laura emphasized in her discussion with us,

people should contribute to change rather than having the change done to them

. 

Digital Transformation 101: It's All About People

. This is one of our older blog posts, but it's definitely still a goodie! It covers how you can create a winning transformation strategy by focusing on both the employee and customer experience. 
2. Technology 
OK, hold up. Didn't we just say that digital transformation is about people (this is becoming a catchphrase for us!) and not technology? Yes, of course! But if it weren't for constantly evolving disruptive technology and processes, we wouldn't need to transform at the rate we are, would we? 
With increasing digital disruption, we have increasing digital capability needs. Organizations need to evolve by being innovative and differentiating themselves from the competition with new technologies. And, as you know, digital transformation is connected to making things easier, faster, and more efficient for both the employees' and customers' sake. Technology is what enables this and empowers us to achieve more. 
In one of our previous posts, we spoke about this cool analogy Tristan Harris, former design ethicist at Google, gave in Netflix's The Social Dilemma: Think about technology as tools. Tools sit there and wait for us to pick them up and do something productive with them. And that's what technology should be—tools we can each leverage to bring about some sort of positive change. In the context of B2B, this means using smart, powerful technologies that bring more value to employees and customers alike. 
Also, it's important to leverage technology to help drive targeted and effective change. For example, using large datasets and advanced and predictive analytics to drive insights to help you measure change and make fact-based decisions. 
Here's an impactful statement taken from Louise O'Conor, digital transformation expert and founding partner of Beta Digital, from her talk at our virtual booth at TNW 2020:
Technology is the last piece of the puzzle. It only enables whatever it is you're trying to do. Say you're taking a trip. You know where you're going, but you don't know what transport to use to get you there. That's how I see technology: It's the piece that enables you to get where you're trying to go. So you need to start with your why: What is the purpose and reason you're looking to change as a company, and what are you looking to achieve within that? Once you know this, you can then look at the technology … you need to get you to that vision.
Resources to check out:
Our blog post,

Top Change Management Software Solutions

, gives a good overview of some of the top enterprise change management software to help you manage, monitor, and optimize your change management processes in your organization.

Digital Transformation: Survive and Thrive in an Era of Mass Extinction

. This book by Silicon Valley entrepreneur Tom Siebel explores the new technologies impacting both business and government and how organizations can leverage them to evolve into digital enterprises. 
3. Culture of Change
If 2020 has taught us anything, it's that the world is changing in rapid, unexpected ways. In any organization, change doesn't and shouldn't just come from the top. Sure, it takes strong leaders in the C-Suite to initiate, prepare for, communicate, and advocate for a culture of change in the organization. And identifying change and its consequences should always come from the top level. It's also true that every leader should be a change manager these days.
However, it is also up to each employee to develop and establish a change mindset—i.e. one that is open to new ways of working and thinking. Remember that change is multidimensional in digital transformation. It's not just about the introduction of new technology. It's about changing the way things are done, the way processes work, and the mindset and attitude of all people within the organization. Essentially, it's about creating a new culture. 
Importantly, change should always be connected to communication. An actual village of people simply cannot thrive without communication in some form or another, and the same holds for your change management strategy.
If you're in a leadership position, it's up to you to encourage strong, positive communication among all your employees. Always begin by explaining WHY there is a need for change, and use positive vocabulary to effect and advocate for this transformation. Everyone who will be affected by the change needs to know why change is happening so that they can be ready for it. As Laura emphasized in her talk, change needs to be an experience, not something that should be managed. 
Good resources to check out:
Simon Sinek's TED Talk,

How great leaders inspire action

. Simon discusses his simple yet brilliant model for inspirational leadership, beginning with a golden circle and that all-important question, WHY! 

Our white paper,

Software Rollout and Support in the Era of Remote Work

, explores how to roll out a new technology successfully in your company by focusing on a people-first approach to change and employee training and support.
4. Sense of Community
Laura Jacob also highlighted in her talk that people want to be a part of something bigger than themselves. This comes back to explaining WHY there is a need for change and what the PURPOSE behind it is. By giving employees a sense of purpose and understanding, they're likely to be much more motivated to get on board with change. 
I, Tracey, author of this post, come from South Africa, and we have a term called ubuntu, which means "humanity." It's often translated as, "I am because we are" or "humanity towards others." This spirit of ubuntu is what drives strong communities. So why don't we apply this spirit to our digital transformation efforts?! After all, for change to be successful, you need to always put people at the center of your change initiatives, foster a spirit of growth, and encourage everyone to learn from as well as motivate one another. Human connection, that's what it's all about!
5. Continuity (Understand It's a Journey) 
The growth of a village and its survival depends on numerous factors, the major one being reproduction and then a commitment by its people to pass on their learnings and teachings from one generation to another.
Digital transformation is a journey that has no endpoint. There will always be a need to evolve and adapt in any organization, especially in our technologically advanced age. So don't make the mistake of thinking that implementing a few technologies and getting employees to work with them is the end of your transformation. It shouldn't be a stop-and-go process but one that is continuously evaluated and optimized. .
And lastly, remember that your journey always involves your customers and employees. They are an integral part of your transformation efforts, and you need to involve them from the very start. We've written about taking employees along with you on your digital transformation journey, so for more insights on this, check out our post, Digitization: It's About Putting People First. In it, you'll find advice and guidance from CIOs and IT executives across numerous industries. You can also take a look at our virtual event recap on how to make software rollout a success. There's a video recording of our guest speakers, and our first guest speaker, Sebastian Zack from Hitachi Solutions, talks about taking your employees with you on your transformational journey. 
To quote Louise O'Conor one more time before we wrap this post up:
Digital strategy runs alongside business as usual, and it's an ongoing process just like any [other] strategy is.
It's also always good to get real-life examples of companies leading the charge. So, for one last resource to check out, you can read up on these 4 digital transformation success stories.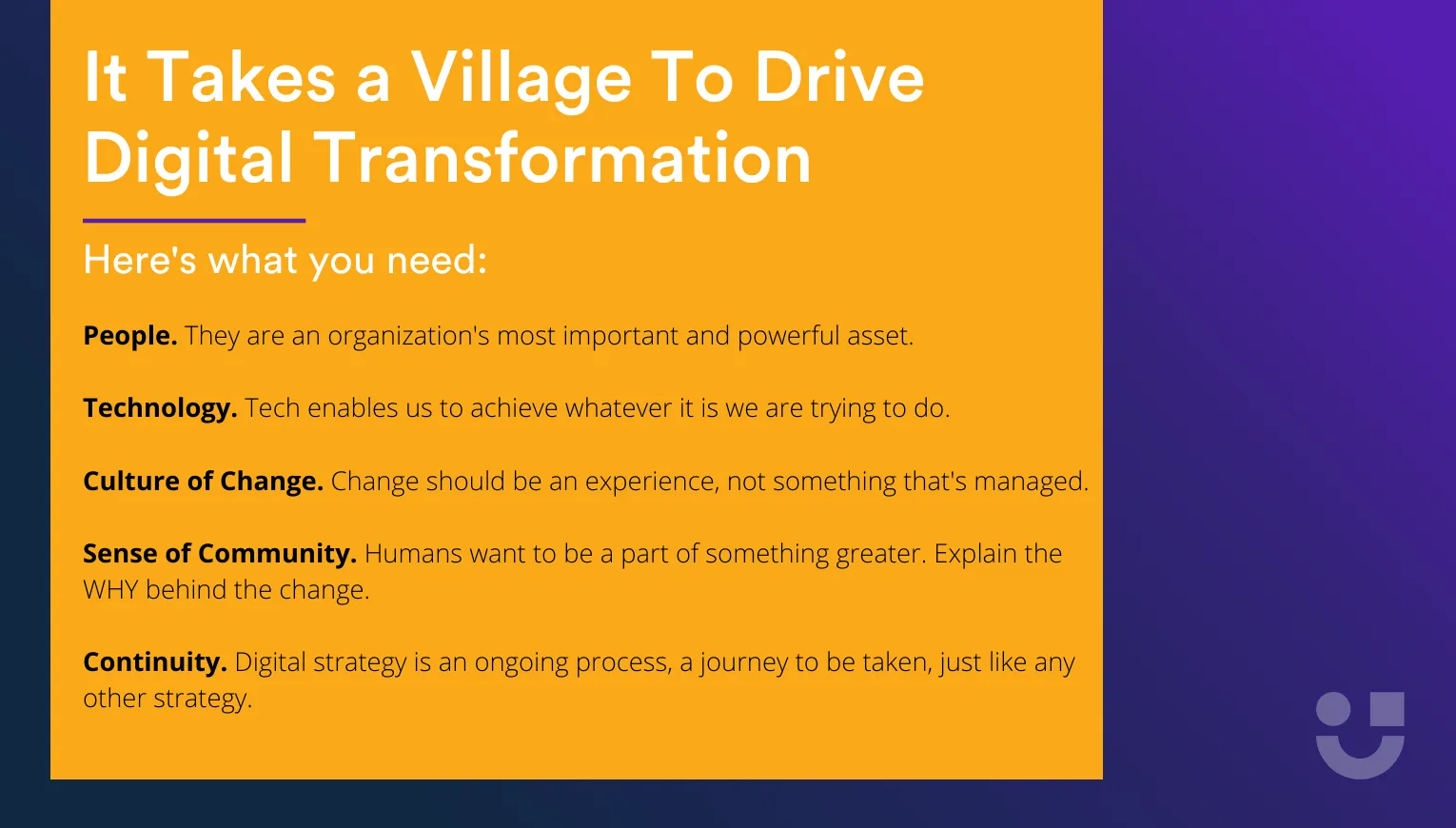 Don't Let Your Village Crumble!
As much as digital transformation is about change, it's also fundamentally about adaptation, and 2020 has certainly shown us what happens when companies aren't able to keep pace with digital transformation. There'll always be another massive, disruptive change, so always rememeber that it takes a village to drive successful and much-needed change in your organization! 
Much of our inspiration for some of our blog posts, like this one, comes from our Digital Talks we have each Wednesday with industry leaders on LinkedIn Live. Be sure to join us each Wednesday at 04:30 p.m. CET (unless stated otherwise) on our LinkedIn page for some seriously insightful, valuable discussions. We've just hit our 11th episode, so if you want to check out our previous episodes, they're all there on LinkedIn! Enjoy!
New to Userlane? Take a step in your software adoption journey and join the pool of our happy customers.
About the author:
The Userlane team brings you digital adoption insights, product updates, and plenty of onboarding and engagement advice for user-centric businesses.