Digital Transformation and Digital Adoption
Trends in Digital Innovation Shaping the Post-Digital Era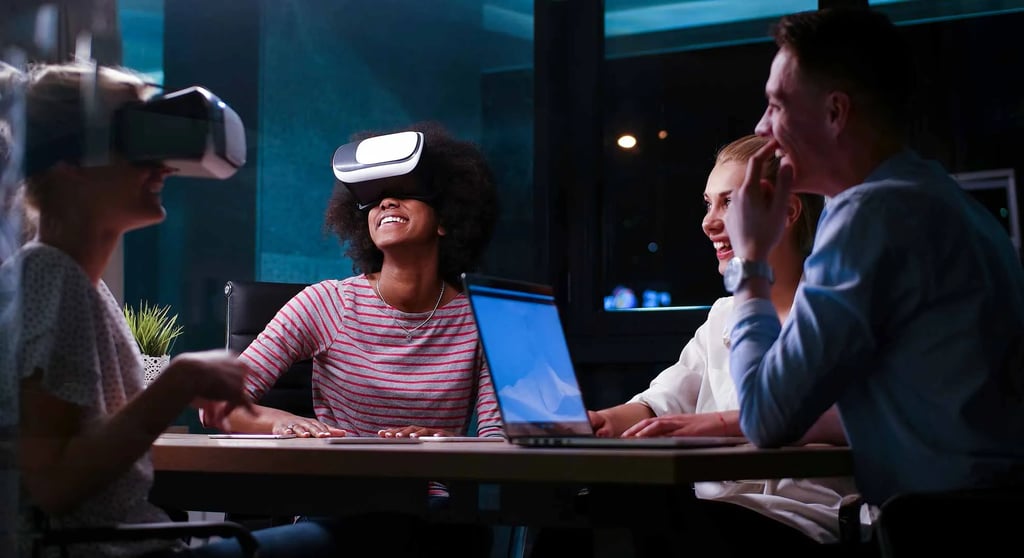 by Team Userlane
4 years ago
・
7 min.
It's official, we are entering a new 'post-digital' era.
Pretty much every company today is developing their digital competency, knowing that success is based on their ability to design new technologies that deliver personalized experiences and innovative services to employees, customers, and ecosystem partners.
But how are organizations setting themselves apart when 'going digital' is no longer enough? And what are the main trends shaping digital innovation that companies need to address to survive in the post-digital era?
What is Digital Innovation?
At its core, digital innovation is the application of new technologies to existing business problems and practices in a process that takes place in phases.
Each phase is marked by advancements in technology and innovation.
The first phase was driven by access to high speed internet and smart mobile devices, and now the internet of things (IoT), Artificial Intelligence (AI), Blockchain, and Quantum Computing (to name but a few emerging technologies) are all catapulting this trend forward in 2019 and beyond!
Pretty exciting stuff!
Where to Find Digital Innovation
Digitization is no longer restricted to technology or digitally native companies now that the customer journey starts digitally. And with digital innovation processes touching every industry throughout the world, it's not a case of if but when digital innovation will position innovators as the new champions.
In fact, Gartner predicts that by 2025, all industries, particularly Retail, will have been transformed by the capabilities of digital technologies.
Digital innovation relentlessly rewrites the rulebook for business, and even organizations that are considered well established are facing new threats at an unprecedented rate from competitors never encountered before.
Here are three of the biggest trends shaping digital innovation today and how enterprises are reacting to remain competitive.
3 Biggest Trends in Digital Innovation
1.  Securing the Unsecurable
While digital innovation trends are creating an increasingly connected world through expanded partner ecosystems, it's also exposing businesses to an increased security risk.
This, along with changing data protection laws and increased privacy concerns, is set to drive more progressive and distributed security processes.
New technologies and digital innovation ideas always seem to be one step ahead of the security designed to protect them, so high profile and often devastating hacks, attacks, and security vulnerabilities are inevitable.
Thankfully, new cyber security solutions are emerging all the time and top IT security professionals will be following these trends this year:
AI-Boosted, Predictive Cyber Protection Is to Become the New Norm
Analytics has become an important part of most companies' technology infrastructure. Advances in predictive analytics and AI mean that companies are now much better at diagnosing and understanding their security in real-time.
For example, in the financial services industry, fraud prevention is vital and AI is helping companies determine which transactions are likely fraudulent in real-time in an automatic and efficient way.
Self-Protecting Apps
AI and machine learning will continue to play an important role in helping applications protect themselves.
It's not easy to detect small vulnerabilities in massive networks, and this leaves some areas exposed and without proper protection. Automation is already a major trend in tech, but its combination with AI has given it new wings to expand into different areas.
One of the biggest new movements set to take place in the upcoming year will be the rise of runtime application self-protection (RASP): A technology that will be able to detect problems without human intervention.
Gartner predicts that nearly 40 percent of enterprise-level businesses will be using RASPs by 2020.
Secure Alternatives to Passwords
Even though the volume of data we are storing online is growing exponentially, the security tools that are used to keep that data safe remains highly outdated.
Passwords are useful for identification purposes, but they are also poor tools when it comes to guaranteeing data security.
Just recently biometric verification, among other technologies, has started replacing passwords, but this year will see further innovation in this space, including Identity-as-a-service (IDaaS).
Fast Identity Online (FIDO), for example, uses biometric or vocal recognition to provide a more secure alternative to passwords.
However, if, in the meantime, you're looking for reliable and trusted password managers, you can check out this list of the 10 Best Password Managers of 2020.
2.
The Machine Workforce
Exponential digital innovation is giving rise to an entirely new competitive and intelligent workforce, namely the Machine Workforce, which is also referred to as the Connected Industrial Workforce as cited by Accenture. The human workforce, and much of its old skill set, is rapidly declining in value.
The emerging AI-driven automation is changing the way we think about the workforce and forces us to begin a broader discussion on the changing nature of work, workplaces, skills, and human capabilities. So, what forces of automation are defining the future workforce?
The emerging Machine Workforce is not just fighting for routine tasks or small jobs
The Machine Workforce is competing for jobs even the most intelligent among the human workforce cannot do. Machines are discovering patterns on their own and they are learning things themselves.
So, when we have intelligent tools that can find new solutions to the complex challenges facing humanity, we have a whole new world of machine workforce for which the human workforce is not prepared.
The way jobs are being designed and how people work is changing rapidly
The traditional 9 to 5 position is dying out because more and more employees are working remotely and team structures are evolving as a result. This is giving rise to a digitally-enabled independent human workforce.
Independent work for humans is nothing new, but the digital enablement of it is a significant change, because the amount of independent work that is now done on digital platforms is increasing rapidly.
Digital platforms are helping the human workforce to scale and become more efficient.  From outsourcing work to ad-hoc teams, from a distributed work model to a platform model, from microwork to macro work, and much more, each of these will be difficult transitions for the human workforce to undergo.
3.  Revolutionary Capabilities of Blockchain, AI, and 5G Cellular
Blockchain
Blockchain technology was originally used to support digital payments in Bitcoin. Today, it's  making an appearance in a wide range of commercial applications and industries.
For example, Gartner predicts that by 2025, 20% of the top 10 global grocers by revenue will be using blockchain for food safety and traceability to create visibility to production, quality, and freshness.
But, what kind of trends can we expect moving forward with this technology? Here are some key trends to look out for:
Enterprises will start to participate in multiple blockchain networks, such as food safety or global container shipment, thereby creating a '

network of networks

' – which is something that will allow them to simultaneously interact with multiple blockchain ecosystems.
Blockchain performance will become more important, where real-time performance and linkage with other data sources matter. Examples of performance-sensitive blockchain applications include

track & trace

(supply chain) or machine-to-machine (IoT) communication/exchange, to name a couple.   
Integration will become a big challenge as enterprises combine their legacy applications with multiple blockchain networks, which will necessitate the deployment of exchange points for blockchains to connect and collaborate directly.
Artificial Intelligence
Customer experience leaders must develop a deeper understanding of AI and its impact on customer acquisition and retention. In the post-digital era, a differentiated digital experience will be dependent on the delivery of AI-powered products, services, and new business models.
Companies are already investing in AI to improve customer experience and enhance digital innovation with up to 50% of all customer inquiries now being completely resolved through automated channels, according to a report by MIT Technology Review and Genesys.
But, what's next for AI?
Enterprises will enter the booming world of Distributed Artificial Intelligence (DAI) architectures, which basically lets customers decide which data they give to the cloud and which they prefer to keep in-house.
Many enterprises are expecting to achieve profitable growth. Siemens, for example, has just launched a new Digital Industries business as part of a company-wide restructuring effort focused on Edge Computing and artificial intelligence with a view to achieve double-digit growth in all industries.
Edge Computing is the latest buzz word and Siemens has played a major part in the implementation of this cloud-computing trend in industrial settings.
MindSphere, the IoT operating system that connects physical cloud environments to the IT-world, was launched together with MindConnect, the gateway that connects industrial equipment, worldwide fleets, and entire plants to the IoT.
This has opened the door for cloud-based analytics and better decision making in the industry.
To explain briefly, Edge Computing locally processes data collected from sensors fitted into industrial machinery, increasing speed and saving costs by eliminating the need to send the data to the cloud.
Machine and Deep Learning algorithms are being developed to enable training and inferencing directly on devices like cameras, drones, local edge servers, routers etc. Companies like Siemens are doing this for the following reasons;
So that AI model building will take place at the local edge, which is physically closer to the source of the data.

So that companies can access more external data sources for more accurate predictions by turning to secure data transaction marketplaces.

So that companies can leverage AI innovation in multiple public clouds without vendor lock-in, which will decentralize AI architecture even more.
Infographic on the top AI projects in the blockchain space
5G Cellular
5G is the next big thing in the journey of digital transformation, and with the explosion of connected devices, like mobile phones, televisions, security systems, and speakers, this technology innovation is only going to intensify.
Leading telecommunications companies like Vodafone are betting on 5G and the endless possibilities of digital transformation it opens up, especially in an IoT and AI-connected world. But before we go any further, let's define what 5G actually is.
5G is the 5th generation of mobile networks following 2G, 3G and 4G, and it is set to be much faster and more reliable. It's often called the 'network of networks because it's not defined by one single standard or technology, and it's expected to open up a whole new set of use cases.
Leading telecommunications companies will start selling commercial 5G services this year and next.
2019 will see 5G services launched, increased investments being made in revamping existing cellular building infrastructure, and the building of new edge infrastructure together with innovation in hardware and virtual wireless networking to optimize performance and costs.
5G is expected to have a huge impact on our daily lives, but what role can we expect it to play?
Transforming Healthcare. 
Some interesting examples: Via a video link, paramedics would be able to stay in constant and real-time contact with the emergency room they're heading to. A doctor could treat a person suffering from chronic pain from the comfort of his or her own home. Some companies, like Verizon, are currently experimenting with virtual physical therapy. These scenarios may seem unrealistic, but 5G has the potential to make this a reality.
A Smarter Home. 
Imagine a smart home where everything is connected. Digital innovation today makes this possible, and it won't be long before your fridge and cupboards are ordering food for you (deliverable by drone, of course), or a boiler has told you that it is about to fail and has searched the internet and recommended a plumber for you to call. The possibilities are certainly endless, but are organizations ready? The reality is that very few businesses can actually benefit from 5G today, but companies can prepare for 5G now by doing the following:
Learning about 5G capabilities and limitations. 
Work and build your business towards it even if you don't have access yet. In a relatively short time frame, 5G will roll out worldwide, and those companies that are not preparing now won't be able to keep up with smarter products. The most innovative companies are figuring out how to prepare their business and systems so that they're ready to sync with this transformative technology.
Thinking about what your products or services will look like on 5G.
Start building use cases to understand how you can uniquely apply this technology to your business. Be smart and start working on developing products based on this technology that is sure to transform each and every business.
Digital Innovation: The Future of Customer Experience
Increasing competitive pressures and evolving customer behaviors are driving rapid change in every industry, as each and every company is applying new technologies to existing business models to deliver innovative solutions.
Customers have the power and want exceptional customer experiences from the brands they trust. This will, without a doubt, shape the world of customer experience in 2019 and beyond.
Organizations that proactively embrace digital innovation will lead the way, engaging modern, highly mobile, and informed customers. The rest will simply falter.
Interested in learning more about how you can embrace these exciting digital trends in the era of digital transformation? Download our ebook, How to Introduce Software in the Era of Digital Transformation for facts and statistics on the latest in digital innovation.
New to Userlane? Take a step in your software adoption journey and join the pool of our happy customers.
About the author:
The Userlane team brings you digital adoption insights, product updates, and plenty of onboarding and engagement advice for user-centric businesses.