Customer Success and Customer Experience
Customer Experience Conferences in 2019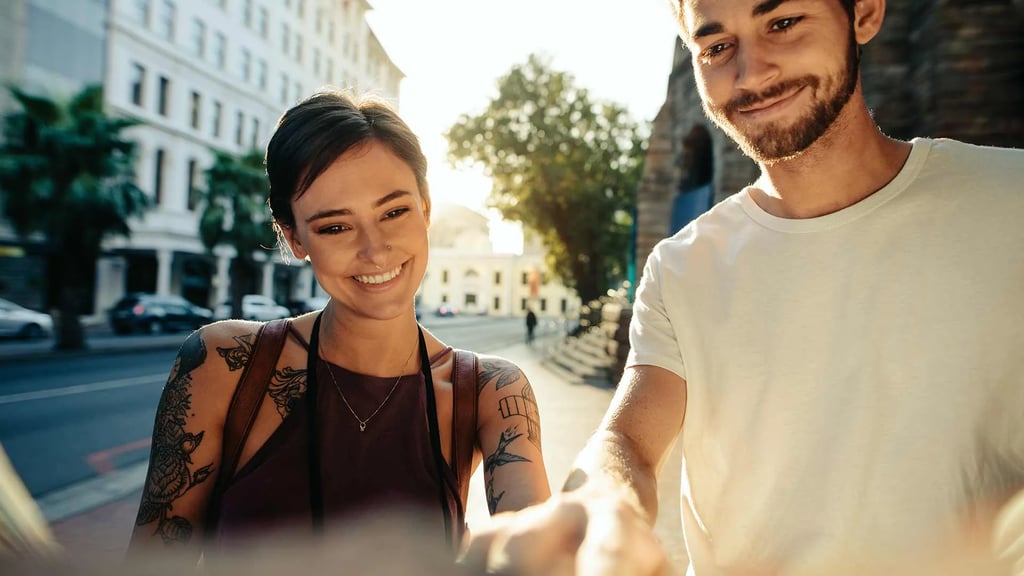 by Team Userlane
5 years ago
・
23 min.
If you're looking for the most complete list of customer experience conferences, customer success events and conferences, and customer service forums and summits for 2019, then you've landed on the right page. 
In this article, we tried to draw up the most complete list of customer success and customer experience conferences, summits, and trade shows for 2019 so that you can choose the events you want to attend by going through all the most important gatherings of 2019 in one single place.
PLEASE NOTE: Bookmark this page and come back on a regular basis! We're going to keep our eyes peeled and include additional trade shows and events we might come across and keep updating the list. Plus, if you think we've forgotten a relevant event, feel free to fill out our CS/CX Events 2019 form and let us know what events we left out.
The list is divided into three geographic areas. We created a list of all the upcoming CX and customer success conferences in the United States and Canada, a list of customer experience and customer success events for Europe, and a list of CX and CS conferences for Asia, Africa, and Oceania.
Before each section, you'll find a map and an interactive table with a list of the towns in which the events take place. Most of the cities host multiple events.
Feel free to click on the links right here below this paragraph to choose your geographic area and the links below the map to see all the customer experience and customer success events that take place in a specific city. Of course, you can simply scroll through our list of events to find some inspiration and pinpoint the conference or trade show that you want to attend.
Jump directly to:
List of Customer Success and Customer Experience Conferences in North America for 2019
List of Customer Success and CX Conferences in Europe for 2019
List of Customer Success and Customer Success Events in Asia, Africa, and Oceania for 2019
Customer Success and Customer Experience Conferences in North America in 2019
CX and Customer Success Events in the United States and Canada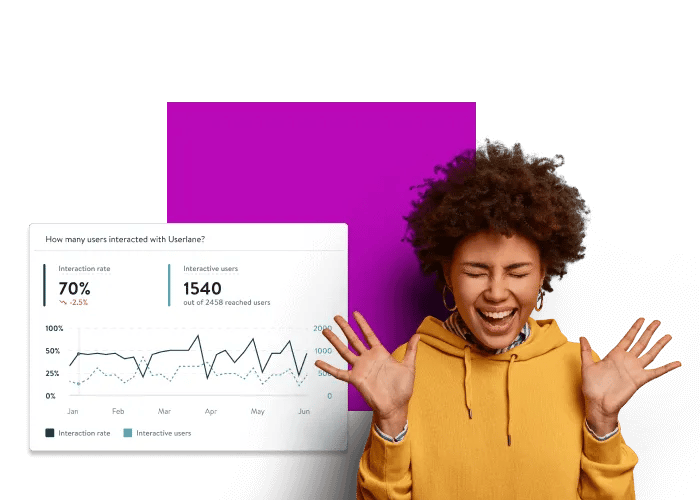 [spacer height="40px"]
(APRIL 16-17, 2019 – TORONTO, ON)
The Customer Experience Strategy Summit is a two-day knowledge-sharing event with the top experts in customer experience. Thought leaders from Wal-Mart, Toyota, and Schneider Electric will present their findings from recent research and offer information on how to improve the future of the customer experience. The goal of this conference is to offer insights into the future of the customer experience in order to maintain a competitive edge in the market. Participants of this event will get first-hand insight into the latest developments and share cross-industry CX knowledge to go forward in CX strategy.
(MAY 20-23, 2019 – TORONTO, ON)
Collision is now in its fifth year and describes itself as North America's fastest growing tech conference. Having taken place in New Orleans over the past three years, the conference now finds a new home in Toronto. Companies that have exhibited at these events include Google, Mercedes-Benz, IBM, aws, Microsoft, KPMG, and Atlassian, so this event is an excellent opportunity for you to network with visionary brands and over 2,750 CEOs from around the world.
CSPN CUSTOMER & EMPLOYEE EXPERIENCE CONFERENCE
(MAY 28-30, 2019 – TORONTO, ON)
Back for its 22nd year, this conference, which is held at the Globe and Mail Centre in the heart of Toronto, is all about igniting your customer and employee experience. Join senior industry professionals to talk about all things CX, EX, customer service, digital trends, and more. The conference offers an awesome lineup of speakers, who will share their insights and draw from their personal challenges and what they've learnt over the years. Immerse yourself in engaging presentations and attend workshops and networking events designed to help you shape the future of CX and EX. On the 30 May, you can also look forward to a tour of the GTA's contact center, which will be followed by a hands-on workshop. Grow your business, transform your culture, become more customer-centric, engage in thought leadership, discover new vendors and suppliers, position yourself as an expert, and, of course, have fun!
(AUGUST 11-13, 2019 – CHICAGO, IL)
The Customer Contact Week Executive Exchange is a three-day exclusive event revolving around innovative executive exchange. Complete with thoughtful keynote speakers, case studies, one-on-ones, and endless networking opportunities, this event is likely the most important executive-focused event in the midwest for 2019.
(NOVEMBER 4-6, 2019 – CHICAGO, IL)
Each year, CMSWIRE hosts an annual event focused on the digital customer experience. Leaders in the industry, such as Hilton, Comcast, Cisco, and SAP, present their views on engaging the digital customer through omnichannel marketing efforts. Join other DX thought leaders as they address how digital transformation will change the way we address our customers and how to make the most out of customer data platforms.
(SEPTEMBER 11-12, 2019 – CLEVELAND, OH)
The Dijulius Group offers a two-day high-energy conference focused on customer service and customer experience. Speakers from previous events include large enterprises, such as Zappos, Marriott, Starbucks, and Nestlé. Join this one-of-a-kind event to network and learn from different industries on how to create a great customer experience with customer service.
THE 9TH ANNUAL CUSTOMER SERVICE SUMMIT
(OCTOBER 23-24, 2019 – NEW YORK CITY, NY)
Customers are no longer settling for just any kind of customer service. Customers expect exceptional customer service, which is why this summit will focus on fulfilling these particular expectations and improving overall customer service strategy. Discover how global brands, such as Google, Facebook, Starbucks, HBO, and other large enterprises, successfully execute their personalized, omnichannel, and customer-centric customer service strategies that align with company policies and support the brand. This two-day New York-based event focuses on customer care and customer service with over 300 customer service leaders and over 40 expert talks.
Exclusive $300 saving – enter code Userlane200 at checkout.
CX NYC 2019
(TBA – NEW YORK CITY, NY)
"Change the game, leading radical CX innovation" is the motto of this event. This forum is one of many hosted and organized by Forrester. The New York forum brings together customer experience leaders from an array of verticals to discuss the developments in the world of CX. At this event, you will learn how to take customer relationships to the next level for your business.
CUSTOMER SERVICE SUMMIT NYC
(OCTOBER 23-24, 2019 – NEW YORK)
The Customer Service Summit in NYC brings together exceptional leaders from some of the world's most influential and innovative brands. This event gives you an awesome opportunity to improve your CS strategy and reimagine the role of customer service going forward. If you're looking to make your support strategy even more efficient, engaging, and empowering, then make sure you head to NYC for this summit. Speakers at this event include senior leaders from Johnson & Johnson, DHL, HBO, ESPN, Home Depot, Uber, and many, many more.
SMART CUSTOMER SERVICE 2019
(APRIL 29 – MAY 1, 2019 – WASHINGTON, DC)
Smart Customer Service 2019 is the world's leading customer experience conference. This three-day event is packed with networking opportunities, workshops, and discussions with C-level professionals and other industry gurus. With over 1,000 attendees and 25 speakers, this event has something for everyone who is interested in customer service and CX. Join companies such as Zoho, Zendesk, and AOL and find out how to create a smart customer service strategy for your business.
SAN FRANCISCO AND SAN JOSE, CA (7 Events)
(FEBRUARY 12-15, 2019 – SAN FRANCISCO, CA)
If you're looking for an action-packed conference filled to the brim with speakers, educational content, networking, high-quality speakers, and even some entertainment in the form of a private event at San Francisco's iconic Pier 39, then this is absolutely the event for you. Get hands-on experience with the latest technology, gain deeper insight into the workings of AI, learn how to optimize your existing infrastructure, and seize the opportunity to enhance your skills by learning about the latest tools and solutions that you can implement to scale your business. With over 2,000 business and technical sessions led by industry professionals and game-changers, this is a must-attend event for awesome networking opportunities with professionals from around the globe. Get to know IBM executives, listen to visionary speakers with in-depth knowledge of business know-how, science, and technology (to name but a few), and connect and brainstorm with best at this unique, one-of-a-kind event.
SUMMIT ON CUSTOMER ENGAGEMENT
(MARCH 13-15, 2019 – BURLINGAME, CA)
Defining itself as the network and educational experience for customer advocacy and engagement pros, the theme of this year's summit is co-create. Over three days, you can attend talks from authors, founders, and CCOs, and participate in workshops that centre on topics such as leveraging VoC initiatives to build brand loyalty and co-creating customer reference programs. 2019 will be the Summit's 15th anniversary and is the most respected conference in the world on customer advocacy and engagement. You can thus rest assured that you'll get to experience a high-quality event. Improve your productivity, learn best practices, and gain a more strategic perspective to add more value to your business.
MARTECH CONFERENCE 2019
(APRIL 3-5, 2018 – SAN JOSE, CA)
Marketing. Technology. Management. Three separate disciplines now converged into a three-day event surrounding the common goal of getting ahead in the era of digital transformation. Tech-savvy marketers from around the globe are joining this conference to share their experiences, gain knowledge, and network with like-minded marketers working with the latest advances in technology.
(APRIL 9-10, 2019 – SAN MATEO, CA)
The Customer First Summit is actually an online summit, so keep this in mind when registering. This exciting online conference unites over 30 industry practitioners from around the world, and you'll have the opportunity to engage with VPs, CxOs, and leaders from notable brands, such as WordPress, Gainsight, Hootsuite, and Amazon. Learn how to handle everyday challenges in customer support and build stronger relationships with your customers. With this summit, you will learn how to shape your support strategy, hire, train, and scale, and drive customer success. And speakers at this summit? Shep Hyken (Chief Amazement Officer at Shepard Presentations), Jeanne Bliss (CEO of Customer Bliss), Kirsty Traill (VP, Customer at Hootsuite), Stacy Justino (Director of Customer Happiness at Wistia), and many more. And ALL this at the click of a button. Make sure you register now!
(MAY 21-24, 2019 – SAN FRANCISCO, CA)
'Where Customer Success Meets Woodstock' – this is how Pulse, organized by Gainsight, brands itself, so you know you can look forward to an action-packed four days (with over 5,000 attendees!). If you're in post-sales or in customer-facing roles, then you shouldn't miss out on this event. And on the 21st May, Pulse Academy Live! will take place. The Live! event is a high-quality, hands-on, multi-course educational event designed for CS professionals of all levels. From topic breakouts to ask-me-anything sessions and keynotes to workshops, Pulse is the event for CS visionaries
CX SF 2019
(OCTOBER 17-18, 2019 – SAN FRANCISCO, CA)
Brought to you by Forrester, this version of the CX series in San Francisco will focus on the rise of XD and how you can 'Master the New Art (and Science) of Experience Design'. For those in the know, experience design (XD) is 'rapidly emerging as the discipline to rule them all'. If creating an outstanding, successful CX is your top priority, then XD will help you achieve it. Want to find out more about what XD is exactly and how to use it to gain competitive advantage? Then this is a must-attend event for you. Learn from and network with the best as you learn all there is to know about XD.
METROPOLITAN LOS ANGELES, CA (2 Events)
(APRIL 9-11, 2019 – DISNEYLAND RESORT, CA)
What could be more magical than this?! If you have a passion to see your business taken to the next level, then Disneyland awaits you! At the Disney Institute Summits (there's one in Florida too, see below), you'll discover how Disney tackles leadership, service, and employee engagement. If being in the Magic Kingdom isn't enough already, highlights of the summits include keynote speakers from Disney execs, exclusive park experiences that bridge business insights with practical examples, impactful sessions with Disney facilitators, and awesome networking opportunities with some Disney surprises. Avoid disappointment and book for these one-of-a-kind events.
(APRIL 23-26, 2019 – PALM DESERT, CA)
Innovation, transformation, and disruption – these are the three pillars of Field Service. For two decades, this conference has been one to mark on the calendar for service execs. Each year, the event seeks to provide its attendees with unique session formats and this year, the focus will be on how to deliver exceptional customer service and drive profitability. A variety of interesting topics to discuss are on offer, such as preventative services, IoT, CX, global service, training and development, workforce management, and help desk support (to name but a few!). Field Service wants to take the 'boringness out of networking' by offering you the 'fun stuff' like Californian wine-tastings and private-chef cuisines. Meet and mingle with top service and support minds and gain valuable knowledge in service and operations with this global event.
(MARCH 19-21, 2019 – LAS VEGAS)
The Modern Customer Experience is an annual event hosted by Oracle and is attended by a variety of customer experience professionals. This event consists of keynote speakers and four different tracks (Service, Marketing, Sales, and Commerce) which cover each category in greater detail. Participants have access to different workshops, sessions, exhibitions, and unique case studies from Oracle industry experts.
(MARCH 26-28, 2019 WITH A PRE-CONFERENCE FROM MARCH 24-25 – LAS VEGAS, NV)
For a 'week that will change your thinking about brand experiences', the Adobe Summit is designed for anyone, from new to experienced, wanting to become experts in creating, managing, and transforming customer-centric businesses. This event is also geared for digital marketers, so if this is your field of expertise, then this is your event. With 99% of attendees stating that the Summit met or exceeded their expectations, this event will give you an excellent platform to network with advertisers, analysts, digital marketers, marketing executives, publishers, and many more. Times are changing and changing fast, so it is imperative for businesses to set themselves apart in terms of revenue growth, customer retention rates, and customer lifetime value. You can learn all about these topics at the Summit by hearing from leading brands and learning how to unite data and design in over 300 sessions and labs to help your business deliver the best CX possible.
(JUNE 24-28, 2019 – LAS VEGAS, NV)
Help CCW celebrate 20 years by joining their event in the ever-bustling Las Vegas. Previously known as Call Center Week, CCW is renowned in the community as the number 1 conference and expo for professionals in CX, contact centers, and customer care. Boasting over 2,500 attendees, 250+ expert speakers, and 200 sponsors and exhibitors, CCW is the world's largest customer contact event, which means you'll have plenty opportunity to sharpen your skills, network with the best, and gain the latest information on trends, strategies, and techniques you can take home with you to implement in your business. Hear from CX and CS professionals working for key industry players, attend open forums, participate in case studies to help you deliver quality services, and join fireside chats on AI, automation, and analytics. And if that's not enough, you can attend exclusive events, such as the Executive Club for VP-level and above and CC women, a new initiative designed for women by women in the industry.
(MARCH 25-27, 2019 – INDIAN WELLS, CA)
This is the event for you if you're looking to generate leads, develop opportunities, and close business deals. According to NGCX, CX has become the number 1 business differentiator. This event is the meeting point for America's top CX executives from multiple industries, including Microsoft, Mastercard, Comcast, and Verizon, so strategizing and feeling inspired for 2019 and beyond is a guarantee. Themes that will be covered include strengthening your Voice of Customer, scaling your CX and gaining buy-in, building brand loyalty, and much more.
CUSTOMER CONTACT WEST
(OCTOBER 27-30, 2019 – HUNTINGTON BEACH, CA)
This year's theme? In Pursuit of an Effortless and Engaging Customer Experience. Designed for customer service and customer contact executives, the CCW will give you hands-on experience, insight, best practices, and tools to help you embrace digital transformation and use it to maximize your CX. Work with people facing similar challenges and triumphs, and work together to create high-impact strategies that will give you confidence going forward.
INCITE CUSTOMER SERVICE SUMMIT
(JUNE 3-4, 2019 – SAN DIEGO, CA)
This events prides itself on having 30+ brand speakers, 250+ senior attendees, 70% brand attendance, and being 100% customer service driven. This year's US version of the event will focus on the topic, Experience is the Future: Customer Success Must be an Organization-Wide Strategy. It's no secret that competition in the customer service industry is fierce and with customer expectations continuously evolving, it is crucial for businesses to increase their number of loyal customers. At this summit, you can learn how to leverage new technologies to develop optimal CX strategies in your business, including how to drive customer service to the center of your business. Influential speakers, two full days of learning, and unparalleled networking are all on the agenda – make sure not to miss out!
The Customer Service Summit West brings together an unrivaled list of senior leaders from the world's most powerful and innovative brands. Purpose-built to guide you seamlessly into the future of delivering an unforgettable experience, CS West is the ultimate opportunity to ensure your team is exceeding customer expectations. Be part of a community of 250+ service leaders exploring the cutting-edge of how brands can stay one step ahead of the customer and pre-empt their expectations. Join this movement to re-imagine the role of customer service and take your place center stage as the face of, and driver for, the entire business.
Exclusive $300 saving – enter code Userlane200 at checkout.
(MAY 15-16, 2019 – SALT LAKE CITY, UTAH)
As you will notice in this blog post, the CXPA hosts a variety of conferences in different locations annually. Over 350 CX professionals attend this event and this is a great opportunity for you to grow your network, share your best practices, and gain practical insight into challenges, trends, and the latest information in all things CX. On the agenda, you'll find Show and Tell sessions where CXPA members present to small groups, and Breakout Sessions that deal with a myriad of exciting and informative topics.
INTERACTIVE CUSTOMER EXPERIENCE (ICX) SUMMIT AND CONNECT: THE MOBILE CX SUMMIT
(JUNE 4-6, 2019 – DALLAS, TX)
In 2019, the ICX Summit and the Mobile CX Summit will be united in order to give you a one-stop-platform to experience the latest technologies and strategies that can help you create outstanding customer experiences. The combined event is geared towards execs in the B2C sector, particularly the retail, restaurant, bank, and hotel industries. Find out what works and what doesn't from CX professionals and take back crucial information to your organization on how to enhance your CX for optimal results. At this event, you can also experience unique ICX Tours that allow you to discover and experiment with innovative interactive technology. Topics on offer will include: Building Experiences to Drive Stronger Engagements, Equipping Your Employees with Tech Tools to Deliver a Great CX, and Is a Cashier Necessary in the Future of Retail?
2019 CUSTOMER EXPERIENCE CONFERENCE
(MAY 1-3, 2019 – SAN ANTONIO, TX)
This event is for financial services professionals who specialize in claims, customer service, IT, marketing, and new business. It is geared towards emphasizing the importance of customer experience and how it is needed if businesses want to remain competitive, grow faster, and increase profitability. At the Customer Experience Conference, you will learn how to design visionary CX strategies that will help you improve customer journeys across multiple channels and business functions. Sessions you can attend will deal with widely-talked topics, such as AI, Machine Learning, IoT, and the omnichannel customer experience.
MAY 7-9, 2019 – SPOKANE, WASHINGTON
This world-class event will give you the opportunity to learn how to improve your CX and how to develop a highly effective and successful CX management strategy. Join over 20 speakers and 400 attendees over the course of three days and experience an intimate learning setting where you'll gain best practice knowledge on both CX and EX. This event also has an executive, by-invitation-only program and at the end of the conference, you can look forward to a black-tie, gala awards celebration. This event is hosted by SQM, which has brought top CX, CRM, and thought leaders together for its annual CX conference for the past two decades. This year, the focus will be on how contact centers can contribute more towards their organization's strategy.
(SEPTEMBER 3-6, 2019 – BOSTON, MA)
Inbound is the conference for 'people who are passionate about marketing, selling, and delighting customers in an inbound way'. Their focus is on people, empathy, and humanity, and how your business can grow better by focusing on the human experience. Inbound is hosted by HubSpot and the event features four days of learning, engagement, and inspiration. The event boasts talks from icons like Michelle Obama, and you can attend educational breakout sessions hosted by top marketing, sales, and customer success practitioners. This is an unmissable event for sure.
(AUGUST 20-22, 2019 – WALT DISNEY WORLD RESORT, FL)
If you want to create an exceptional CX, you must listen to your customer and take all their needs, desires, and expectations into consideration. The Disney Summit, having received feedback from past summits, will focus on what YOU want: choose the topics you are most interested in and gain insight into a CX environment in action. Learn about Disney leadership, service, and employee engagement and how you can apply Disney's CX techniques to your own business. At this event, you'll hear from Disney executive keynote speakers, learn about Disney best practices, and, of course, network with passionate people while getting to experience the magic of Disney with field experiences in Disney Parks and Resorts.
(MARCH 31 – APRIL 2, 2019 – MIAMI BEACH, FL)
CCW Executive Exchange is a premium, invitation-only event for the most senior CX and Contact Center Leaders. For two-and-a-half days, you will have the chance to attend one-on-one business meetings to shorten your RFP cycle, network with industry leaders, participate in group discussions, and reflect on strategic issues and the all-important link between CX and EX. This event brings 100 of the most senior executives together to maintain a high degree of relevancy. Stay at a five-star resort and mingle with the best at this exclusive event.
(APRIL 7-10, 2019 – MARCO ISLAND, FL)
Just like it's sister event, Customer Contact West, CCE will give you great opportunities to connect and share your visions, successes, and challenges with people who share your passion. Topics that will be covered include Creating Long Term Growth and Financial Success, Success Factors in Achieving a Customer-Centric Culture Transformation, and Mapping and Reengineering Processes for Greater Effectiveness and Enhanced Experiences. You'll also have the chance to ask the experts in panel discussions, participate in Peer Council sessions, and attend best practice sessions. You can also customize your agenda to ensure that you get maximum benefit from this event (and some fun stuff, like beach yoga and morning exercise, are included too).
(FEBRUARY 5-6, 2019 – ATLANTA, GA)
At this event, you'll gain practical insight into how to 'disrupt the competition by leading the customer-centric revolution'. You'll also have the opportunity to attend Corinium's signature Discussion Groups, which are designed to be highly interactive, targeted, and engaging. Dive head first into given topics and work through challenges and strategies with co-chairs and other attendees. And what else can you find on the agenda? High-quality presentations from analytics executives, Q&A sessions, Masterclasses led by industry thought leaders, and awesome networking opportunities in the form of roundtables, dinners, and lunches. Topics to be covered include The Five Pillars of VoC Success – Building a Modern Framework, The Customer of 2025 – Preparing for the Future, Customer Journeys – Going Beyond Feature Spotting for Radical Operational Change, and much, much more.
2019 Customer Success and CX Conferences in Europe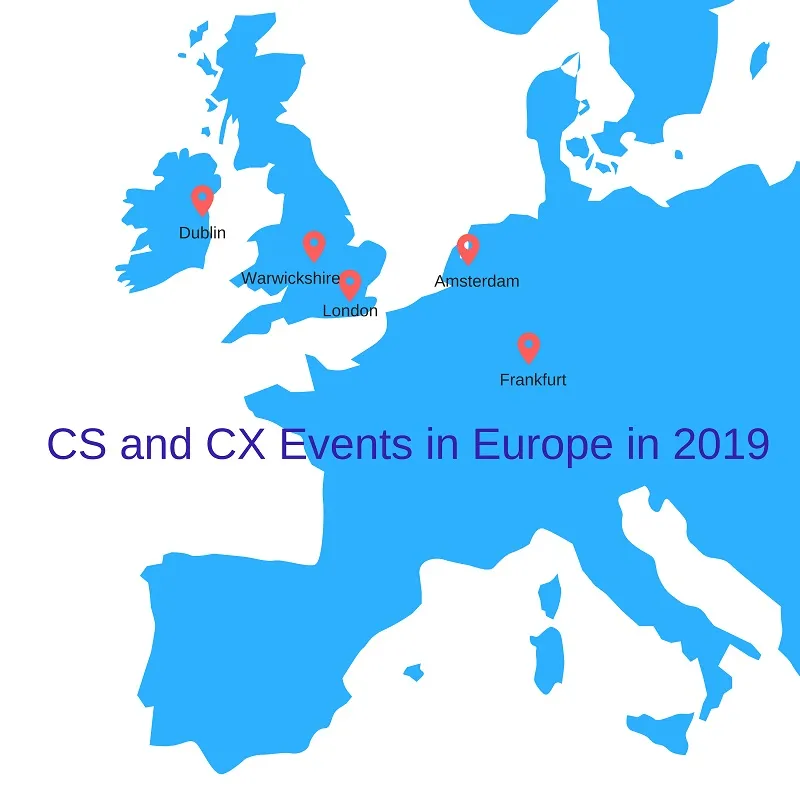 CUSTOMER EXPERIENCE MANAGEMENT IN TELECOMS GLOBAL SUMMIT
(JANUARY 29-31, 2019 – LONDON, UK)
This event is geared towards global telecoms businesses that are looking to take their CX strategies to the next level. Join influential market leaders and tackle the challenges associated with changing customer interactions in an increasingly digitized world. Find out everything you need to know about what customers need and want from telecoms and how you can strategize to deliver the most effective solutions for your customers. Discover how to increase your revenue and CX growth as you interact with professionals from customer innovation and retention through to product and marketing.
(FEBRUARY 12, 2019 – LONDON, UK)
This year's conference will feature talks from 31 influential Communications Directors throughout the course of one day. With speakers from the BBC and Marks & Spencer to Skyscanner and gettyimages, the event promises to offer practical information on how to create powerful social media and digital media campaigns, deliver high-impact corporate communications, and reach and engage diverse audiences. Learning how to deal with crises, create targeted, innovative content, and deliver cost-effective communication are but a few of the myriad of topics that will be covered by leading industry professionals. Moreover, two interactive panel discussions and seven lunchtime peer discussions will ensure that you gain and share valuable information and network with the best.
(FEBRUARY 21, 2019 – LONDON, UK)
Following on from its past three successful conferences, this year's UX conference will explore the theme, Designers & Marketing: Helping Businesses Grow. Organized by The School of UX Design, the event will include key speakers from the likes of Virgin Atlantic, Condé Nast, and Thomas Cook. If you're looking for informative and inspiring advice, tips, and tools from top designers and like-minded people on how to leverage your UX to grow and market your business, then this is the event for you.
(FEBRUARY 26-27, 2019 – LONDON, UK)
With a strong emphasis on humanizing digital transformation for the customer, CX Exchange BFSI is the UK's top CX event for the financial services sector. Not doing anything by halves, attendees are invited based on job function and strategic responsibility. This exclusive approach is to ensure that attendees have the opportunity to engage with an elite group of CX professionals from both the B2B and B2C sectors. Strategize and network with fellow COOs and directors by customizing your own itinerary to maximize the value you get from this event. If you meet the criteria for invitation, you can look forward to Think Tank discussions, one-on-one business meetings, and exclusive conference sessions, which will all provide you with invaluable knowledge on how to meet the changing expectations and demands of today's FSI customer.
(MARCH 5, 2019 – LONDON, UK)
The Institute of Customer Service conference is the largest customer service conference forum in the UK and gives its attendees the opportunity to network and engage with top CS professionals and share knowledge of best practice. Join hundreds of business leaders and service professionals from all sectors and receive practical advice on customer-related topics from keynote speakers. New markets are emerging all the time and it's important to stay ahead of the game. This event promises to deliver crucial information on how to navigate, stay relevant, and create success in changing and emerging markets.
(MAY 22-23, 2019 – LONDON, UK)
Are you a CX leader and looking for some much-needed comprehensive coverage of today's top CX trends, strategies, and priorities? If so, then this is a must-attend event. You can expect some great, tailored content on operationalizing the voice of the customer, getting maximum value from customer journey mapping, analytics best practices to improve customer retention, personalization options to better your CX, and much, much more. In a time where customers can very easily take their business elsewhere, it's important to capitalize on all available resources, like this event, to help you optimize your CX and learn invaluable skills and strategies to set you in good stead for the ever-changing digital future.
(JUNE 13, 2019 – LONDON, UK)
Following on from a successful 2018 event, this year's CX Marketing Summit will focus on the main challenges and opportunities marketers are facing in a fast-paced and rapidly-evolving technological world. Engage with and learn about topics such as CX analytics for marketing, CX and EX across the enterprise, digital transformation, AI, IoT, Voice of Customer, and the customer journey. At this event, you'll have the opportunity to attend roundtable sessions, interact with over 300 delegates, and attend talks given by over 40 speakers. With digital transformation, businesses now have the opportunity to offer a holistic customer experience thanks to greater insight into customer personas. With this event, you'll receive tools, techniques, and the latest information to help you set your business apart from the rest.
(JULY 11, 2019 – LONDON, UK)
This conference is all about helping you understand how you can shape and evolve your business in the growing digital world. It may seem overwhelming trying to stay ahead of the game and trying to keep up with changing customer expectations, but this event is designed to equip you with the knowledge you need to create and maintain a successful CX strategy.  And what's on the agenda? 10 topic streams, focus group sessions, plenary keynotes, and over 30 world-class speakers.
INCITE CUSTOMER SERVICE AND EXPERIENCE SUMMIT EUROPE
(SEPTEMBER 17-18, 2019 – LONDON, UK)
Digital transformation is continuously evolving, and it's becoming increasingly important to keep up with customer expectations if you want to stay relevant and competitive. The Incite Customer Service Summit, brought by the Incite Group from the US due to high demand for a European event, aims to help businesses with their support strategies and brings together various leading brands from across Europe, including KLM, Airbnb, and Barclay's. Gain valuable insight into how to adapt to ever-changing customer expectations from over 120 service professionals, learn how AI, self-serve, empowered agents, and social media can enhance your customer service, and attend a variety of talks from top speakers. If you're in customer service, then this is definitely an event worth looking into.
(OCTOBER 9, 2019 – LONDON, UK)
This is the forum for you if you're looking for a platform to connect and collaborate with CCOs and senior CX leaders. Branded as Europe's leading CX forum, the event includes detailed case studies, defining the role of the CCO, interactive experiences, and peer-to-peer networking. With this event, you can look forward to engaging with over 25 speakers, 80+ attendees, and insightful discussion groups with top executives across several key industries.
(JULY 3-4, MIDDLESEX, UK)
This event is geared towards senior executives who are responsible for the design, development, and delivery of their customer service strategies & solutions. It is, therefore, an invitation-only event and affords its attendees the chance to connect with respected professionals and participate in exclusive strategic information sharing sessions. Customize your own itinerary so that you can focus on what's most critical to you and your business and take part in the dissection of brand new case studies. Other unique features include the strategic conference sessions with intellectual content that has been developed following nine months of research and one-on-one business sessions that will help attendees achieve their respective business objectives.
CUSTOMER EXPERIENCE WORLD DIGITAL MASTERCLASS
(FEBRUARY 11, 2019 – LONDON, UK)
At this Digital Masterclass Conference, you will have the opportunity to learn how to create and grow a customer-centric culture and management model. This event, branded as a one-day masterclass, will address important themes, such as promoting ownership, accountability, and empowerment at every touchpoint, putting the customer in charge, and leadership in networked organizations. With services and products evolving at exponential rates, digital transformation lies at the heart of the CX. Make sure that you stay ahead of the game by attending this conference.
CUSTOMER STRATEGY & PLANNING 2019
(APRIL 8-9, 2019 – WARWICKSHIRE, UK)
Case studies, keynote presentations, workshops, technology showcases, networking, speakers, and expert problem solving are all on the agenda at this event. Describing itself as more than just a conference, Customer Strategy & Planning 2019 prides itself on being the only best practice conference that is 100% dedicated to the needs of specialist teams in planning, analytics, insight, continuous improvement, and customer experience. Exchange ideas with CX professionals who share your passion and gain some valuable knowledge from top leaders and practitioners who are delivering successful change.
(MARCH 13-14, 2019 – DUBLIN, IRELAND)
This event defines itself as the only CX event by members for members. Whether you're a member of CXPA or not, this event is a great opportunity for attendees from all levels of CX experience from a wide range of industries to network with and learn from CX professionals. Attend Show and Tell sessions, open forums, and hear from a panel of thought leaders on the latest trends impacting CX and what you can do to improve your company's CX. One of the event's key features is its small group sessions where you can brainstorm and receive feedback from CX professionals and experience peer-to-peer learning at its best.
(JUNE 4-6, 2019 – DUBLIN, IRELAND)
This is the event for customer service and customer contact executives who are passionate about innovating the customer experience. Customer Contact Europe offers ideas, inspiration, and connections to help you prepare for the future of customer care and evolving digital transformation trends. Previous partners of the event include Emirates, Netflix, Virgin Media, American Express, and Dell, so you can expect to network with top customer service professionals and work with like-minded people to resolve challenges, develop ideas, and gain pragmatic, real-world experience.
(APRIL 18, 2019 – BUSSUM, NL)
The clinic, organized by CraniumConnect, will offer a full day of exciting and diverse sessions where you can gain insight into the latest trends, best practices, digital engagement, the role of an inquisitive and engaged employee in CX deliverance, and Microsoft Dynamics 365. The event is designed for both business and IT executives, so make sure not to miss out if this sounds like the event for you!
(MARCH 27-28, 2019 – FRANKFURT, DE)
The motto for this year's event is 'Customer First' and over the course of two days, you can expect high-impact discussions on current trends in digital experience, marketing, the customer journey, data protection regulation, new possibilities for customer management, the use of AI and chatbots, social media management, lead generation, and AR and VR integration. The conference, targeted at the German-speaking market, boasts interactive workshops, talks from a variety of speakers, expert panels, and best practice reviews. If you're in the field of marketing, sales, and service, then this is definitely an event worth attending.
Customer Experience and Customer Success Events in Asia, Africa, and Oceania, in 2019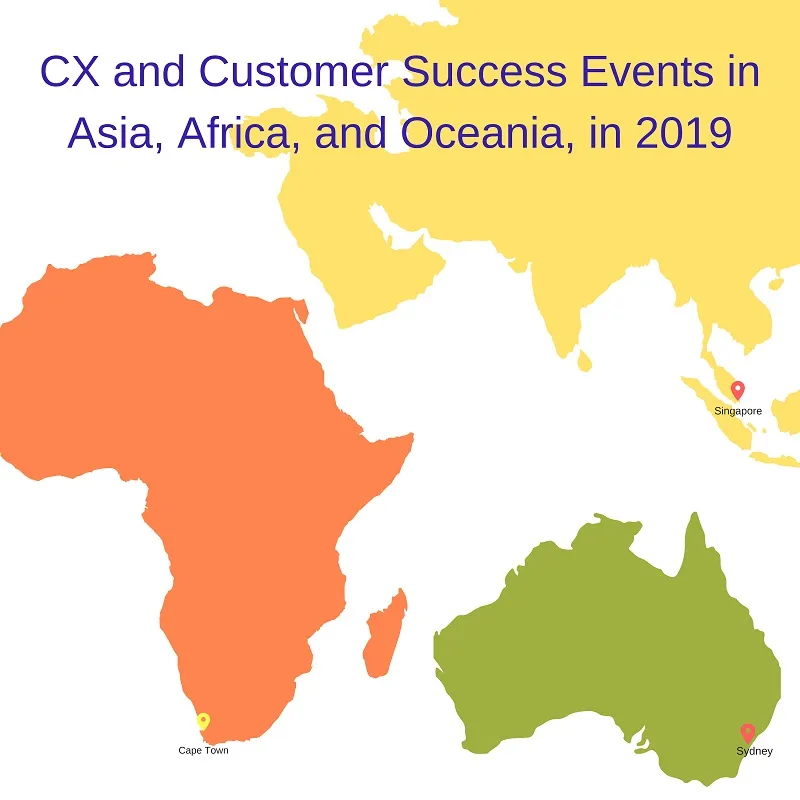 CUSTOMER CONTACT WEEK ASIA 2019
(MARCH 18-21, 2019 – SINGAPORE)
This event is focused on contact centres and how they need to strategize to keep up with rising competition in the market and digital transformation. Customer Contact Week defines itself as the one-stop platform on digitization, operational excellence, customer engagement, and both channel and workforce management in contact centres. With over 60 speakers and four workshops, attendees can learn how Asia's customer contact leaders are scaling their CX and how to optimize customer satisfaction and service with automated sentiment analysis, AI and chatbots, and self-service. Gone are the days of contact centres simply handling queries and complaints: the digital future is all about leveraging the latest tech to develop a unique CX and even reduce queries, complaints, and support tickets. If you're looking for advice and inspiration on how to implement successful transformation strategies in the contact centre and ultimately reduce customer queries and tickets, then this is your event!
FORRESTER CX SINGAPORE 2019
(AUGUST 28, 2019 – SINGAPORE)
While CX professionals have managed to transform the CX landscape over the past 10 years or so, it may seem like CX performance has plateaued – so what should be done now? According to Forrester, the solution is simple: we need real, disruptive innovation and radical change that capitalizes on the wealth of technology available to us. The Forrester CX event will give you the opportunity to interact with over 300 leaders and influencers in CX, marketing, business strategy, and tech, and attend sessions that feature key industry experts and Forrester analysts. Notably, almost 70% of companies that attend this event achieve over $1 billion in annual revenue, so you'll have the chance to network with big industry players. Attend this event, challenge your thinking, and become a leader of change in CX
CUSTOMER EXPERIENCE ASIA SUMMIT 2019
(SEPTEMBER 23-26, 2019 – SINGAPORE)
Known as Asia's number 1 CX event, the Customer Experience Management Summit, which returns for its 6th year, will offer valuable and practical insight into AI-powered CX, the latest trends in CX, service support, and automation, and employee engagement. Connect with over 350 CX industry leaders over four days and capitalize on the opportunity to participate in exciting discussions where you'll learn how to maximize your CX ROI and form customer-centric strategies. You'll also have the chance to listen to over 60 speakers and participate in 70+ interactive case studies and discussions. Make sure you don't miss out on this highly successful, high-impact event.
CAPE TOWN, SOUTH AFRICA (1 Event)
(JULY 31 – AUGUST 1, 2019 – CAPE TOWN, SA)
The 2019 edition of the CEM Africa Summit aims to align African CX with Global Best Practice. The event is a hubspot for CX professionals and CX solution providers alike who are looking to improve CX across the African continent. Great networking opportunities, keynote speakers, and workshop sessions will give you the inspiration you need to develop solutions that will better your customers' perception of your brand. CEM Africa is the most prestigious of its kind in Africa and provides a platform for you to engage with the latest trends in CX, network with industry leaders, and attend business meetings where you can share your ideas and solutions with like-minded people.
JOHANNESBURG, SOUTH AFRICA (1 Event)
CUSTOMER EXPERIENCE WORLD AFRICA 2019
(APRIL 11, 2019 – JOHANNESBURG, SA AND JULY 11, 2019 – CAPE TOWN, SA)
CEW is brought to you by The Focus Group, which organizes conferences on three continents. CEW Africa will be hosting two events in South Africa, and both conferences will include CX professionals from around the world. Keep up with the trends in customer success programs and learn how you can implement successful CS strategies that are relevant for the current and changing socio-economic climate.
(MAY 9, 2019 – SYDNEY, AUSTRALIA)
Since customer expectations are higher and more demanding than ever, it's important to stay ahead and maintain competitive advantage by embracing and taking full advantage of cutting-edge technology and delving deeper into understanding your customer. At CX Sydney, your new CX mandate is to be the engine of growth and to start focusing on the employee experience. Why? Because Forrester research indicates that the more empowered and engaged employees feel, the more they want to deliver an exceptional customer experience. Attend this event and discover how to make your CX strategies lead, and not simply follow, business strategies.
(MAY 27-28, 2019 – SYDNEY, AUSTRALIA)
2019 will be the 12th Annual Customer Experience Management event. As the description of the event indicates, it is no longer enough just to have a satisfied customer – companies now need to go above and beyond if they want to avoid churn. Therefore, this event centers on personalizing the customer experience to the extent where you know your customer inside out. Renowned for being the number 1 CX event in Australia and NZ, this year's event promises to deliver excellent content, inspiring leadership, tailored advice, growth opportunities, and the chance to 'network like crazy'. Meet experts and professionals in industries ranging from Transport and Airlines to Superannuation and Finance, Banking, and Insurance. The Summit also showcases cutting edge technology in the CX community and includes online benchmarking sessions. Join the number 1 CX event in Australia and New Zealand and learn how to navigate the future of CX seamlessly and successfully.
This concludes our list of customer success and customer experience conferences for 2019. Please help us keep this list up to date by letting us know what event we haven't included.
New to Userlane? Take a step in your software adoption journey and join the pool of our happy customers.
About the author:
The Userlane team brings you digital adoption insights, product updates, and plenty of onboarding and engagement advice for user-centric businesses.