Customer Success and Customer Experience
Strengthen Your Customer Relationship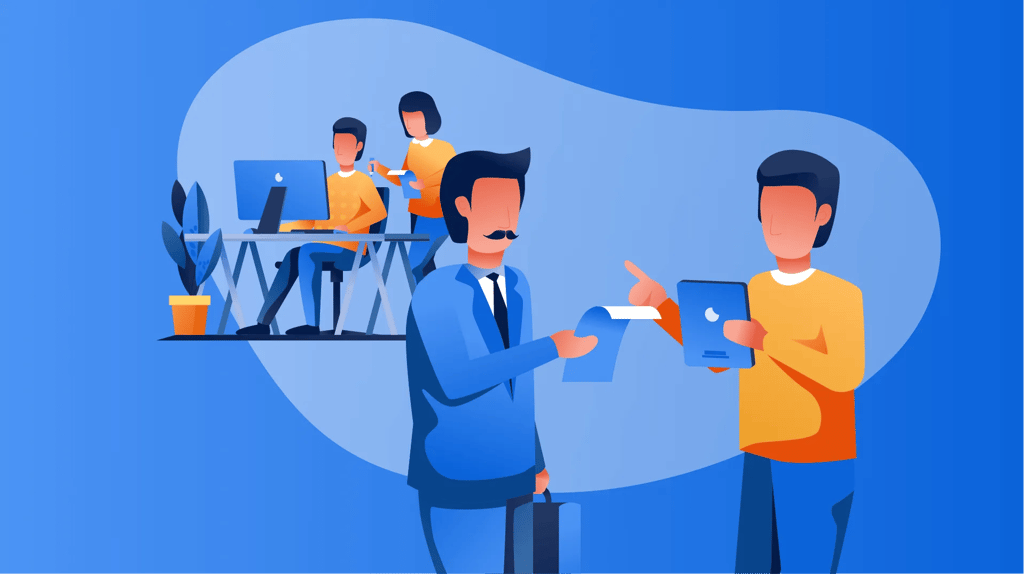 by Team Userlane
5 years ago
・
5 min.
Good relationships are built on communication and trust, so what makes relationships with your customers different?
Working with customers means you are in the business of establishing strong customer relationships early on and managing certain expectations to achieve your customer success driven goals.
However, professional partnerships aren't always so cut and dry.
In addition to what the customer sees and experiences – phone calls, emails, customer meetings, contract negotiations – there is an entire sea of data and information that you need to wade through and decipher to properly understand if this customer is completely satisfied with your product and with your relationship.
In this article, I will discuss how you can accurately measure and gauge your customer relationships so that you can improve your current and future customer relationships and increase your customer retention rate.
Digital Customer Relationships: Where to Begin
What is the difference between a digital customer relationship and one that isn't?
Most likely nothing, except for the fact that the ubiquity of technology has made it more difficult to avoid becoming a customer when you are dealing with SaaS or just e-commerce in general.
But there is one important thing to note about the digital customer relationship: It begins even before a transaction has been made.
This means that each single touchpoint communication is now documented, analyzed, and profiled.
A digital customer relationship may differ from sector to sector, but the concept and its influence on the future of customer experience remain the same.
Because digital customer relationships are closely tracked, this information is monitored and adjusted based on the results of the customer lifecycle and on the customer experience.
This means that the customer now has more control over major business strategy decisions,  and future business growth is no longer solely dependent on internal organizational demands.
The customer now exerts more control in the decision-making process of SaaS vendors, giving them more power and autonomy when it comes to finding the solution that fits their needs exactly. Not only do companies need to compete with other companies to be the best in the market, but they also need to fight to prove to potential customers that they have the perfect solution that will meet their needs and exceed expectations.
And it does pay off. According to Salesforce, "67% of consumers and 74% of business buyers say they'll pay more for a great experience."
Creating a great customer experience is the first step towards being a leader in the market, but in order to keep this customer, you also need to establish an excellent customer relationship with them.
Customer Relationship Management: Customer-First Focus
Establishing and fostering a well-rounded customer relationship with customers has become so important in SaaS that an entire industry has been created based on this relationship.
Customer relationship management (CRM) software solutions, such as Salesforce and Hubspot offer the ability to collect, schedule, and manage current and potential customers and their communications at each stage in the customer journey.
Of course, access to any sort of available customer information is valuable for customer success, and when there are thousands of customers to manage, it becomes easier to justify the investment in a CRM. This is why CRMs are a staple software for most businesses.
In fact, CRM software has become so common in modern businesses, it is probably what you first think of when you hear the words 'CRM' or 'customer relationship management'.
But despite the numerous advantages that come with implementing CRM software, there is one thing that most CRM software solutions lack: Their inability to offer a fully personalized approach to customer management.
As your client base grows larger, it becomes increasingly difficult to keep track of every single customer interaction and orchestrate genuine responses.
Customer retention is directly connected to successful customer management because without the customer, there would be no customer relationship to manage in the first place.
And this is how the field of Customer Success came into being.
In B2B specifically, managing a customer means managing the account as a whole. In this case, the customer does not just represent a person, but rather the entire business.
This is extremely important to understand. Managing interpersonal relationships with your customer is a large part of your day-to-day, but if your "champion" leaves the business, you need to be sure that the revenue stays.
This is why it is more important to focus on customer relationship management in its entirety and not just on interpersonal customer relationships.
Here are a few ways to improve your customer relationship management efforts.
Education
Your clients were probably very enthusiastic about your amazing product in the beginning, but now they are tied to a contract, which sounds a lot less romantic. You, therefore, need to make the effort to maintain the spark and the stickiness of the product.
This starts with educating yourself and your own team about the latest features and updates of your product. Attend product meetings, read internal documentation, and understand how these new features will help your customer achieve their goals.
Next, you will need to gauge the client's product knowledge and usage. Have they been struggling with the new dashboard since the latest release? Have you seen an increase in support tickets in the last quarter?
By personally providing support in the form of sharing knowledge base documentation, tracking and monitoring support tickets, and regularly checking their analytics displays, you display compassion for each of your clients. And all this also helps you understand where your clients are and where they need to be in order to justify committing to a renewal.
Add Customer Success Software
Customer success managers need a 360-degree view of their customers.
To achieve this, you can leverage customer success software to work alongside your CRM solution. A customer success software solution goes beyond the rational and raw data that you find in a CRM by giving you the ability to measure and evaluate customer health based on:
product usage

surveys

interactions

payments

support interactions
This will give you the upper hand on both the individual level and company level regarding customer contact.  
For example, if you see that there is an unusually large number of support tickets being submitted by a customer, this would be an indication that it is time to look at the account in more detail and potentially set up a meeting.
Maybe this customer needs more training, whether it be on-site or virtual.
Regardless of the result, high support-ticket activity is an indicator that this particular account needs immediate attention. Any kind of high activity such as this will have a direct impact on customer health.
With customer success software, you can better track customer interactions with your product and business to understand where your customer needs to improve in order to achieve their initial goals and mitigate risk.
Think Long Term
Client-facing roles are critical for driving future business growth. Not only do you, as a customer success professional, need to establish your role as a trusted advisor, you also need to be able to continuously demonstrate value for both your product and your business.
If you fail to demonstrate value in your partnership, your customer relationship will eventually fail as well.
The best way to approach showing value is by exploring what value means to them exactly right from the jump.
This definition needs to be documented and actively measured against throughout the entire customer relationship.
If you can consistently show value, you will increase the likelihood of a customer renewal as well as getting one step further in your customer success efforts – achieving customer advocacy.
Seeing as though "95% of customers tell others about a bad experience and 87% share good experiences" according to Zendesk,  customer advocacy should always be a long term goal in Customer Success.
Customer advocacy is the best indicator that your customer success program is successful and will help attract and maintain future business.
Be Human
While it might sound a bit superficial, your role as a customer success professional requires that your customer relationships succeed because decisions will be made based on how your customers feel about your business.
This doesn't mean you need to fawn after your customers like an obsequious fan of theirs. It means that there is value and appreciation in true authenticity. Customers are still people after all!
The true meaning of CRM (in relation to B2B) in customer success is that customers should always be the core focus of your business, no exceptions!
In the end, we are talking about people who want to be heard and understood. This is why a good customer success program will account for the empathy factor which most CRM tools lack.
Adding a personal touch to your customer relationship not only helps your company's bottom line, but it also establishes trust between the two parties and empowers each person involved.
Even though buzzwords such as CRM and customer success might have killed the novelty of the concepts, CRM and customer success are still united in their mission to achieve long-term success for the customer.
By utilizing your CRM to better understand your customer, you will be able to establish a healthy customer relationship, which they will appreciate.
Customer Success Playbook for Customer Relationships
One of the more difficult jobs as a customer success manager is communicating and measuring the status of current customer relationships.
How can you show that the customer is utilizing your product well and support tickets are low despite the fact that they haven't responded to your emails or called you back in a few weeks?
Turning your "feelings" into tangible data isn't easy, but it does become easier once you already have an established framework in place that defines value and success.
One way to do this is by offering a customer success playbook.
In the playbook, you should include important information and milestones such as:
Regular check-ins with relevant parties

Attending knowledge-sharing events hosted by your business

Monthly or

quarterly business reviews

Product release updates

Upcoming campaigns or projects
Each touch point must be able to show something of worth to the client. If you ask, 'does this provide value to my client according to our predefined definition of success?' The answer should always be YES.
After creating the points, you will need to measure the results.
After you have defined the activities and expectations, you and your CS team can decide on a scoring system and then apply a numeric value to each activity.
As I previously mentioned, using customer success software in parallel to your unique playbook will allow you to accurately measure each of your customer relationships.
You and your team will need to decide on what the measurement periods are (weekly, monthly, annually) and then calculate the scores across your entire portfolio.
This visualization of the "score" of your customer relationship is a great way to provide tangible evidence on your customer relationship strength and executives with real aggregate data on the current client situation.
Customer Relationship Strategy: A Lasting Customer Relationship
Measuring customer health doesn't need to be a painful and complicated procedure. If you already feel you have a good relationship with your clients then you are already ahead of the game.
In my experience, most customer success managers already possess the skills to manage and maintain great relationships with their clients, even when things aren't running smoothly!
While there are pros and cons that accompany customer relationships in the digital age, generally speaking, technology gives CSMs the advantage of actively understanding what issues are going on within the account, thereby enabling them to provide immediate assistance and guidance when needed.
By harnessing the tools you have at your disposal, (CRM, customer success software, a customer success playbook), you will be able to not only measure the temperature of your current customer relationships but also improve your approach to your customer relationships in the future.
New to Userlane? Take a step in your software adoption journey and join the pool of our happy customers.
About the author:
The Userlane team brings you digital adoption insights, product updates, and plenty of onboarding and engagement advice for user-centric businesses.