Masters of Digital Adoption
EY: Creating a successful employee learning
by Josephine Stolberg
1 year ago
・
5 mins
In this Masters of Digital Adoption interview, we spoke with Josephine zu Stolberg, Senior Consultant at EY about her advice on change and learning.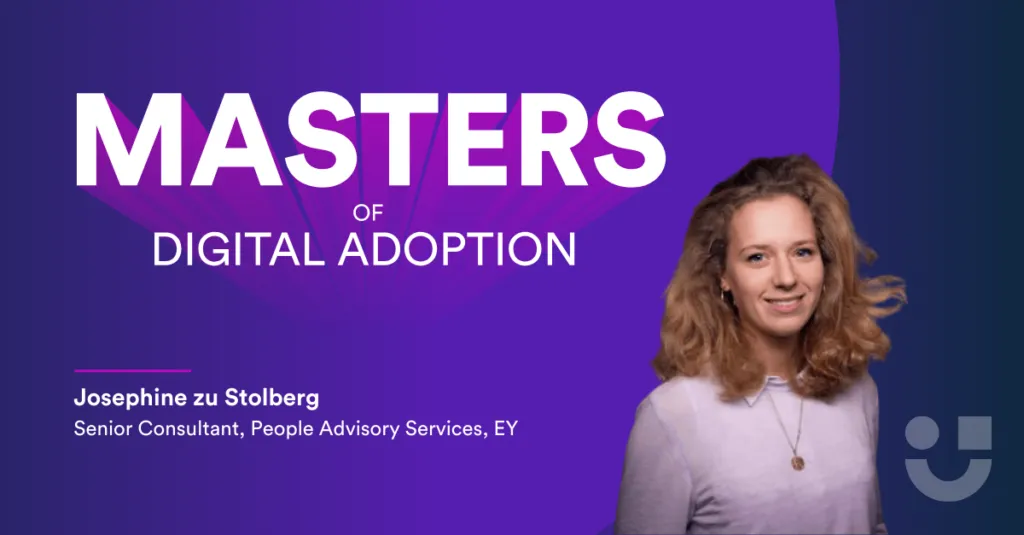 I'm Josephine, a Senior Consultant at EY in the People Advisory Services team, specializing in change and learning. 
EY is a world renowned consultancy that works with enterprises on large scale projects. My role specifically focuses on digital transformation projects where we advise clients on how to support their affected workforce, the ones involved in the projects, throughout the challenges of the transformation. We get to the root of the actual change and what that means for the employees and help them understand why the change is occurring, what is in it for them, and how they need to prepare or potentially re-train. 
Through a mix of stakeholder analysis, interviews with employees, and change and learning needs analysis we design and conceptualize the change enablement format to create an immersive and engaging transformation and learning journey. 
Change and learning
It is important to remember that there is a strong connection between change and learning – learning always goes hand in hand with change, and change projects always go hand in hand with learning. 
So, always ask yourself the question – how can we ensure the learning transfer and sustain this over time?
The first obstacle is a resistance to change. Despite there being an uprise in digital affinity, there remains a resistance to change in most organizations. Employees are required to adjust and learn new software and the new processes that come with it, and this often takes a long time. It is seen as an obstacle by employees, and we see them often choosing to revert back to their old better known processes. Making new software investment redundant. 
Resistance needs to be broken
Resistance to change goes beyond the initial dismissal of new software, and into the integration of new technology and processes into day to day work life. We see that even when an employee knows how to work with it, they still may not actually use it. Research from Userlane supports this and shows:
Employees spend around 22 minutes everyday trying to figure out how to successfully operate software to carry out tasks.
On average employees don't interact with 60% of features within software. 
Even 8% of employees are likely to change their job because of frustration with technology. 
Thus the digital adoption of new technology needs to be handled carefully for introducing any new software, or when you identify that your existing software is not being engaged with. Here are my top tips for doing so: 
1. Understand learning needs
This is a critical first step. Digital transformation projects often focus on the technology, but in actual fact, people are the drivers of success. In the first instance you should conduct a learning needs analysis with key stakeholders, from leadership, through to end-users. This will inevitably highlight there is a complex range of learning types that need to be considered in any training, but will at the same time help you understand the technical requirements of the project. 
It is also worthwhile at this early stage to set your objectives – what do you want to get out of the project, how can you measure success and digital adoption? Some typical metrics would include:
Completion rate of training participation and/or certification
Reduction in IT support tickets 
Completion of tasks in software environments
2. Be clear on accountability 
Ownership on digital transformation projects and the associated training is quite often an overlooked aspect, and bounces around different departments. But, by defining and deciding upon a RACI system from early on, roles and responsibilities can be clearly set so everyone involved has clarity. This will reduce frustrations further down the road, as it will be clear who has ownership over different stages or tasks. 
This was also a key point that came out of the Userlane State of Digital Adoption report that identified confusion about the responsibility of digital adoption – with some believing it to be an IT issue, some HR, and some C-Suite. 
It is likely that all departments will be involved and impacted by the change, so a RACI system will outline their involvement from the get-go. 
3. Identify your subject matter experts (SMEs)
An SME is someone in the business who understands the process flows that are being implemented or changed. They will have a clear picture of how software has been used or needs to be used in the most efficient and effective way. It may be that they have other SMEs feed into them, but they will act as the primary owner of a certain functionality or flow. 
You want to extract their knowledge, utilize it in the creation of training materials and have them active in the review process as well.
4. Utilize Digital Adoption Platform's (DAPs)
A DAP automates the onboarding of users by providing interactive guidance within the software, as well as integrating with existing training material and resources to provide one holistic tool for users. 
Working with your SME, 'lanes' can be created in Userlane very simply to show the steps a user should take to complete a task. Making the learning process faster and easier. 
The key here is to think process oriented – keep guides as simple as you can and teach the businesses preferred ways. The guides remain at a click of the button for users and therefore a DAP has a great effect on the long term learning transfer. 
A DAP doesn't replace existing training, it supplements it to create a holistic and simple approach for users to learn. 
5. Know what you want to achieve
Change should always be well communicated. Employees need to know about what will change within their day to day activities, how they can prepare, and what support they are going to be provided. New technology can bring great gains for both employees and businesses, but you need to get your employees onboard – so make it clear how it will bring them added value. 
As I mentioned before, a DAP can supplement other training types, so make sure there is clarity on how all of the learning activities will be deployed and how they work together to achieve the goals you have set. 
My final piece of advice for mastering digital adoption would be to not get overwhelmed by the complexity of implementing software. Take the time to prepare the digital transition and keep in mind who ultimately will be the ones working day-to-day with the new software. Offer employees something handy, fancy, and easy-to-learn.
New to Userlane? Take a step in your software adoption journey and join the pool of our happy customers.
About the author:
Senior Consultant, People Advisory Services