Digital Transformation and Digital Adoption
Top Change Management Software Solutions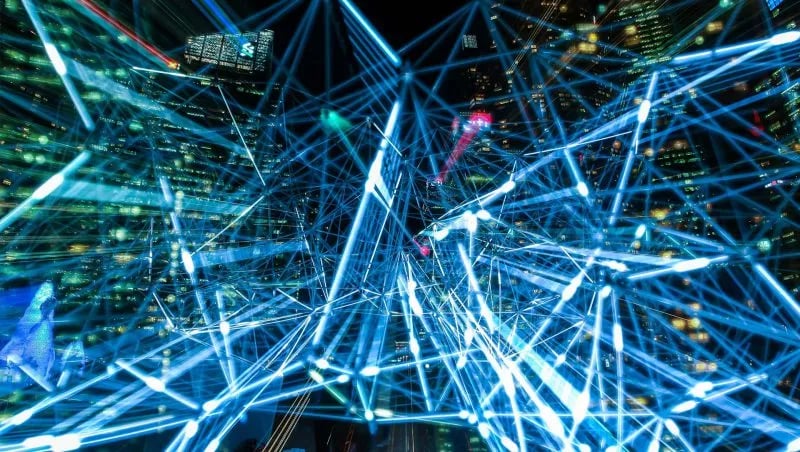 by Team Userlane
5 years ago
・
18 min.
Change management software allows companies to manage, monitor, and optimize the change management process in their organizations.
Such a process involves several different elements and stages that include multiple units and activities.
In the era of digital transformation, disruption processes encompass a sequence of steps that lead to the successful implementation of localized or company-wide transformations, which, in turn, lead to the execution of a customer-centric digital strategy.
Change management software enables companies to structure and monitor the process in order to identify opportunities, create a plan for software implementation, manage assets and resources, drive change, manage communications, monitor and evaluate data, and optimize auditing.
Change management also involves IT management challenges connected to digitization, and companies also need to create a customer-centric and omnichannel infrastructure that can quickly address disruptions, improve customer service, and automate training.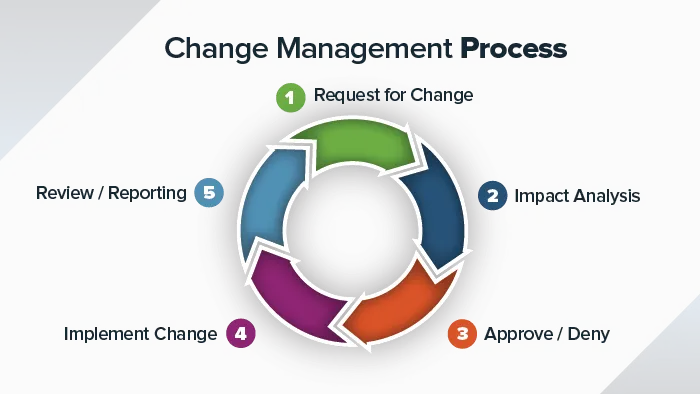 Other challenges connected to change management process include compliance, asset and resource management, communication and project management, risk management, auditing and analysis, and governance.
The biggest component in the process is a change in mentality and approach, which are linked to the basic strategy dictated by management.
But after identifying areas that can be susceptible to potential change and creating a plan for execution, change managers also need to deal with resistance to change, and because the overall strategy needs to be reflected in the main IT architecture, companies also need to update the software infrastructure and monitor and push software adoption.
Customers and employees demand high-quality, personalized, digital experiences. The right software stack truly makes the difference when it comes to delivering on such a promise.
Top Enterprise Change Management Software Solutions
Here's a list of the top change management software solutions that cover different stages of the process.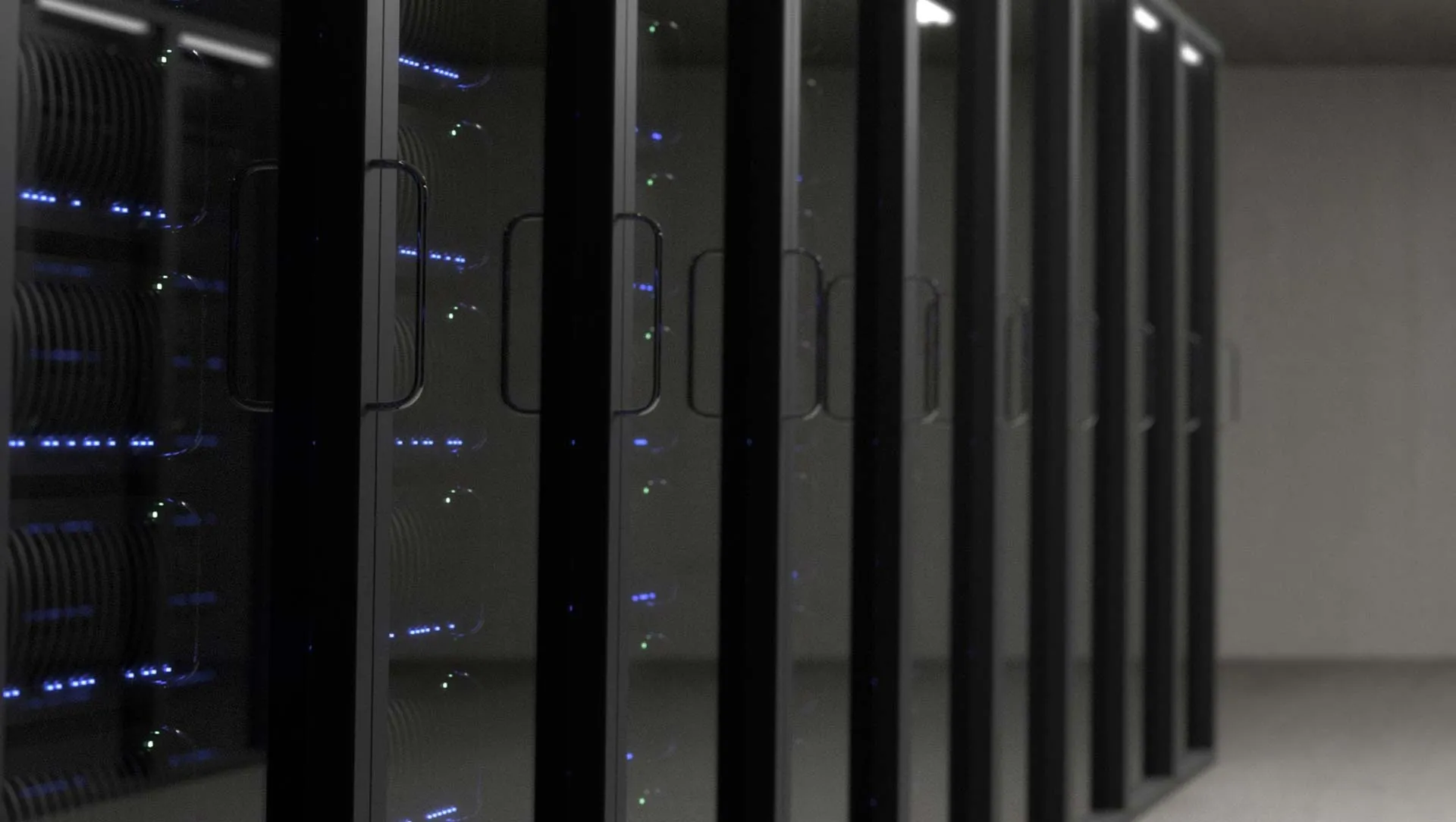 To manage a full change management program, emails and spreadsheets are definitely not the way to go. ChangeGear represents an enterprise-level change management software solution that allows you to plan your organizational change management strategies and takes into account volume and velocity of changes in large corporations.
ChangeGear is used to automate change management and release management processes.
This change management software is engineered for DevOps, IT, and Business Processes and Compliance, and includes a change calendar, approval management automation, visual reporting, management of RFCs and announcements, change advisory board (CAB) management tools, communications and notifications, RFC processing, and SLA management tracking.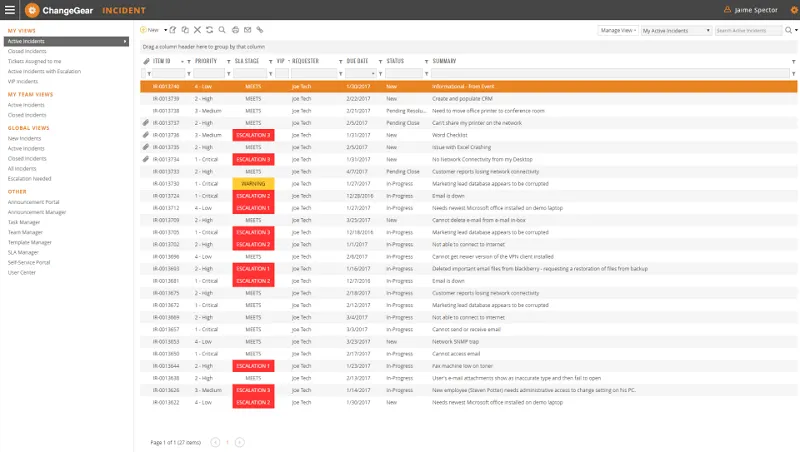 Additionally, SunView's software facilitates the management of change and compliance through functionalities connected to its central repository of changes, risk documentation, change record history, and auditing and reporting.
Advantages:
Plenty of third-party integrations and full RESTful API capabilities
Support connections to Asset Management, System Monitoring, and Source Code Control
Complete overview of software and hardware environment as well as workforce for workflow optimization
Modular expansions for HR, project management, procurement
Completely customizable
Combination of asset tracking and incident ticketing
Change Management Solution Deployment Types: 
On-site, Cloud, SaaS
Client Operating System:
Microsoft Windows
Mobile Application:
Android, iOS
Notable Customers:
Polycom, conEdison, CoBiz Financial, nrg
Regulatory Change Management is the process of making sure that all the procedures and practices connected to change management planning and implementing comply with norms, best practices, standards, and regulations.
360factors guarantees that processes are in line with the guidelines provided by regulatory authorities and industry standards and provides essential risk management insights using unique mapping and cognitive technologies.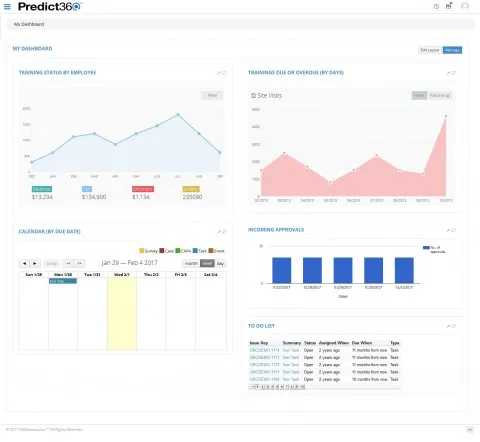 Predict360's Regulatory Change Management Software can be implemented as a stand-alone solution or integrated within a more comprehensive and modular solution that also covers (but is not limited to) incident management, auditing processes, reporting, and learning management.
This compliance management software is an integrated solution for managing governance, risk, and compliance (GRC) across an organization.
Advantages:
Flexible and adaptable modular structure
Complete overview of policies, procedures, competency, requirements
Direct monitoring of changing management requirements and link to compliance-related activities
Risk Management and Business Strategy alignment mapping tools
Assessment surveys for audit-based risk management
Automation through artificial intelligence (AI) and natural language processing (NLP) technology
Change Management Solution Deployment Types: 
Cloud
Client Operating System:
Linux, Microsoft Windows, macOS
Mobile Application:
None
Notable Customers:
HRSolutions, Meridian Credit Union, Alstom Power
Userlane
Now, we couldn't not include ourselves here, could we?! As a digital adoption platform, Userlane is designed to help companies successfully manage the significant changes associated with digital transformation. Our solution adds a guidance layer on top of any other application to steer users through processes in real time.
Transition from one era to another is challenging, especially when it comes to legacy issues and resistance to change regarding replatforming processes and learning new software and tools.
As a change management platform, Userlane reduces this resistance to change, helping CDOs, CTOs, and CIOs to implement new platforms and tools efficiently and rapidly with interactive guidance designed to maximize software adoption.
This not only boosts the ROI of each software implementation but also helps companies to speed-up software rollouts with instantaneous knowledge transfer. Userlane also reduces problems associated with poor user experiences due to legacy issues and complexity and facilitates the process of migrating to cloud solutions.
Userlane is also suitable to automate DBA and TTT training programs, meaning that there is no longer a need for training materials, such as books, hand guides, videos, and pdf documents. Offering a fully interactive and gamified experience, employees will instantly learn how to use any software application they're required to work with, turning them into power users of the software.
No frustration, doubt, or wasting valuable time. Userlane makes employees immediately productive and efficient in new software applications, and because it offers an exceptional and effortless UX, IT departments and help desks will no longer be overloaded with support requests. Offering constant performance support, Userlane democratizes software and allows companies to quickly adapt, overcome legacy issues, and implement successful change across the organization.
If you're looking to automate, standardize, speed-up processes, and successfully deal with managing multiple change management projects across different units, then Userlane is the perfect fit for your company.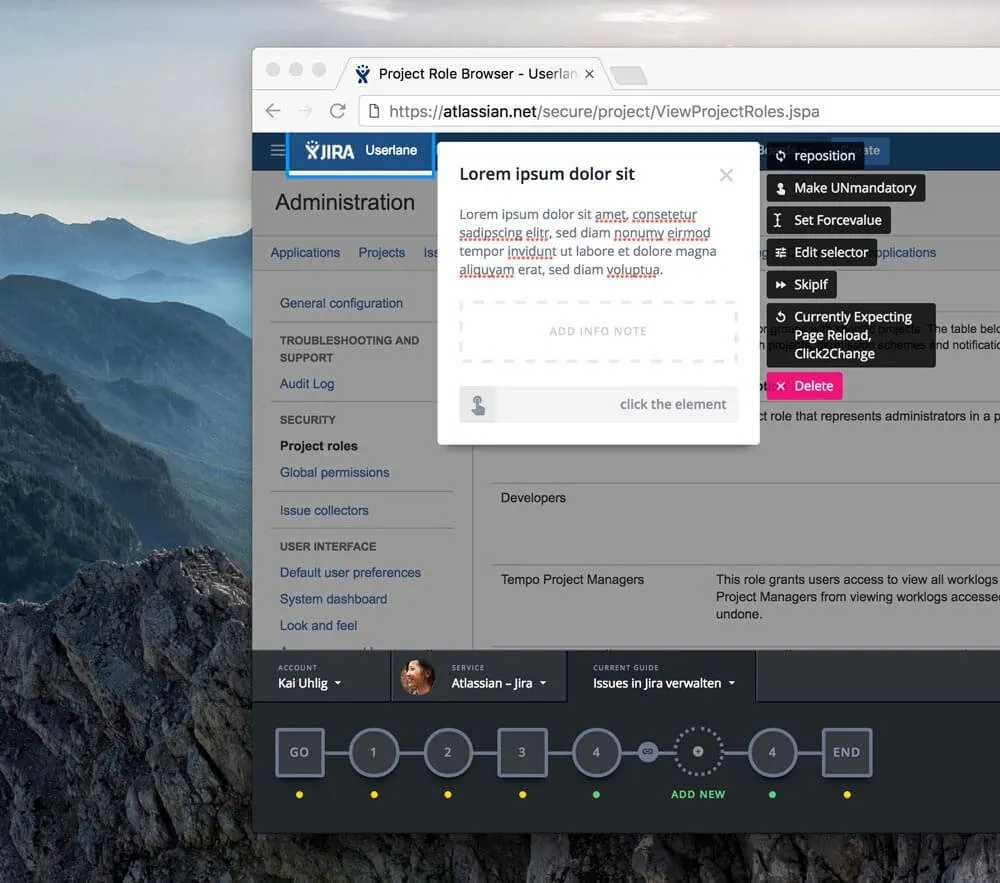 Advantages:
Constant performance support

Segmentation and contextual help

Fully interactive experience

A Virtual Assistant that can be accessed on demand

Synchronous learning

Powerful editor and agile guide builder

Permanent knowledge retention
Change Management Solution Deployment Types:
On-site, Cloud, Hybrid
Client Operating System:
Linux, Microsoft Windows, macOS
Mobile Application:
No
Notable Customers:
T-Systems, Allianz, Deutsche Bank, Deutsche Bahn, BMW
Servicenow
Service now mainly focuses on employee experience by enhancing cross-functional communications and streamlining the project management flow through the Now Platform®.
This change management software allows teams to easily cooperate and fight silo structures, thus furthering innovation efforts. Servicenow's software also allows teams to create a seamless flow of information by managing shared IT resources.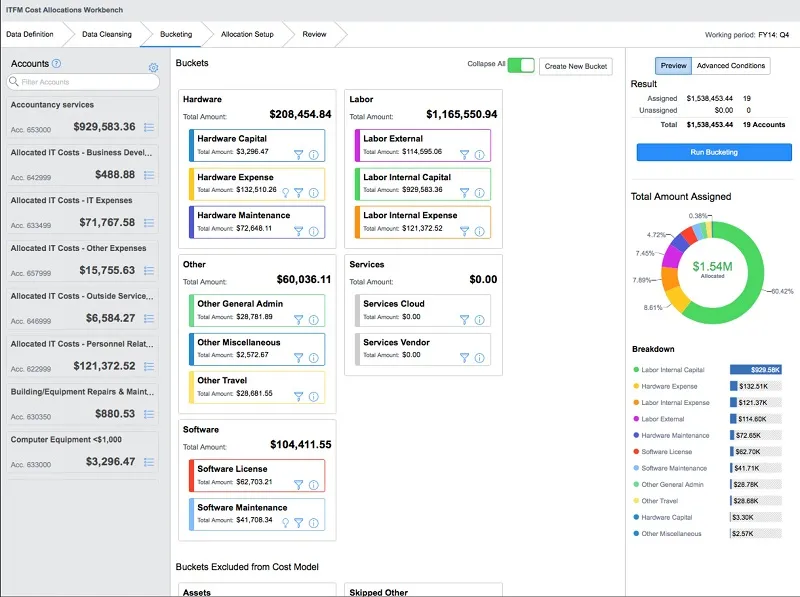 This change management platform can be used to enhance experiences throughout different departments and streamline IT, HR, security processes, or the development of custom applications.
Servicenow offers different cloud solutions for different use cases and departments which integrate with the Now Platform® to manage IT infrastructure and operations, security, governance, risk and compliance, service delivery, issues, changes and releases, requests, knowledge bases, costs, impact, and much more.
Advantages:
Easy-to-navigate environment
Fully customizable solution
Thorough reporting tools
Fully aligned to ITIL best practices
Great self-service out-of-the-box UX
Incident communication workflows are tailored to ensure that agents are responding to incidents within management defined SLAs
Complete and centralized overview for executives to strategize on change management initiatives
Change Management Solution Deployment Types: 
Cloud
Client Operating System:
Microsoft Windows, Linux, macOS
Mobile Application:
Android, iOS
Notable Customers:
Adidas, SIEMENS, Allianz, NXP
Rocket Aldon is a complete enterprise application lifecycle management suite that allows you to automate IT and DevOps processes.
This change management software covers different stages, from the moment a change request is received to its implementation in production and monitoring phase. With Rocket Aldon you can follow changes throughout production while automating compliance reporting and audit tracking.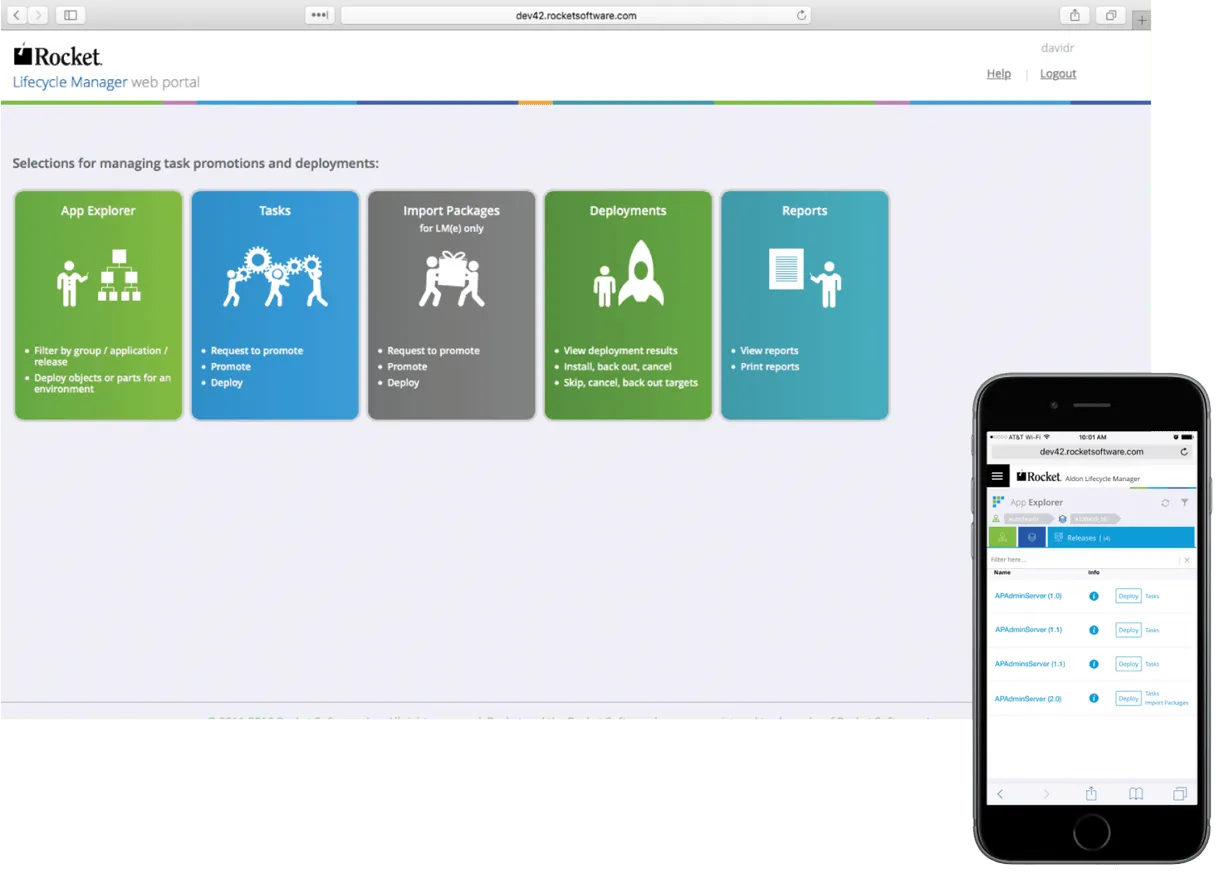 Advantages:
Quickly respond to changes without problems connected to compliance
Manage change while keeping in line with industry norms and best practices
Simplify software audits, reduce errors, and eliminate potential outages with automated software release management tools
Manage the entire change management process from business request to audit and reporting
Automate the entire IT workflow and software release management with built-in compliance.
Change Management Solution Deployment Types: 
On-site
Client Operating System:
Linux, Microsoft Windows
Mobile Application:
Android, iOS
Notable Customers:
Barclays, RBS, HSBC
Solarwinds is a network configuration change management solution that ensures compliance while reducing downtime.
This change management tool allows companies to track and monitor network changes, define who performed the change, quickly recover from configuration errors, and ensure that all changes are compliant with regulations and standards.
Additionally, the suite contains solutions for systems management, database management, security, and IT helpdesk.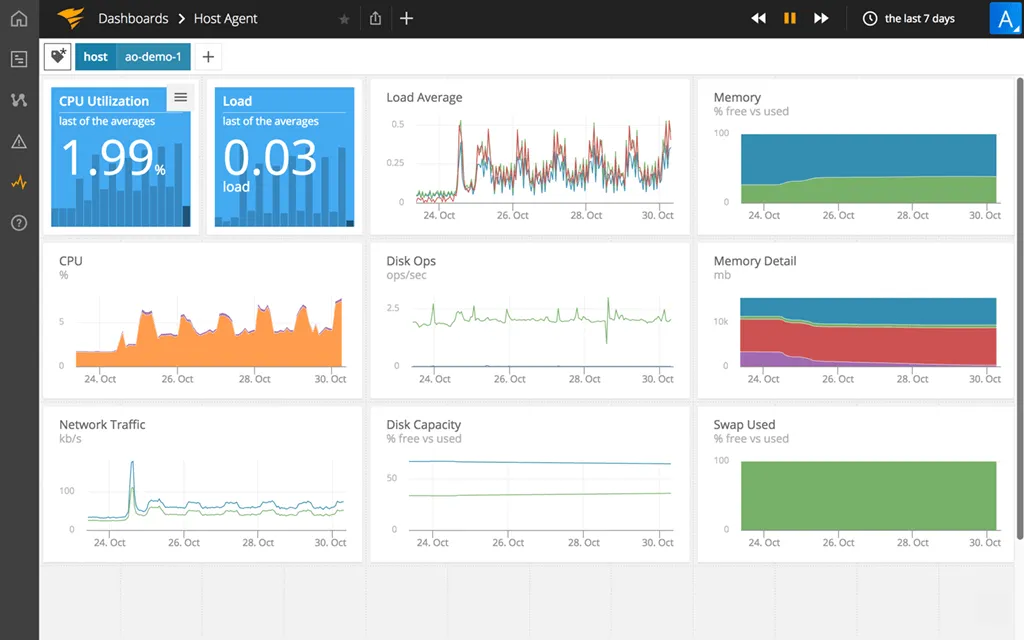 Advantages:
Simplified approach to network management
Automated configuration changes using approvals, bulk deployments, templates, and change monitoring.
Immediate response to outages by quickly restoring the last known good configuration
User-friendly
Customizable
Change Management Solution Deployment Types: 
On-site
Client Operating System:
Linux, Microsoft Windows, macOS
Mobile Application:
None
Notable Customers:
Accenture, Chevron, Lockheed Martin, Emerson
Freshservice is a cloud-based change management software and service desk solution.
As a cloud IT service desk solution, Freshservice allows you to plan, track, and rollback changes from request and change advisory board (CAB) approval to implementation. Additionally, this change management software provides the basis for audits and reviews to improve the processes.
When it comes to incident management, Freshservice allows you to perform root cause analysis, manage tickets, and automate problem management.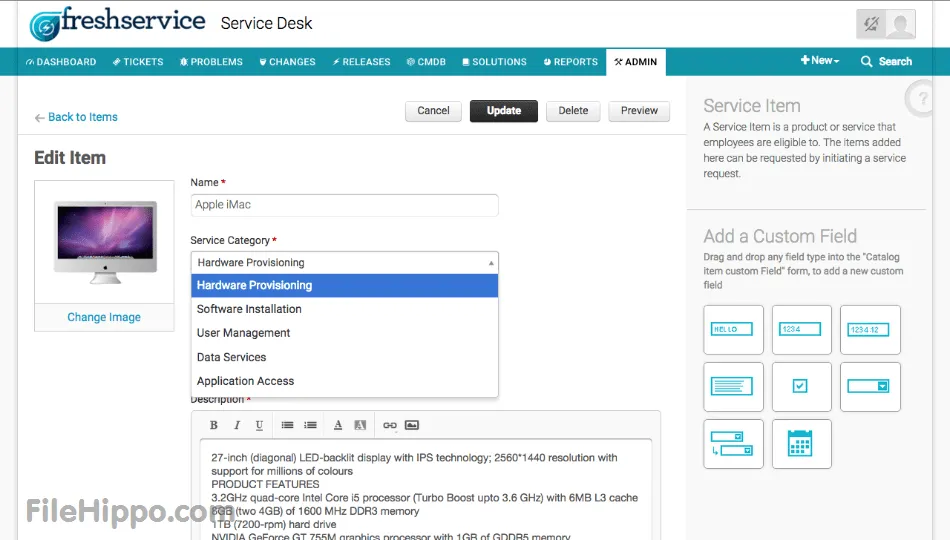 This change management solution also works as release management and an asset management tool that incorporates a change management repository, service-level management, and policy/contract enforcement.
Advantages:
Extensive reporting, which allows you to identify bottlenecks and monitor the ITIL change management software performance.
Gamification elements that increase motivation and efficiency
Several third-party native integrations and customizable plug-ins
Change management plan suite to manage daily tasks and avoid redundancy issues
Multi-channel support
Change Management Solution Deployment Types: 
Cloud, SaaS, Web
Client Operating System:
Linux, Microsoft Windows, macOS
Mobile Application:
Android, iOS
Notable Customers:
University of Oregon, Veeva, Cordant Group, moneycorp
Remedy is a Helix cloud or on-premise digital service management solution that allows enterprises to plan IT transformation and change management processes.
This software solution includes guided change requests, automated impact analysis, and risk management and allows you to manage conflicts with collision detection and plan a company-wide change calendar.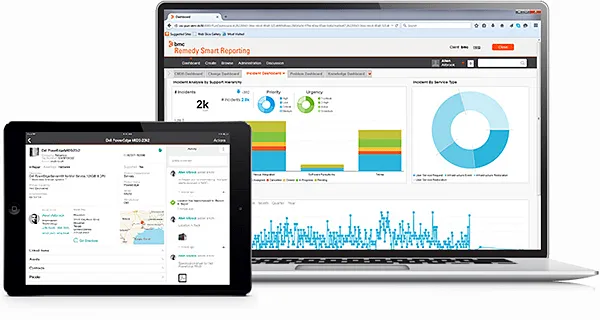 Remedy allows CIOs to adopt and manage multi-cloud environments efficiently, create the perfect substrate for a customer-centric company structure transformation, drive innovation while optimizing costs and risks and manage assets and service level agreements.
Advantages:
Modern, consumer-like experience in the workplace
Lower business execution risk
The ability to manage complex IT with ITIL best practices
Service desk integration, service optimization, incident and problem management, knowledge management, audit and reporting
Formless ticket entry for increased productivity
Scalability through cognitive capabilities
Onscreen interactive guides
ITIL alignment through 80+ industry best-practice reports and KPIs
Social and collaboration tools
Change Management Solution Deployment Types: 
On-site, Cloud, SaaS
Client Operating System:
Microsoft Windows
Mobile Application:
Android, iOS
Notable Customers:
Telekom Austria, Buchanan Technologies, O2
Spiceworks is an IT change management solution that incorporates Help Desk, Inventory Management, Network Monitoring, Traceroute Tool, and Procurement Management for managing your IT infrastructure, service virtualization, and cloud solutions.
This IT change management software allows you to deal with incidents and tickets, asset management, reporting, network security and optimization, outages, subnets, and cloud infrastructure cost management for Azure or AWS computing solutions.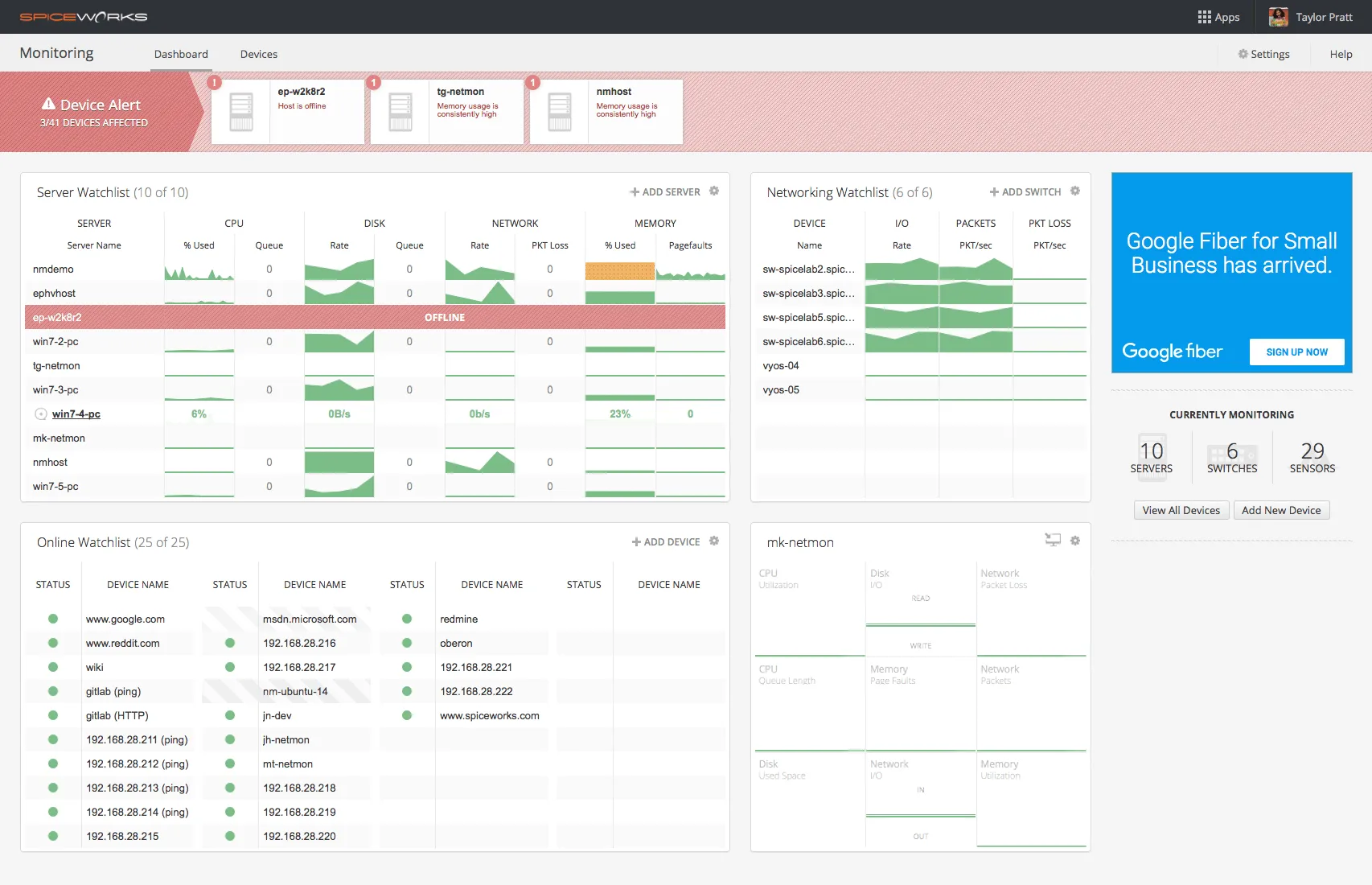 Advantages:
Clear and complete overview of network, devices, applications, licences, vendors
Spiceworks community support for learning and troubleshooting
Accurate and immediate alerts for downtime, anomalies, outages etc.
Customizable modular solution
Freemium model
Change Management Solution Deployment Types: 
Self-hosted, Cloud, Mobile
Client Operating System:
Microsoft Windows
Mobile Application:
Android, iOS
Notable Customers:
N/A
This change management software solution focuses on making sure that standardized methods and procedures are put in place when it comes to managing the entire IT infrastructure while handling and limiting the impact of incidents.
The IT Change Management Process manages change requests and approvals while monitoring costs, impact, benefits, risks, and generating reports.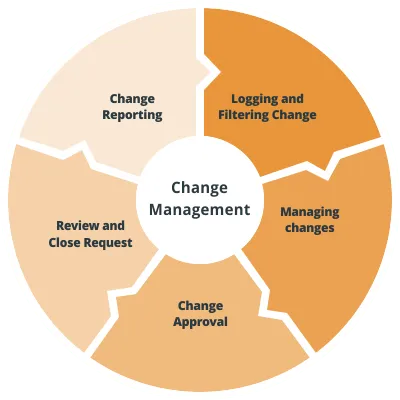 Advantages:
The ability to categorize and prioritize change requests
Automate and monitor the entire change management plan from CAB creation to approval and delivery
Connect release requests with change requests
Link change with incidents
Knowledge Base Management and Staff Knowledgebase
Opportunity to offer anonymous white label support to resellers hosting customers
Change Management Solution Deployment Types: 
On-site, SaaS
Client Operating System:
Linux, Microsoft Windows, macOS
Mobile Application:
Android, iOS, Windows Phone
Notable Customers:
Thomas Cook, Verve, Rovia
SupaCMDB is a Configuration Management Database (CMDB) that includes a template-driven change management system built around ITIL principles.
It supports a variety of assets, also known as "Configuration Items", which include hardware, software, network, locations, people, and databases on top of fully configurable items.
SupaCMDB can also be used to manage non-IT assets and documentation. SupaCMDB can also be combined with SupaDESK to provide a fully-integrated ITSM solution.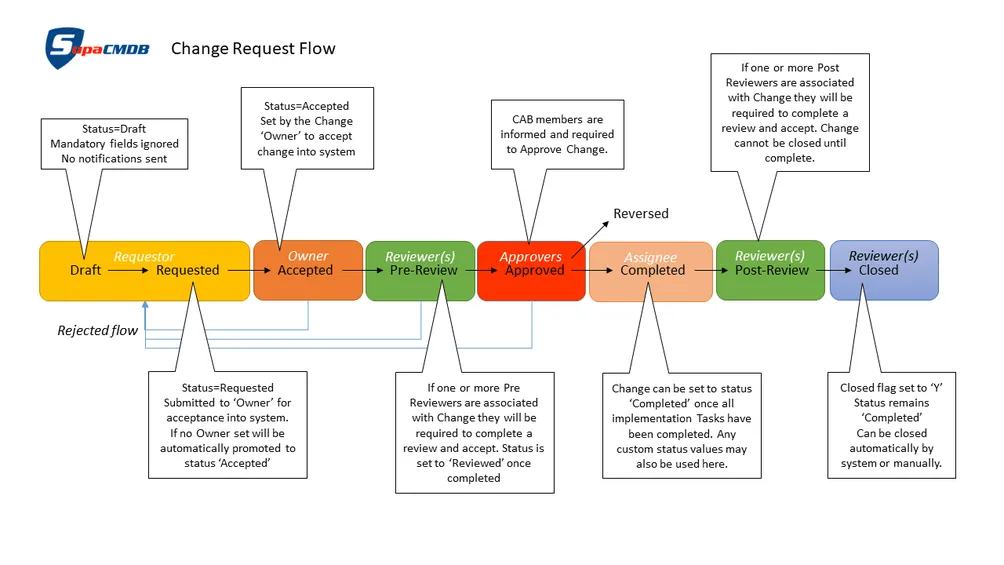 Advantages:
Supa CMDB represents a cost-effective and light-weight inventory-management solution
Works with Barcoding/RFID, location, and disposal  tracking
Easy to configure and also be used to manage non-IT configuration items
ITIL process-based ITSM
Easy integration with additional services through APIs
Change Management Solution Deployment Types: 
On-site, SaaS
Client Operating System:
Linux, Microsoft Windows, macOS
Mobile Application:
Android, iOS
Notable Customers:
Honeywell, SIEMENS, Vox Telecom
StarTeam, formerly known as Borland StarTeam, is an enterprise change management software suite that enables process driven development and allows organizations to monitor and manage assets throughout the entire life cycle.
This change management system is a centralized repository of assets, tools, and resources for development teams that are in different locations.
Advantages:
Easy way to track changes to source code, defects, features, and tasks
Customizable Workflow Processes
Cross-project data and data warehouse for analytics
Increased project visibility
Centralized source of truth for change management
Scalable
Change Management Solution Deployment Types: 
On-site
Client Operating System:
Linux, Linux
Mobile Application:
None
Notable Customers:
bmi, ASC, NHS, Good Samaritan Health Systems
Giva is a service management suite that includes a helpdesk solution, knowledge management, customer support, asset management, service desk, and change management automation.
This change management software supports decision-making processes with great reporting functionalities that present a clear overview of KPIs, analytics, and metrics.
ChangeManager® is an IT change management tool contained in the suite and is used to create and manage RFCs.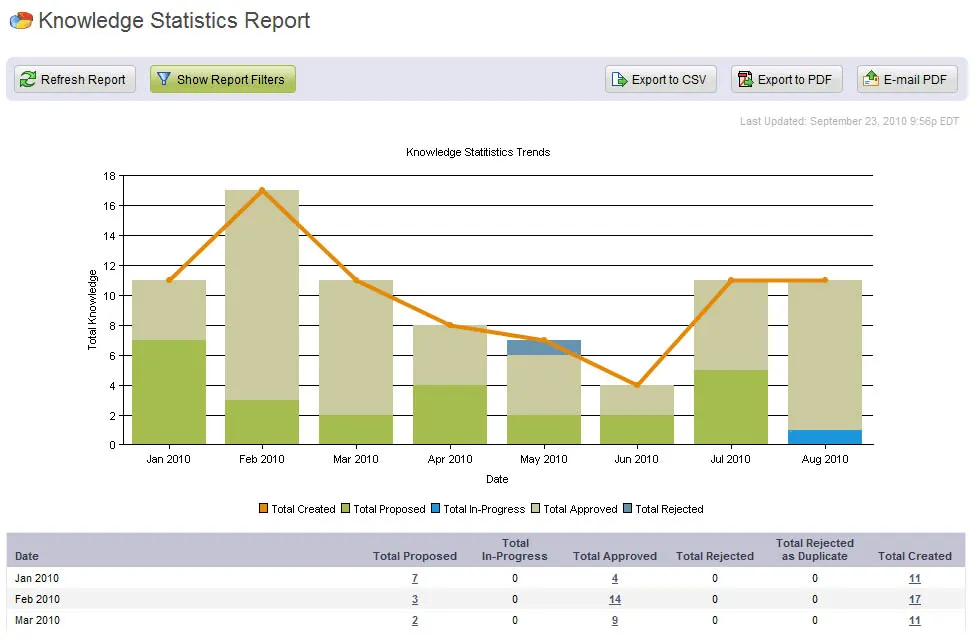 Advantages:
Easy customization without any coding
Best practices and IT Infrastructure Library (ITIL) compliant workflow process for routing IT changes
Automatic notifications to Change Manager and Change Advisory Board
Increased project visibility into IT changes before implementation
Enhanced communication thanks to cross-functional reporting features
Trend analysis reporting for successful and unsuccessful IT-related changes
Change Management Solution Deployment Types: 
Cloud
Client Operating System:
Linux, Microsoft Windows, macOS
Mobile Application:
None
Notable Customers:
LifePics, PCTS, Casio
Samanage Service Platform
Samange is a service desk solution that incorporates tools for ticket management, change management automation, knowledgebase management, risk management, reporting, benchmarking, and auditing.
With more than 2,000 customers around the world in a variety of vertical markets like financial services and healthcare, their software can be tailored to meet specific service needs, including HR and facility management.
From incident management and SLAs management and ticket handling to an employee service portal and asset management, Samange really covers several different areas of change management and digitization.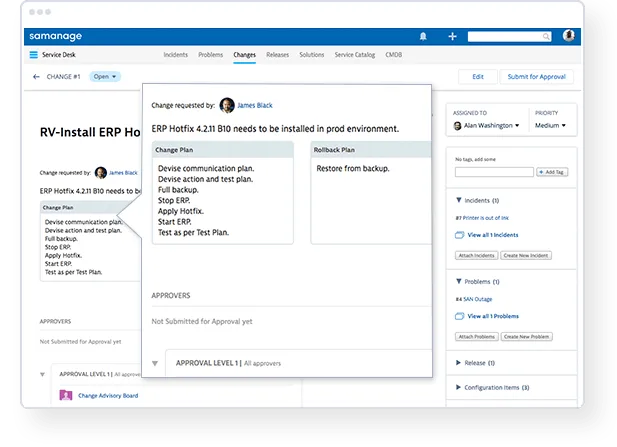 Advantages:
Direct integration with Salesforce
Code-free customization
Extensive service catalog
Flawless team management, task assignment, approval processes
Clear connection between problems and changes
Change Management Solution Deployment Types: 
SaaS
Client Operating System:
Linux, Microsoft Windows, macOS
Mobile Application:
None
Notable Customers:
Blue Apron, Goya, Pluralsight, Wyndham
______________________________________________________________________________
This is our list of change management software solutions. If you feel that we've forgotten an important tool (maybe your own!), feel free to reach out and we'll be more than happy to add it to our list.
One of the most critical steps in change management is dealing with resistance to change and pushing software adoption. 
Userlane allows you to automate staff training and onboarding and easily introduce software without sending employees to seminars or forcing them to read bulky manuals or watch lengthy video tutorials. 
Learn more about us by checking this short story: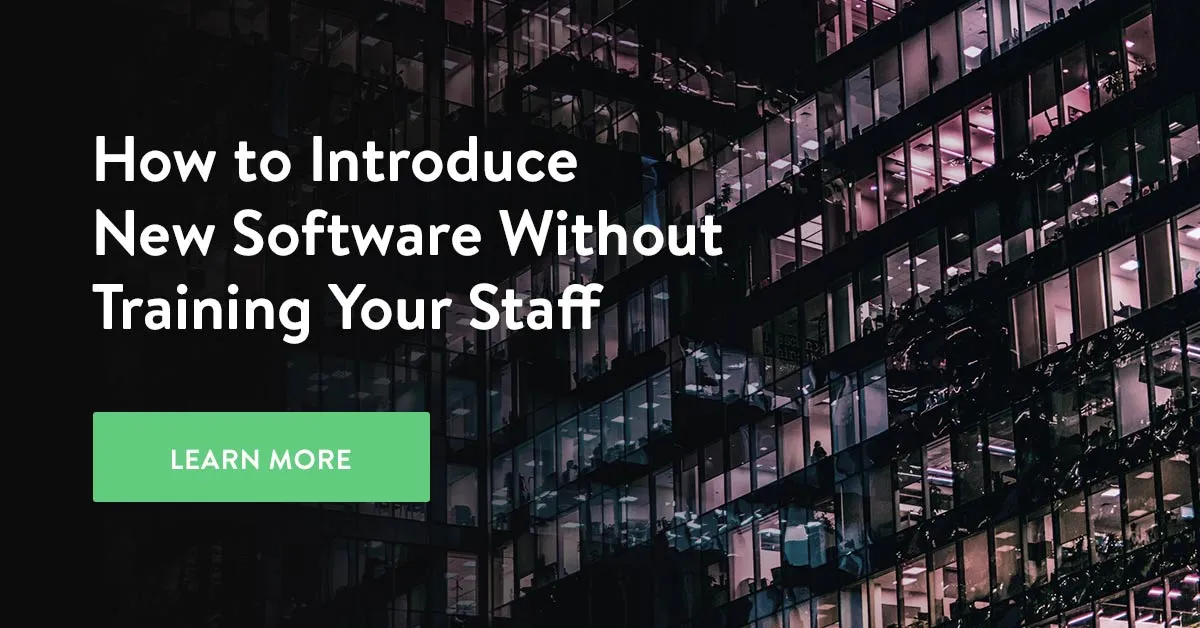 New to Userlane? Take a step in your software adoption journey and join the pool of our happy customers.
About the author:
The Userlane team brings you digital adoption insights, product updates, and plenty of onboarding and engagement advice for user-centric businesses.