Digital Transformation and Digital Adoption
Top 16 Next-Gen Cloud-Based Enterprise LMS Solutions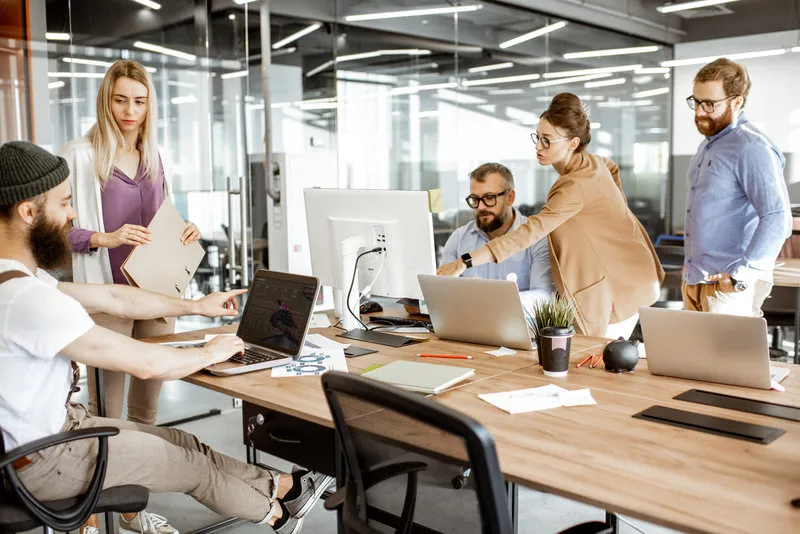 by Team Userlane
4 years ago
・
27 min.
Saadia Zahidi, Managing Director, World Economic Forum, recently wrote an article about the critical need for what has been labeled a global reskilling revolution. Her article presents some alarming statistics: By 2022, 42% of the core skills needed to perform current jobs will change, and over the next decade, the world will need to reskill more than one billion people. 
With the continuous emergence of new technologies as a result of the Fourth Industrial Revolution, the world of work and current jobs are transforming rapidly. It is for this very reason that companies need to do all that they can now to support, reskill, and upskill their existing employees by providing them with continuous learning and development opportunities. 
Many companies are already addressing such challenges through their implementation of a Learning Management System (LMS). LMS solutions essentially function as a "one-stop-shop" for the documentation, administration, assessment, reporting, and delivering of a wide variety of educational courses, training materials, and learning and development programs. 
The 2016 Training Industry Report revealed that 74% of companies use learning platforms, with almost all of the respondents stating that using a learning platform increases both the effectivness of training and employee performance.
For those reading this article, especially if you're responsible for training, learning, and/or onboarding, etc., it's more than likely that you are already using an LMS solution in your company. But perhaps you're considering switching to a new one or you're ready to transistion from an open-source to a cloud-based solution. An article from Rallyware Blog contains some good advice on the importance of changing your current LMS:
If you think that your current learning platform doesn't meet your growing demands anymore, it's wise to search for other options. Staying faithful to a learning model that gets in the way of training progress will drag down your company's business development.
Whatever your reason may be for reading this post, this list of the top (and highly-rated) modern enterprise LMS solutions is designed to give you a better idea of what's out there, what features are on offer, and who the big (and most trusted) players are in this industry. 
Each listed LMS comes with a brief description, what you can expect from it, which industry its more suitable for, what its stand-out features are, and what well-known customers are using this specific LMS. 
Choosing the Right Enterprise LMS: Things to Keep in Mind
But first things first!
There are, of course, a number of factors you need to take into consideration when making an informed decision regarding selecting the best fit enterprise LMS solution for your company.
These are just some of the questions you can ask before you start making some important decisions!
What is our

current budget

? What features/functionalities do we definitely need?

What

goals

do we want to achieve with our LMS? Do we need it for employee onboarding? Compliance training? To increase employee development and retention? Boost sales enablement?

Do we also want to provide

training for our customers and partners

? Are we looking for an

extended enterprise LMS

?

Is it important that we can

sell our courses

?

How important is it that the LMS comes with strong tracking, reporting, and analytics features?

Do we want an LMS that can be used on mobile devices, too?

How

customizable

should the LMS be? Do we want to brand the LMS by having our company logo on it?

Is the LMS

SCORM and/or xAPI compliant

? 

Is there a

free trial

 option?
Don't forget to take other features and elements into consideration, such as multiple languages, online training certificates, dashboards, course catalogs, content delivery options, and gamification elements. 
If you want to dive a little deeper, you can take a look at this comprehensive article from 360Learning: What are Learning Management Systems, and How do you Choose One?
15 Top Enterprise LMS Solutions That You Must Consider
Like SAP Litmos and Docebo (listed below), organizations can use Absorb LMS for employee onboarding and development, compliance, sales, partner, and customer training, as well as the option to sell training. 
Absorb LMS currently has over 12,9 million users in 20 countries and has already accumulated a good 42 awards. And with 4.4 out 5 stars on G2, organizations can rest assured that this is a powerful LMS that delivers results. 
One of Absorb's most notable and powerful products is Absorb Infuse, "the only learning experience platform to deliver deeply native learning experiences in the flow of work".
Absorb Infuse allows you to take any element of the Absorb learner experience – such as course catalogs, content, collaboration tools – and embed them directly into your current native applications. This means customized, personalized, and highly relevant learning for users in the very applications they are already working in, allowing training to happen directly in the flow of work. 
The USPs:
Sell online courses

with the fully integrated LMS eCommerce module

Advanced Business Intelligence dashboards

and ad hoc reporting

Ability to differentiate the learning experiences for employees vs channel partners, internal departments, customer segments, and geographic location

Available in 25 languages

Fully responsive LMS

optimized for mobile devices and tablets
Powerful search function 
Comments section with ability to rate courses
Highly flexible and intuitive
Notable Customers:
Red Robin

CENGN

Global eTraining
Free Trial: 
Yes
Platform:
Cloud, SaaS, Web 

Mobile – Android Native

Mobile – iOS Native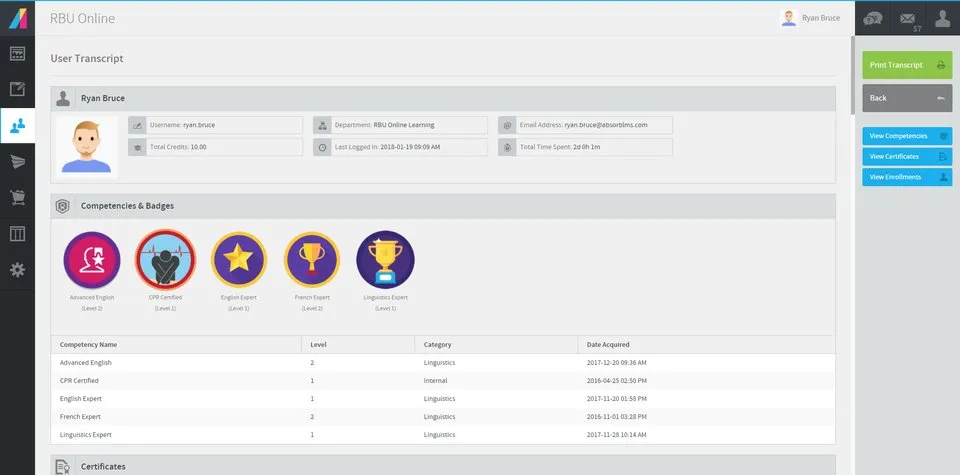 This industry award-winning and futuristic LMS solution is designed for employees, customers, and partners and will help you deliver a top-notch learning experience. 
Introduce AI-based social learning and promote peer-to-peer learning with Automated Content Creation powered by Adobe Sensei.  Learners can share content and expertise with their peers on topic-based discussion boards, and other learners, who are interested in similar topics, can follow these boards and even contribute some of their own thoughts and ideas. And no need to worry about the quality of content that is posted: The system will automatically monitor the quality of content by only approving content that meets a certain score. 
A stand-out feature of Adobe Captivate Prime is the embedded fluidic player, which allows learners to complete courses with SSO. This learning data is then reported to Adobe Captivate Prime. 
Posting content is easy with the Captivate Prime Desktop App, which lets learners record, edit, and post screen capture and webcam videos as well as audio clips and screenshots. Learners also have access to courses offered by well-known third-party content providers, such as Lynda, Harvard Mentor, and Get Abstract.
Adobe Captivate Prime is a fantastic enterprise solution if you're looking for partner training, employee skills development, sales enablement, customer education, and compliance training. 
The USPs:
Seamless integration with enterprise apps

(Zoom, Lynda.com, LinkedIn Learning, Workday, Slack, and more)

Best-in-class safety, security, and streaming technology 

Fast content delivery using Akamai edge servers
SCORM-compliant
Quick Start Projects

to create mobile-ready projects

Convert existing PowerPoint content into interactive videos

Create experiential learning with virtual tours, safety drills, and crisis management

Create multi-module branched courses
Free Trial: 
Yes
Platform: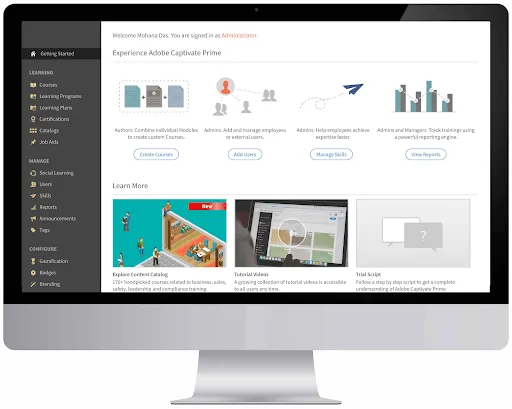 BrainCert is an all-in-one training platform. It comes integrated with four core platforms in one unified solution, namely a courses platform, an online testing platform, an HTML5 virtual classroom, and a content management system. 
It is the only enterprise LMS with built-in WEBRTX powered HTML5 Virtual Classroom that gives users real-time collaboration and a unique classroom environment. 
This enterprise LMS is suitable for employees, customers, and partners, and comes with an integrated testing platform that covers skills measurement (customizable), adaptive testing (the adaptive scoring algorithm assesses a learner's response and then determines a suitable level of difficulty for the next question), and advanced question types (create different types of questions).
The USPs:
Customer branding

Complete

white-label

Multilingual

Integrated eCommerce to

sell your content

and materials 

Role-based content 

Advanced tracking and reporting dashboard

Customize certificates

One-on-one chat functionality

SCORM compliant
Free Trial: 
Yes
Platform: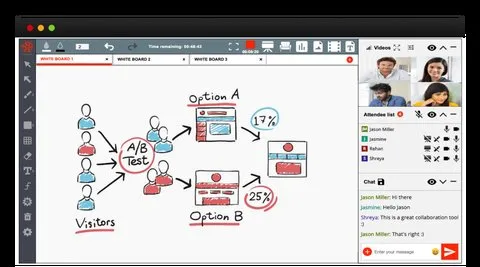 Defining itself as the enterprise training platform for cloud, large organizations can use this platform to retain talent, accelerate R&D efforts, and maximize ROI. Unlike Looop (see below), for example, Cloud Academy is a much more complex but highly powerful solution with incredible products and capabilities for enterprises. 
Give your teams over 10,000 hours of top technology training material that has been created by leading industry experts.
With Cloud Academy's Hands-on Labs, employees can start their journey to technical mastery and then graduate to Lab Challenges – an awesome feature that gives employees the opportunity to see how they fare in a scenario that runs on a real cloud infrastructure. If you're an L&D administrator, you can also clone and customize Labs so that your employees can train in an environment that mimics yours. 
You can also launch your very own internal enterprise certification program by leveraging customizable Exams and Cloud Academy's pre-built questions. This is ideal for launching a program that is tailored specifically to your organization. 
The Cloud Academy library also comes complete with over 15,000 assessment questions as well as adaptive quizzes and exams. You can also take your training up a notch by assigning training to teams based on roles, functions, or in preparation for a new project.
Regarding the content library, users have access to resources spanning cloud fundamentals, cloud migration, AWS Training, Azure Training, Google Training, DevOps, security, Machine Learning Training, Programming Training, and plenty more. 
This is the ideal platform for large enterprises wanting to skill and upskill their employees in critical areas that will evolve over the next few years. 
The USPs:
Cloud Roster

, which helps users explore the latest skills that are in demand based on specific job roles

Cloud Catalog

, which helps users look at trends and compare skills demand by technology

Role-specific training

on leading clouds, methodologies needed to operate on and between clouds, and capabilities unlocked by the cloud

Highly specific and targeted learning

Mobile access (Cloud Academy App)

Train in offline mode

Up-to-date content
Notable Customers:
Free Trial:
Yes
Platform:
Cloud, SaaS, Web 

Mobile – Android Native

Mobile – iOS Native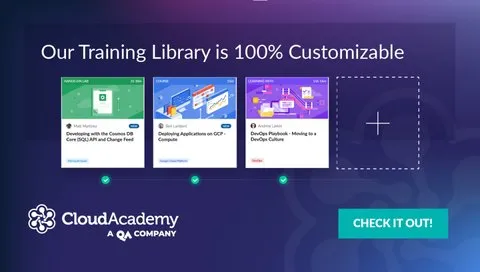 Improve the learner experience with Docebo's AI-powered learning technology and ensure that you, as a learning platform administrator, have more time to focus on more important things with the platform's learning management automation. 
Docebo strongly emphasizes social learning but also provides solutions for employee development and retention, sales enablement, member training, and compliance training. 
Designed for employees, customers, and partners, Docebo has an array of exciting products on offer. For example, the Coach & Share product promotes social learning and encourages users to foster a strong sense of community through knowledge-sharing. Learners can access information quickly and ask questions and get answers from other learners and subject-matter experts.
A great feature of Coach & Share is its AI, which crawls each piece of content (user-generated knowledge) and then compiles a list of learners who would be most likely to benefit from it. 
Other products include Extended Enterprise Learning for customers and partners, and Docebo Embed, which enables the creation of and full control over your customers' learning experience.
The USPs:
Ability to create custom playlists from a variety of learning content formats


In-depth analytics

Complete and robust API system

for Docebo customers for integrations connected to managing user accounts, courses, training materials, and user enrollment

Learning across any platform (Docebo Mobile App)
Access to over 20,000 eLearning courses from top content providers (LinkedIn Learning, Skilla, OpenSesame)
Complete solution

for creating, selling, and delivering online courses

Gamification

Integrations

with Salesforce and Lynda.com

Available in 40 languages

Additional features, such as the Audit Trail App, Blog (allows learners to create own blog posts and comment and create other posts), Coaching, customer domain

Excellent UI and UX 

Top 10 global ranked SaaS eLearning solution
Notable Customers:
Cineplex

Thomson Reuters

Bloomberg

Newcross Healthcare

Amnesty International
Free Trial: 
Yes
Platform:
Cloud, SaaS, Web 

Mobile – Android Native

Mobile – iOS Native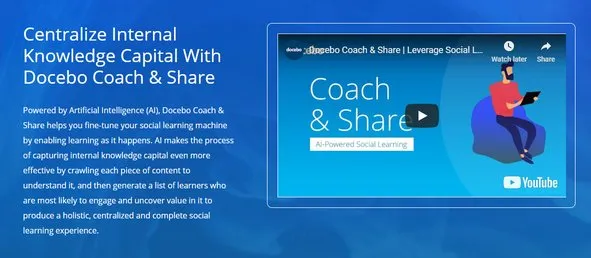 LearnUpon LMS is designed for employees, customers, and partners and comes with many powerful features. 
For example, you can easily create courses and deliver courses that are SCORM and xAPI compliant, and you also have the ability to create different user roles and groups to make training more personalized, productive, and efficient (you can easily assign courses and/ or learning paths to groups, saving you valuable time).
Managers can oversee and report on their assigned learners whereas instructors can build and manage courses, facilitate training, and give feedback to learners.
A stand-out feature of LearnUpon is the ability to train multiple audiences all in one system by using LearnUpon's learning portals (or as their website calls them, "mini LMSs"). This allows you to create a unique and personalized learning experience for each audience (employees, partners, and customers). And because these portals function as mini LMSs, you can style and brand each of them the way you like!
The USPs:
Branding and

white-labeling
Certification

with customizable certificates

Ability to automate recertification

Gamification

Encourages social learning with forums

Ability to create branded storefronts to

sell your courses
Salesforce LMS integration

Extremely user-friendly with quick set up

Automated reporting

Autocorrected exams
Notable Customers:
Zendesk

Twilio

TripAdvisor

Telkonet

Kony
Free Trial: 
Yes
Platform: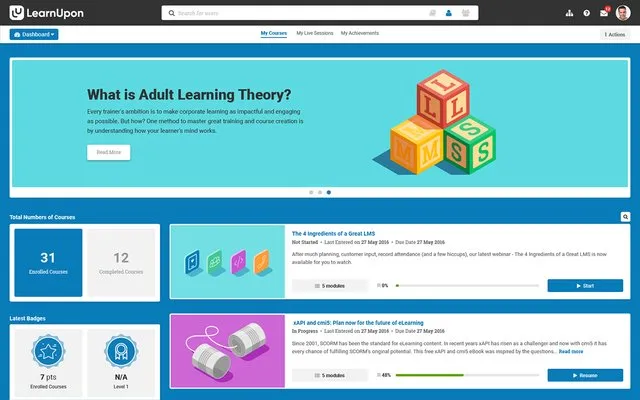 "If you can write an email, you can build a lesson in Lessonly." 
A powerful statement telling you all you need to know about this platform that is purposefully built to empower your employees and help them Do Better Work. 
Lessonly offers Practice in Lessonly, a product designed to help teams better their existing skills (as well as learn new ones). With Practice, teams can, for example, rehearse a pitch or customer interaction on video, simulate customer/ prospect phone calls, practice real-life scenarios behind the scenes, deal with mock customer requests, and practice writing well-structured emails. 
By simulating real-life scenarios, Practice gives teams – particularly those working in customer-facing roles – the confidence to hone their skills without being fearful of mistakes.
Lessonly is ideal for enterprises that want to train their customer services and sales teams specifically. It has a similar feel to Looop, so you can expect a more playful UI and no frills or fuss when it comes to creating content and lessons. 
The idea behind Lessonly is to make training simple for your customer-facing teams, so if you're looking for a simple-to-use solution without a large learning curve, then you've come to the right place!
The USPs:
Customizable learning paths

Ability to export lessons for

offline use
Open API
Lessonly University

containing pre-made content

Create custom groups

Unlimited lessons

Featured integrations include Salesforce, Zendesk, and Chrome

G2 leader for Corporate LMS Software
Notable Customers:
Zendesk

U.S. Cellular

Vox Mobile 
Free Trial: 
No, but free demo
Platform: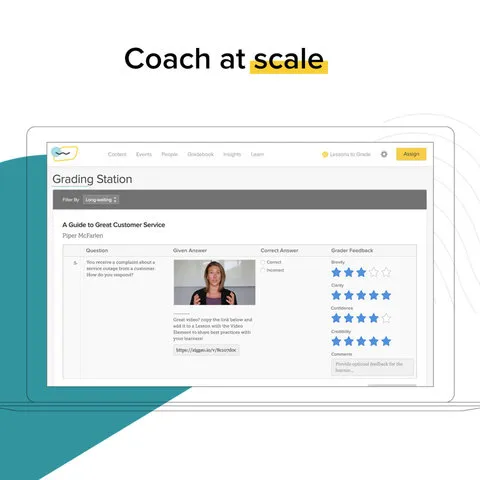 No bells. No whistles. No empty promises. 
This is what you'll find on Looop's homepage, so you can expect an easy-to-use LMS that guarantees results by providing contextual learning in the flow of work. 
Looop differentiates itself by addressing critical points of failure in an organization and then solving real problems. This solution emphasizes performance and ensures that the user is placed at the very center of the learning experience. 
Looop wants to change the status quo of LMS by redesigning how employees experience L&D. While many LMS platforms focus on adding more to existing tech stacks and bombarding learners with content, Looop wants employees to focus more on performance (work) than learning where performance improvement is the ultimate measure of success.
With this no frills (and unique) platform, you can know what's working and what's not. Find the gaps to provide the best resources and leverage Looop's analytics to give users what they want and need. And bonus: You can create content within a matter of seconds and there's no need to understand coding or HTML. 
The USPs:
Any employee can create their own resources

Create sequences and

structured learning pathways

Employee communications automation 

Resources are instantly accessible, searchable, and can be formatted for

any mobile device

Create quizzes and questionnaires

White-label LMS

Target groups of learners with tailored messages and content

No need for training to use the system

Known as the

"next-generation LMS"

by making things easier than ever
Notable Customers:
HarperCollins

Discovery

ASOS

Radisson Edwardian Hotels
Free Trial: 
No, but free demo
Platform:
Cloud, SaaS, Web 

Mobile – Android Native

Mobile – iOS Native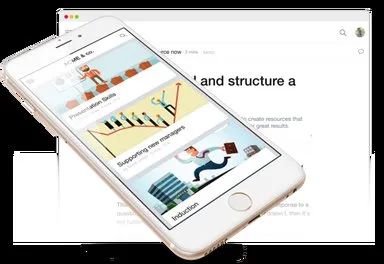 Defining itself as the "highest-rated compliance-based LMS on the market", this enterprise platform is specifically designed for employee development and compliance.
One of the main highlights of this platform is the ability to build branded sales and customer portals, which allow you to extend your brand reach to anywhere in the world. You can announce new products and updates across all your sales and partner networks from one location. You can also offer training, certification, and compliance to vendors and franchises. 
The USPs:
Encourages social learning with

peer-to-peer coaching tools and social messaging

Personalized learning paths

Deliver

just-in-time training

in the flow of work

Available on mobile

Multilingual
Notable Customers:
NBC Universal

Virginia Department of Transportation

Schwan Foods
Free Trial: 
No, but free demo
Platform:
Cloud, SaaS, Web 

Mobile – Android Native

Mobile – iOS Native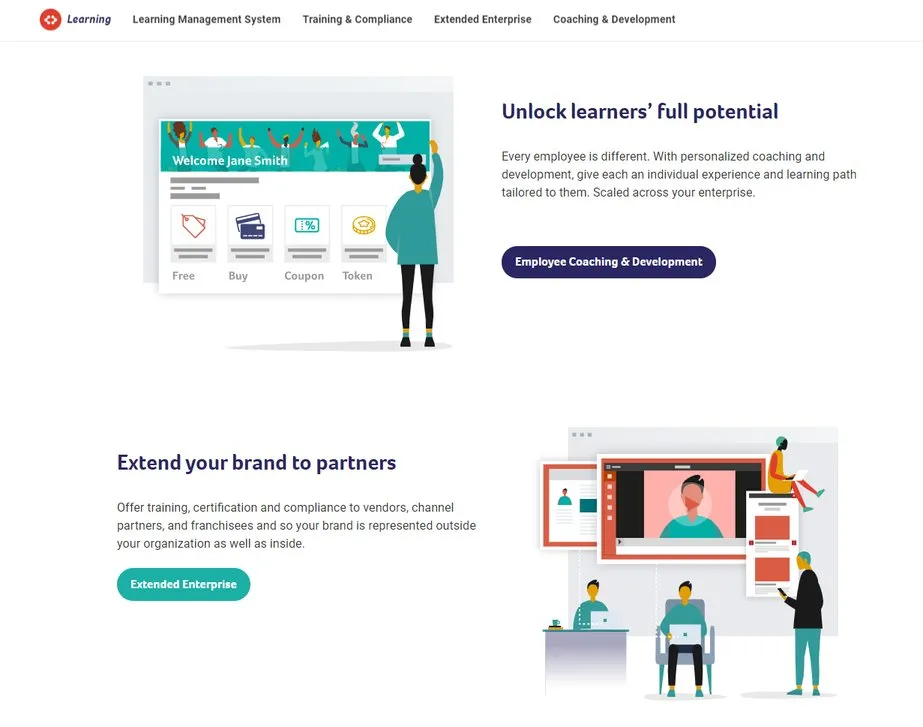 Defining itself as the technology skills platform and coming with a rating of 4.6 out of 5 stars on G2's product reviews, Pluralsight is a front runner in enterprise LMS solutions. 
It's specifically designed to help leaders and managers within an organization (a) assess the technical abilities of employees through skill assessments and analytics and (b) unleash employees' potential and maximize their skills development in more niche fields such as cloud, design, mobile, data, and security. 
With access to around 7000 on-demand online courses given by global tech experts, this is the ideal platform for IT professionals and developers.
Pluralsight's products include Skills, which provides solutions for personal use, software development teams, IT Ops teams, and security teams; and Flow (an engineering intelligence platform), which gives product managers, senior leadership, and execs visibility into software engineering teams to boost productivity. 
One of the stand-out features of Pluralsight is Iris, the brains behind Pluralsight IQ! She is behind the assessment algorithms and leverages data to personalize the learning journey for each and every learner.
Some of the courses available on the platform include Python, JavaScript, IT certifications, Security, Big Data, SQL, and Malware Analysis.
The USPs:
Wide

variety of videos

covering the very basics to more advanced topics. Videos are highly focused on excellent presentations to help learners get a quick understanding of topics.

A vast range of content, topics, courses, projects, and pathways

Can be

used across all devices

, anytime, anywhere

Learning paths, channels, and bookmarks help learners stay organized and keep track of their progress

Self-testing and skills assessments

Free course content

User-friendly UI 

Suggests topics

to learners based on results from quizzes

Role IQ

, which helps individuals and teams identify skills gaps

Skill IQ

(you can take a

free assessment

to see where you are skills-wise in numerous fields/ software applications)

Multilingual

Custom certifications

provided upon course completion

Download courses for

offline viewing
Notable Customers:
CloudHealth by VMware

Fujitsu

Dimension Data

Atos

Nasdaq
Free Trial: 
Yes
Platform: 
Cloud, SaaS, Web

Installed – Mac

Installed – Windows 

Mobile – Android Native

Mobile – iOS Native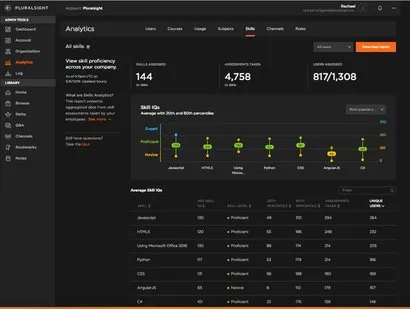 ProProfs LMS is a cloud-based training and eLearning platform designed for users of all skill levels and use cases. It is the world's easiest platform for enterprise-grade training.
The LMS comes integrated with a centralized virtual classroom, making it easier for you to administer online training seamlessly. Not only this, customers can also leverage a suite of related tools for quiz, survey, knowledge base, collaboration, and project management to take charge of an entire training lifecycle.
As a learner-centric LMS, ProProfs lets learners learn anytime, anywhere, and on any device. The tool is easily customizable, meaning you can train individuals and groups just the way you want to.
The USPs:
Comprehensive course library consisting of both free and paid courses on all corporate training topics
eLearning authoring tool to create beautiful online courses and tests
End-to-end solution for creating, designing, sharing, and tracking online courses
Robust virtual classroom software that enables you to train anyone, anytime, and anywhere
Quiz-making tool with 10+ question types and thousands of customizable quizzes
Learning paths that allow for self-paced learning with flexibility in schedules
24/7 self-help center providing resources such as FAQs, manuals, guides, etc.
Reporting and analytics tool that provides consolidated data on each learner
eCommerce for selling online courses with multiple payment options and advanced sales reports
Notable Customers:
Sony
Dell
Cisco
DHL
University of Phoenix
Yale University
Free Trial: 
Yes
Platform: 
Cloud, SaaS, Web 

Mobile – Android Native

Mobile – iOS Native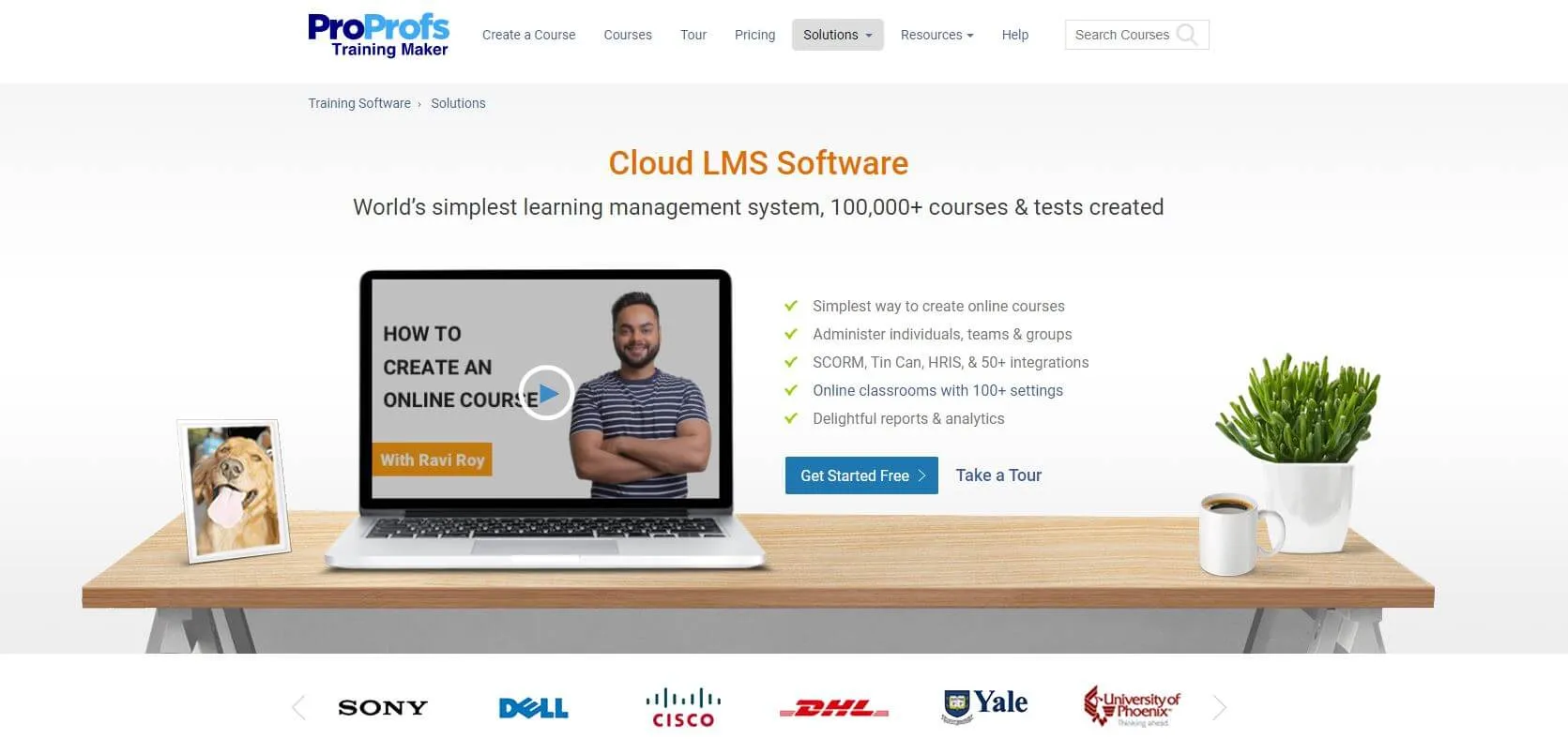 SAP LITMOS
SAP Litmos is made up of a powerful LMS, a commerce platform, and a content-rich course catalog. As the number one training platform for customer-focused enterprises, this platform is all about empowerment and alignment by helping organizations align corporate training with the company's goals. 
This is an ideal solution for those in training departments, HR, safety and compliance, and sales managers as the platform enables these teams to collaborate, author, and monitor web-based training courses. 
Like Pluralsight, users can access the platform anywhere, anytime, from any device. There is no limit to the number of users and the platform comes with a UI that is famous for its simplicity and user experience. 
SAP Litmos provides operations training, gig worker training, contractor training, sales training, customer training (great for improving the customer experience!), and supplier training covering tech, nonprofit, retail, hospitality, and healthcare industries. 
The USPs:
Supports a

wide range of languages

, including Arabic, Czech, Danish, English, Finnish, French, Hindi, Japanese, Polish, Russian, Spanish, and Chinese (and plenty more)

Online course builder supporting various formats

Reports, dashboards, and

custom reports

to track learner progress and development

The instructor-led training module can be used to schedule both virtual and classroom-based learning

Monetize your courses

by setting up an online storefront with the Litmos/ Shopify integration

Embedded content creation tools

Customizable interface

Users have access to quizzes, video assessments, gamification, and leaderboards. 
Notable Customers:
Arnold Clark (use case: sales and service training, industry: automobile)

Proponent (use case: sales and service training, industry: aviation)

Corinthia Hotels (use case: sales and service training, industry: hospitality)

Seattle Children's Care Network (use case: compliance training, industry: healthcare)

Hewlett Packard Enterprise (use case: customer and employee training, industry: tech)

Norwegian Airlines (use case: compliance training, industry: aviation)
Free Trial: 
Yes
Platform: 
Cloud, SaaS, Web 

Mobile – Android Native

Mobile – iOS Native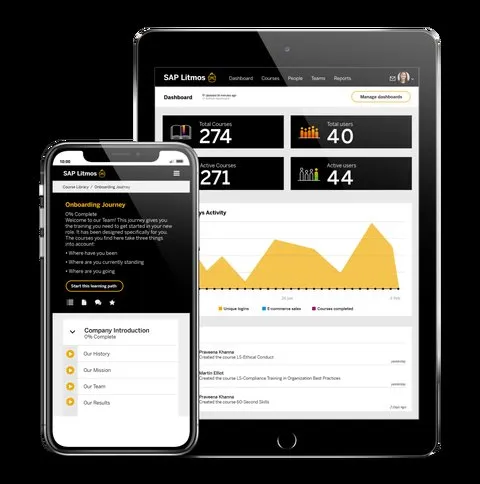 This modern content delivery platform offers an optimal learning experience by providing users with highly targeted and contextual learning and meeting them when and where they are. 
Skillport technology works with Skillsoft's high-quality content and service to drive business outcomes, and the platform can either be used as a stand-alone learning solution or integrated with existing business and IT systems. 
Although it functions primarily as a content delivery platform, the platform support does extend to top LMS providers. Skillsoft supports both AICC and SCORM eLearning standards and users can access Skillsoft's learning materials from over 100 various LMS platforms.
The platform focuses on developing leadership skills, IT skills (especially for IT staff), and compliance and safety training (content on compliance training includes over 475 critical risk topics). 
Users can also simply download the Skillsoft Learning App to learn on-the-go. The app supports Skillsoft videos, mobile courses, books, audiobooks, and summaries. 
The USPs:
Outstanding UX

Extensive search and discover functionality

Tailored learning recommendations

Works on mobile devices through the Skillsoft Learning App

Encourages social learning 

Offers

certification training

(project management, Six Sigma, HR, and business analysis)

Content includes videos, books, courses, and mentoring

Multilingual
Free Trial: 
Yes
Platform:
Cloud, SaaS, Web 

Mobile – Android Native

Mobile – iOS Native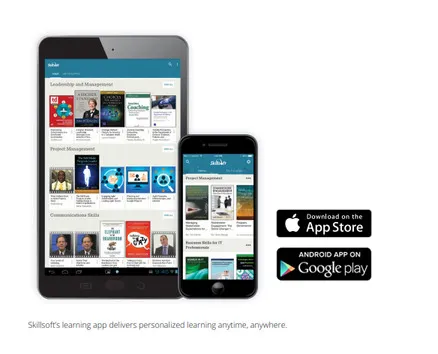 TalentLMS is a popular, award-winning, and easy-to-use LMS solution. The platform caters to both advanced and inexperienced trainers, and courses can be built in just a few clicks by either re-using existing presentations or videos or consuming content from different web-sources. 
For trainers, you can track your learners' progress with numerous types of tests as well as comprehensive reporting on test results. You can also segment your learning environments into branches based on team, department, branch, or country (like LearnUpon), where each branch is its own LMS or installation that comes with its own users, courses, and theme.
The platform comes with powerful reporting, allowing you to make well-informed decisions based on real-time info, visual data, and custom learning analytics. The real-time tracking is a great functionality as it helps you to identify and address problems as soon as they arise. 
With custom reports, you have the option to track only the information that is relevant or important to your organization at any given time. You can also schedule email reports that inform you of your learners' progress, which you can then share with your team, stakeholders, or other key parties, even if they aren't using the LMS. 
If you're looking for simplicity with robust features, then this is the platform for you!
The USPs:
Works with

SCORM, xAPI, and cmi5
LMS reporting engine

that creates training infographics and activity logs

Mobile learning 
Personalized certification

Gamification

Ability to mix eLearning with instructor-led training

Support for personal messages and discussion forums

Option to

sell your courses

via PayPal or Stripe

Video Conferencing integration (Zoom, GotoMeeting)

Recognized as the

number 1 most affordable LMS
Notable Customers:
Triton

DeLonghi

Merck

HarperCollinsPublishers
Free Trial: 
Yes
Platform:
Cloud, SaaS, Web 

Mobile – Android Native

Mobile – iOS Native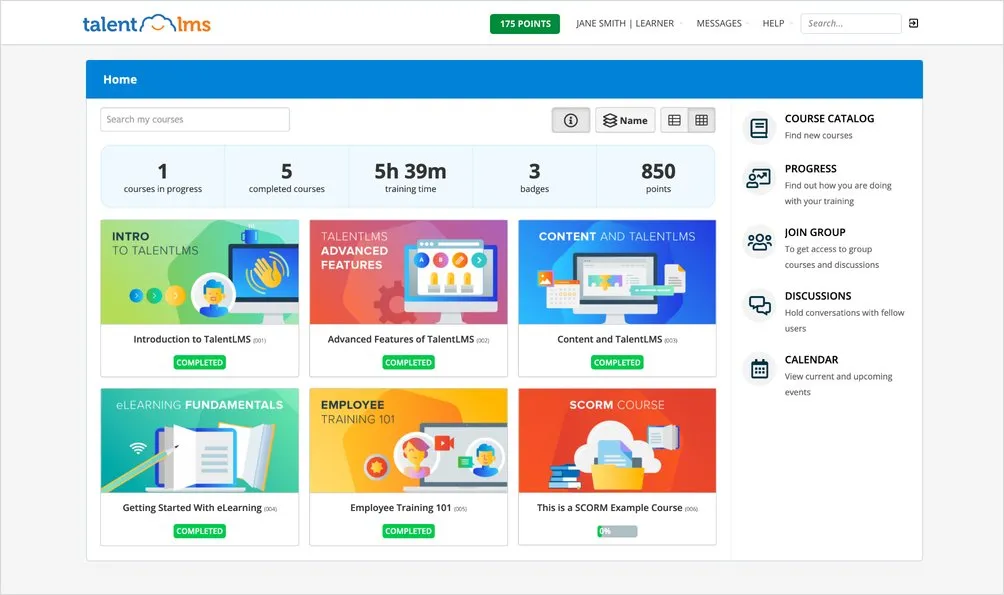 A powerful training software that helps sales and support teams is what you'll get from Workramp, which comes with a solid rating of 4.4 out of 5 on G2. 
Help your sales teams drive more revenue with sales boot camps, coaching and peer-to-peer mentoring, and recorded or in-in person certifications, and ensure your support teams know what they need to do to improve NPS scores and their customer response time. 
With Workramp, you can provide contextual and real-time training and connect your training data to platforms like Salesforce Service Cloud to see how your customer-facing teams are faring. 
But apart from sales and support, you can also provide employees across your organization with access to a solid range of custom learning content as well as build leadership development programs for management teams.
The USPs:
Testing and certifications

Ability to build exercises with the

powerful course editor

Custom branding

Open APIs

for custom integrations

Create

customized learning paths
Workramp mobile application

for learning on-the-go

Create certification programs 
Notable Customers:
Free Trial: 
No, but free demo
Platform:
Cloud, SaaS, Web 

Mobile – Android Native

Mobile – iOS Native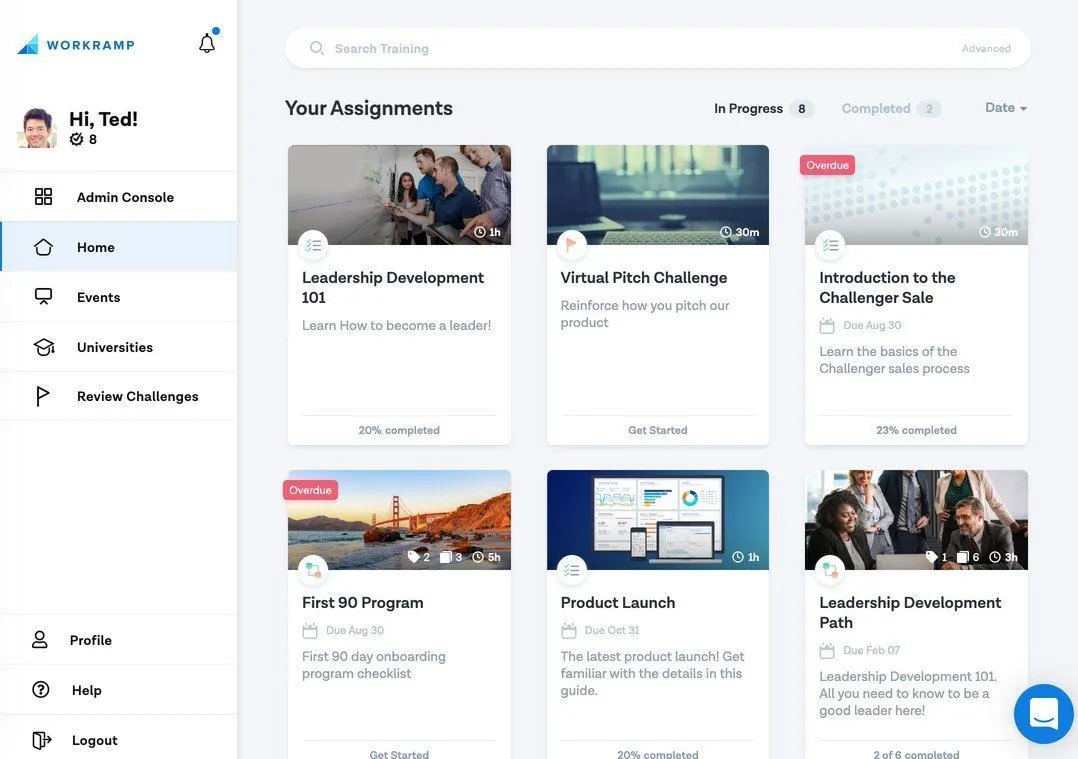 360Learning is the first Collaborative Learning Platform and takes a different approach to how employee training is delivered. It's all about keeping up with fast-paced changes in your organization by ensuring that knowledge is shared quickly and effortlessly. Teamwork makes the dreamwork as the old adage goes!
With this platform, you can facilitate bottom-up learning in your organization by putting the power in the in-house experts' (the employees themselves!) hands. Alleviate any stress placed on trainers by allowing these in-house experts to create, deliver, and optimize courses themselves.  
So, instead of letting trainers do all the work, training teams can now become facilitators of bottom-up learning. So if you're a trainer yourself, this will give you more time to really focus on your learners by identifying skills gaps, helping in-house experts by prioritizing learning initiatives, monitoring course creation and impact, and empowering these in-house experts via rewards and upskilling. 
Some other cool features include creating your very own sales boot camp and field training!
The USPs:
Easy authoring tools and built-in feedback loops

Forums, reactions, and upvotes fosters a culture of social learning

Make use of

assessments and peer reviews

to ensure that content is always relevant

Learning analytics integration (Salesforce/your own HR system)
Notable Customers: 
Free Trial: 
Yes
Platform: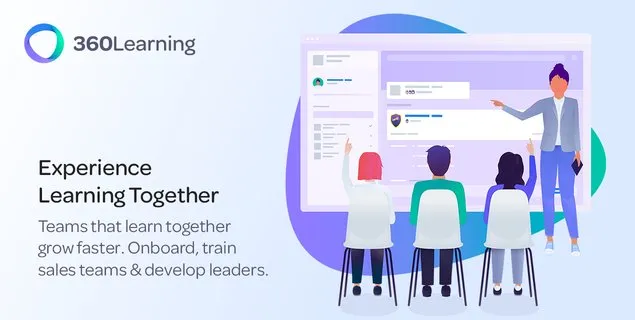 Enterprise LMS: Why Choosing Next-Gen LMS Solutions Is Important
It is predicted that by 2021, the LMS market will be worth over $15,72 billion, and, as it currently stands, 41,7% of global Fortune 500 companies are using some form of educational technology to contribute to their employees' learning and development. So, these stats should convince you that investing in a good, modern-day, and high-quality LMS solution is definitely worth it!
Most modern-day LMS solutions nowadays provide ample and valuable opportunities for continuous learning and development. Employees (and employers, of course!) can learn new or hone existing skills, which is, of course, an absolute necessity in 2020.
And this can happen any time, anywhere, and on any device (depending on the LMS solution you choose), meaning that learning happens either on the go or in the flow of work. And with tracking, analytics, and AI, next-gen LMS solutions can truly personalize and optimize the learning experience for each and every learner.
I don't think I need to go into any more detail here, but just keep the following eLearning statistics in mind:
Comprehensive training programs lead to as much as a

218% higher revenue per employee.

Data indicates that when employers spend around $1,500 per employee per year on training, they achieve

increases in profit margins of approximately 24%.
So, make sure you opt for a modern-day LMS that best suits your business asap! It's worth it, and your employees will appreciate you for it.
Introducing new software, no matter how intuitive it is, will always come with its challenges. Discover how you can ensure a smooth software rollout with as little resistance to change as possible from employees by downloading our whitepaper. 
New to Userlane? Take a step in your software adoption journey and join the pool of our happy customers.
About the author:
The Userlane team brings you digital adoption insights, product updates, and plenty of onboarding and engagement advice for user-centric businesses.